Are you weighing up whether to take out a loan for £10,000? Here's some food for thought
Whatever you need a £10,000 loan for, our guide has lots of useful considerations.
Key points
A £10,000 loan could be a secured or unsecured loan
You won't be able to borrow £10,000 on a credit card
Try not to use a payday lender
You could borrow £10,000 from a bank, building society, or another type of lender. Then you pay the loan back over a set period of time, plus interest and possibly other fees and charges. 
If you need the £10,000 now, are you ok with paying back more than £10,000 in the future? It's not a decision that should be rushed into. 
When you see a loan advertised, the APR isn't far behind. It stands for annual percentage rate and is pretty important. Yet it's not the only number you should note. You should calculate what you'll need to pay monthly as well as the total amount payable.   
Ok, so a £10,000 loan can be either a secured or unsecured loan. Let's weigh up the pros and cons of both types of loan to see what could work for you. 
Should I opt for an unsecured £10,000 loan? 
An unsecured personal loan is another name for a personal loan. The most you can borrow on a personal loan tends to be £25,000.
Pros: 
Flexible repayment plans are more common 
Usually more straightforward than a secured loan 
Cons: 
Tend to have higher interest rates than secured loans 
People with high credit ratings tend to get more favourable rates
Your credit rating could be at risk if you miss payments 
What about a secured £10,000 loan? 
A secured loan is one where you borrow money against something you own. In most cases a secured loan is taken against your home, sometimes your car. 
Pros:  
Usually paid back monthly over a long period 
Frequently have lower monthly repayments than unsecured loans 
Chances are you're more likely to be accepted for a secured loan than an unsecured loan – especially if you have a less than stellar credit history 
Cons: 
You may be putting your house or car on the line if you struggle to repay the £10,000 loan 
If you have a variable interest rate loan, your monthly repayments could increase 
You may end up paying more back to the lender in the long run 
Potentially there may be lock-in or early repayment penalties  
Expensive arrangement fees are not uncommon 
Secured loans can have a few different names. You might see home equity loans, homeowner loans and second mortgages. These are all secured loans. 
What to look out for with a £10,000 loan 
Will you be paying a fixed rate or variable rate? Variable rates mean your repayments could increase. Variable rates are more common with a secured loan, but always check. 
How long will you be repaying the loan for? What's the total amount you'll be paying back? What's the monthly instalment like - is it affordable? Are there fees for paying back early? What happens if you miss a payment? How many questions is too many questions? 
Watch out for low advertised rates. Lenders only have to give this low rate out to 51% of customers, and that's customers who qualify for the loan. You could be in the 49% and paying more. So just because it's advertised as a low APR, it doesn't necessarily mean it'll be for you. 
Look around, compare quotes, and check for fees and charges. 
£10,000 loan over five years - what's a good length of time? 
There's no set answer to this. The time you need to repay a loan is up to you. 
Yet there is a useful rule of thumb. It is – get a loan for the amount you need and repay as soon as you can.  
Spreading it over a longer time may mean lower monthly costs. It may often be at a lower APR. Yet in the long run you'll pretty much always end up paying more.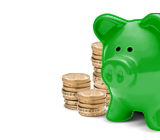 The Money Advice Service has a loan calculator to help you figure out what you'll be paying.† 
Most lenders will offer secured loans for periods between five years and 25 years.  
How to get a £10,000 with bad credit or no credit 
Don't worry too much if you have poor credit rating - there still may be lenders out there that'll lend you £10,000. The flipside is that interest rates are probably going to be eye-wateringly high. 
Have a peek at our guide to bad credit loans for more info.  
One quick thing. If you've had a county court judgement (CCJs) against you or have been declared bankrupt, you're unlikely to be accepted for a loan offered through GoCompare.  
There may be other options available. If you have a poor credit rating, it's likely that you'll be looking at a secured loan. As such, you might want to head to your mortgage provider first to see if they can help. 
Credit unions next. If you're struggling to find a loan then these guys may be able to help. They're not-for-profit organisations that work within the community. There are over 350 credit unions in Britain – you can find your nearest here.†  
Finally, guarantor loans may be an option. We hope it goes without saying that payday lenders and loan sharks should not be considered.   
How do I find a £10,000 loan that's right for me? 
At the time of writing (March 2018), the market is competitive, and APRs have lowered as lenders fight for new customers. Yet it's still a good idea to approach cautiously and weigh up your options before taking out a £10,000 loan. This is not something to be taken lightly.  
Check your credit score before you apply. Applying for a loan can affect your credit history. Apply for too many and lenders may take it as a bad sign. So don't apply for lots without checking your credit report first. 
Anyway, here's a few quick tips: 
Work out what you need and how much you can afford to repay monthly 
Use a loan calculator to see what all the costs are 
Look at the terms and conditions for charges and fees 
Do a soft search - see which £10,000 loans you may be eligible for before applying 
If you're struggling with debt then consider talking to your lender. You might also want to contact National Debtline, the Citizens Advice Bureau, Money Advice Service or Turn2us.†
By Sam Easterbrook