Looking for a business loan? Here's what you need to know
Need a business loan? Find out about secured and unsecured finance, peer-to-peer, crowdfunding and government-backed business start-up loans.
Key points
Think about your credit rating before applying for a business loan
Prepare your business plan or financial documents carefully
Consult with a financial adviser to find the right loan or financing for your business' needs
Many small businesses need to take out a loan, either to help them get started or to move them onto their next phase of growth.
Business loans are tailored to the needs of the individual business.
This means that if you want to take out a business loan from a bank, it's a good idea to speak to an adviser and make sure your finances will allow it.
Can I get a business loan?
Whether or not you can get a loan will depend on your own financial situation and that of your business. 
As with any other borrowing, a bank or other loan provider will look into your credit history, but in addition they may also want to see a business plan or accounts, depending on whether you're a start-up or already running a business.
Taking out a business loan with your current bank may seem quick and easy, but any bank will ask whether or not you can manage the interest and repay the loan in the time set, so it's always a good idea to shop around and keep your options open.

Before applying, make sure your finances are in order and that you're as prepared as possible.
Simon Cureton, CEO of Funding Options says, 'Keeping up to date accounts and having your bank statements ready can make the process of applying for a loan take hours instead of days.' 
Interest rates on business loans
The amount of interest you pay will depend on your business' circumstances.
The lender is likely to ask for details of your past accounts and future financial forecasts and the interest rate you're offered will depend on these.
Types of business loans
Depending on your needs and financial position, there are four main types of business loan you could consider.
Unsecured business loans
An unsecured business loan is borrowing taken out from a bank, building society or peer-to-peer lender. The amount lent and interest rate will depend on the creditworthiness of you and your business.
As such a loan doesn't take your home or business as security against the loan, the lender will find it hard to take possession of them if you miss repayments.
Secured business loans
A secured business loan can be secured against a number of different things and depends on the value of the loan and its purpose.
Security may include a personal guarantee, security over whatever's being purchased with the loan or over assets in the business. It may even be possible to put your own home up as security.
Remember that your home will be at risk if the business fails to keep up repayments, so think carefully about this option. 
Secured loans allow businesses to borrow larger sums of money than unsecured loans.
Peer-to-peer business loans
Getting a loan for your business via a peer-to-peer lending platform could be another way to finance your business, but access to lending depends on the platform you choose; for example, some may only offer borrowing to sole traders.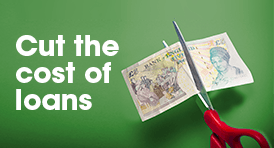 Government-backed start-up loans
If your business is just starting it's worth looking into government-backed schemes to find out if you're eligible for any start-up loans or grants.
The Start Up Loans† programme was created by the Department for Business, Innovation and Skills in 2012 to help support people with a business idea but no access to finance.
Start Up Loans works with other organisations like the Prince's Trust and Virgin StartUp to help entrepreneurs develop their business ideas into a plan to increase their chances of being given a loan. Businesses are also provided with a mentor to help them once they receive funding.
Loans are low cost, unsecured and have a fixed rate of interest, but you must repay within five years.
If you're unsure about how to access government funding, find your relevant start-up advice service† - it might be regional or industry-based - and go from there.
The pros of business loans
A business loan offers certain levels of flexibility while also providing fledgling or growing businesses with certainty for the years ahead
Most business loans are fixed rate so you'll pay the same amount every month which means you can budget and plan for your business
Some variable rates may be available, which means the interest you pay fluctuates depending on the Bank of England base rate or market forces. With a variable loan, your monthly payments could go up or down at any time, so make sure you're comfortable with this risk.
Some business loan providers may offer a repayment holiday, which means you can take a few months off from repaying your loan if you're waiting on payment from clients or if you have a cash-flow problem - but be aware that if you do take a payment holiday, you'll pay more in interest as it will continue to accrue, and it'll take longer to pay off the loan. 
You'll keep control over your business and you won't need to look to investors for help. Investors, however, may be necessary if you need a large amount of cash to take your business to the next level.
The cons of business loans
As with any other type of borrowing, there are strings attached to a business loan which may affect you and your business.
If you take out a loan from a bank or other mainstream provider - as the majority of businesses do - you may have to agree to the terms and conditions it stipulates, which might include giving regular updates and being subject to financial checks.
Cash-flow finance allows businesses to release the money trapped in invoices, in effect advancing themselves the cash
If you want to repay the loan before the term you may be subject to an early repayment charge, so think carefully about the length of time you want to commit to borrowing.
Alternatives to business loans
If you don't think a business loan is for you, there are some other funding options available.
Business credit cards
Getting a credit card for your business can be a quick way to access smaller sums of money and also, perhaps, benefit from reward points or cashback.
Business credit cards generally offer an interest-free period on purchases, which can be helpful when trying to manage cash flow.
Many business cards charge an annual fee and you'll need to have your credit rating checked before being accepted for a credit card.
Make sure you pay off the balance each month to avoid paying unnecessary interest charges or fees. 
Overdrafts
Some business current accounts have interest-free overdrafts or charge a fairly low APR for them.
Using an overdraft responsibly could be helpful if you have cash flow problems or need to borrow small amounts for short periods.
Crowdfunding
Using crowdfunding investment to help start or grow your business is another way to access finance. Platforms such as Crowdcube† allow anyone - individuals or professional investors - to invest in start-ups and growth businesses.
This is likely to involve giving away a stake of your business to investors.
It's often possible to arrange a business loan within 24 hours - Simon Cureton, Funding Options CEO
Sharing economy business JustPark achieved significant crowdfunding success, raising £3.7m on Crowdcube, which is the maximum amount allowed for small and medium-sized enterprises (SMEs) under EU rules.
"It's our belief that by allowing our customers to share our success we can ultimately build a bigger business and everyone will win," said JustPark chief executive Alex Stephany.
"It's a perfect fit for a company like us - we're a peer-to-peer company, we're powered by people really and now we're financed by people as well."
Cash-flow finance
Cash-flow finance allows businesses to release the money trapped in invoices, in effect advancing themselves the cash.
Cash-flow finance usually involves being lent a percentage of the value of the invoice in advance, for example 85%, with the rest coming, less the lender's fees, once the customer has paid.
See also:
Business travel insurance
Your business may or may not be eligible for cash-flow finance - it may depend on your business' position or a number of other variables.
Some banks offer cash-flow finance, but many others don't.
There are a number of fees attached, such as an administration fee at the commencement of the arrangement, plus a monthly service charge.
There might also be a higher interest rate than that applied to a standard business loan to reflect the short-term nature of the borrowing.
Raising money through investment
Many businesses raise money through investment, which involves selling part of the business - either shares or assets - to an investor.
Investment is often preferable to business loans as you don't have to repay the money or pay any interest, and you share the risks of business with a partner.
However many businesses don't want to lose part of their business or have to deal with anyone else when it comes to making decisions.
Only limited companies can sell shares, so this option isn't open to sole traders or partnerships.
By Emily Bater
[SeanSocialShare]