Guide to taking out a loan for a holiday
Key points
Use a soft search tool to compare loans for holidays without affecting your credit score
Low-deposit holidays, overdrafts and 0% credit cards are alternative options to consider
Be wary of payday loans marketed as holiday loans
Before you pack your suitcase and dig out your favourite sunglasses you have to think about how you're going to pay for your getaway.
If you're not in the position to put down the money up front, what are your options?
A holiday loan may seem like an ideal choice for those who need to pay for a vacation and don't have immediate access to funds, but remember it's never a good idea to enter into debt if it's not completely necessary.
Before taking out a loan remember that there are other alternatives to explore which may be better suited to you.
What's a holiday loan?
A holiday loan is quite simply a personal loan product taken out to cover the cost of a trip, whether that's abroad or in the UK.
Some payday lenders target those searching for holiday loans on the web by marketing their products specifically as 'holiday loans', so always make sure that you're not inadvertently taking out a payday loan.
Gocompare.com doesn't offer payday loans, so if you use us to shop around you'll avoid these toxic products completely.
Personal loans can usually be used for whatever you want, including that trip of a lifetime. They're unsecured, meaning they don't use your property or another asset as security in case you can't repay.
If you search for loans through Gocompare.com you'll have the option of seeing peer-to-peer loans alongside more traditional products and these are also worth considering.
Whichever sort of loan you choose, if you're able to make reasonably high repayments that shorten the loan period, you'll pay less interest overall. If you take out a loan over a longer period, the repayments should be lower but you'll end up paying more interest.
Note that the interest rates on personal loans are typically between 3% and 13% which could be cheaper than paying on a credit card (unless it's a 0% card).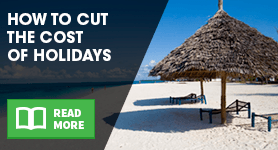 Some loan products will charge you for paying off the loan early or making overpayments, so always check the terms and conditions carefully.
Advantages of paying for a holiday with a loan
Fixed payments
With a fixed-rate personal loan you know exactly when your repayments will be due and how much they'll be, so you'll be able to budget them into your monthly outgoings.
Be aware that there are also a few variable-rate personal loans available which will change depending on the Bank of England base rate or market forces. Be warned this means that your repayments could increase as well as decrease, so check the terms of your product when you take it out.
You can make a smart search
By using our smart search tool to make a soft search, you can look for products for which you're likely to be accepted without affecting your credit score. This can save you applying for a loan for which you're likely to be rejected, which could negatively affect your credit rating and prevent you getting other credit products in the future.
Spend it like cash
A loan will provide you with cash which you can do what you like with, so you won't have to worry about paying fees which may be levied if you use a credit card.
Loan holidays
A loan holiday (as opposed to a holiday loan) is a period of time, usually when you first take it out, where you won't have to make any repayments.
Generally this lasts for a month or two and you'll still need to pay the interest on the missed payments when you do start paying it off.
Disadvantages of holiday loans
Debt is never good
Always remember that there's a reason why there are so many organisations offering you money - it's to their benefit as the interest rates on loans are higher than those offered to savers.
What's more, your personal circumstances are subject to change and a loan that seemed perfectly manageable when you took it out may prove a burdensome weight around your neck.
Poor credit ratings may be rejected
If you have a poor credit history, you're likely to be seen as a high risk to the lender so you may find it harder to be accepted for a loan.
Interest rate differences
Don't be surprised if the loan rate you receive is different to the one advertised. The advertised rate only has to be offered to 51% of successful applicants. The remaining 49% accepted could be offered a different - usually higher - rate.
Lenders will base the interest rate they offer you on your credit history, so improving your credit score is likely to give you access to more favourable rates.
Missed repayments
If you're unable to make your repayments it's better to come clean with your lender rather than letting fees stack up, leaving you in even more debt.
You can also contact your local Citizens Advice Bureau, National Debtline or StepChange Debt Charity (formerly the Consumer Credit Counselling Service) for free advice.†
Alternatives to holiday loans
Before taking out a loan, you may want to consider whether one of these options might suit you better.
Saving up
It may sound very obvious, but saving up is the only way to definitively avoid paying any interest or fees.
Many airlines and travel agents charge a fee for paying by credit card, often of about 1-3%
You may want to consider traditional savings account products, but make sure you look at current accounts too as some may offer a higher interest rate.
Low-deposit holidays
Some travel companies will offer the option of paying a small deposit to secure your holiday, which can be as little as £1.
You'll then need to pay off the remaining balance within a set period, but this will give you time to save what you need - or to just keep your money in an interest-paying account in the meantime.
Some operators only offer this on holidays which are over a certain number of weeks away at the point of purchase.
Credit cards
Taking out a 0% credit card can be a good way of gaining access to a flexible and interest-free loan.
See also:
Using credit cards to pay for holidays
Credit cards for using abroad
How to get the best exchange rate
Be aware that the 0% interest rate will only be for an introductory period, after which you'll be switched to a less favourable rate, so you should plan to pay off the holiday before this period ends.
Bear in mind that you'll also need to pay the monthly minimum amount to avoid fees.
There are also other credit cards to consider, such as ones that pay you cashback when you spend, or low APR cards.
One of the big bonuses of paying for your holiday on a credit card is that you'll have certain protections under the Consumer Credit Act should the travel operator go bust.
But note that if you apply for a card that you're unlikely to be accepted for and you get rejected it could negatively affect your credit score, so - as with loans - look out for tools that let you make a soft search.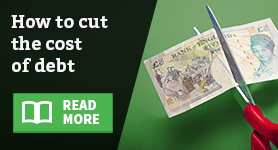 The other big drawback of using them to pay for holidays is that many airlines and travel agents charge a fee for paying by credit card, often of about 1-3%. This can be a significant extra addition to the price of a holiday.
Overdrafts
In some cases, an overdraft might be a cost-effective option, particularly if you're looking to borrow a small sum for a short time.
There's the option of switching to a current account with a 0% or low-interest overdraft, or you could ask to extend an existing one.
Always check whether the 0% overdraft is only for a certain period, stay within your authorised overdraft limit and keep a close eye on any associated fees.
By Abbie Laughton-Coles