What's a home improvement loan?
A home improvement loan is borrowing taken out to do up your house.
You could use the money from a home improvement loan for anything from decorating to a loft conversion.
A home improvement loan could be secured or unsecured. 
Personal loans for home improvements
A personal loan is unsecured borrowing.
You borrow money over a number of years, normally at a fixed rate of interest. You can usually borrow up to £25,000.
Home improvement is a popular reason for getting a personal loan and the range of products available reflects this.
The rate you pay depends on your personal circumstances, the amount you borrow and length of time you pay the loan back over.
Beware low advertised rates - by law these only need to be given to 51% of successful applicants. That means 49% of applicants are likely to be offered a more expensive rate.
Peer-to-peer lending may also be worth looking into. It works in a similar way to a personal loan, but rates can be very competitive if you have a good credit history.
Our loan comparison service allows you to consider peer-to-peer options alongside more traditional borrowing deals.
Loans secured against your home
If you want to borrow a larger amount, you may need a secured loan. GoCompare's best-buy table allows you to tick 'secured' as an option, so you can see what your options are along with APR, total amount payable and monthly repayment.
A secured loan can allow you to borrow a larger amount.
A secured loan usually uses your home as security, so be aware that your home would be at risk if you fail to make repayments secured against it.
Also, as with unsecured personal loans, the advertised APR only needs to be offered to 51% of accepted applicants.
Soft searches
Whatever type of loan you're interested in, use our smart search tool before officially applying.
With our tool you can make what's known as a soft search for loans. You'll see the deals you're likely to be accepted for without it impacting  your credit rating.
Alternatives to loans for home improvements
A traditional loan isn't your only option if you need to borrow money to do work on your home:
Credit cards
A 0% interest credit card could be an option for smaller projects. These allow you to spread the cost over months, or even more than a year with the best deals. Make sure you pay off at least the minimum amount every month.
If your interest-free period runs out, you may be able to shift the remaining balance to a balance transfer card. You'll probably have to pay a fee to do this.
Credit cards can work out very expensive if, for example, you go over your credit limit or cannot keep up the payments.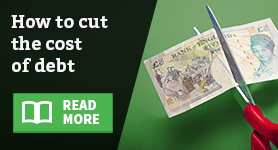 Overdrafts
A bank account with an agreed overdraft may also be an option, but watch out for hefty charges and make sure you stick to the terms and conditions.
Interest-free overdrafts are usually only for a few hundred pounds at most, so it won't cover bigger projects. 
Remortgaging to fund home improvements
If you need a large secured loan you could consider remortgaging, but think carefully about the pros and cons.
Your mortgage might well be at a lower interest rate than most personal loans, so this can appear an attractive option for borrowing the money fairly cheaply.
But even at a low rate of interest, you could still end up paying more overall if you're paying back the money over a longer period of time with a mortgage.
You might be able to cut interest costs by making overpayments to your mortgage each month, until you've paid off the portion you borrowed for your home improvements.
As with a secured loan, your home will be at risk if you can't meet your mortgage repayments secured against it.
Insurance after home improvements
If you're considering home improvements, don't forget to consider the impact on your home insurance, both buildings and contents.
Make sure you update your policy if you're changing the structural layout of your home, as this may change its rebuild cost.
If you're planning on investing in new furniture or fixtures and fittings, this could increase the value of your home's contents.
Get in touch with your insurer to check that your contents cover is sufficient.
You also need to think about whether you're insured while work is going on, and you might need unoccupied property insurance if your property is left vacant during the project.
By Emily Bater
Last updated 28 July 2020