Get connected with a great deal and compare 4G mobile phones with GoCompare
Following on from where 3G technology left off, 4G phones allow users to get the most out of their data services with a bit more zip.
Key points
Only a small number of networks offer unlimited 4G data allowance
Avoid being charged for additional usage by staying within your allowance limits
4G and 4G+ isn't currently available universally across the UK, so be sure to check if it's available in your area before you make a purchase
The 21st century is a world of instant gratification: on-demand services, online streaming and rapid downloads have created an environment of impatience, and set the table for a modern consumer that wants fast-food service across the board. 
Luckily, the world of technology has obliged, and the ever-changing mobile phone industry is no exception. Mobile phone companies have learnt to move with the times or get left behind. 
For mobile phones in particular, speed has long been the key to success. And - when it comes to speed - 4G is at the very heart of the convo in 2018. 
What is 4G mobile phone technology? 
At its simplest definition, 4G is essentially the next step up from 3G communication technology for mobile phones. 4G technology offers the benefits of 3G with a more efficient delivery, allowing users to access wireless internet services at a higher speed. 
The specific benefits of 4G fall into three categories: improved download/upload speed, reduced latency (transfer delays) and crystal clear voice calls. Standard 4G is said to be up to seven times faster than 3G, while certain areas of the UK also have access to 4G+, which offers even faster speeds again.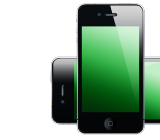 Where is 4G connectivity available? 
When it comes to streamlined connectivity, they don't come much better than 4G... except for 4G+, of course.  However, despite the fact that major mobile networks cover almost the entire country, mobile phone 4G coverage still isn't universally available across the UK. At least at the time of writing. 
Notwithstanding, most major cities do have access to 4G, while 4G+ is also available in London in April 2018 (with further expansion imminent). Outside of that, 5G is already said to be in development, with aims to roll that out by 2020. 
To check if 4G is available in your area, it's worth running a quick online test beforehand. Paying for 4G services could be extremely frustrating if you find out it's not available in your area after the fact. 
Things to consider when shopping for a 4G mobile phone package 
4G can be a great asset for those that frequently download or like to indulge in mobile entertainment and games. However, when shopping for a 4G mobile phone deal, it's important to keep a few key points in mind.  
Firstly, you'll want to opt for a handset that's 4G ready. While it may seem obvious, not all phones are compatible with 4G technology - which can prove troublesome if you opt for a sim-only deal. So be sure your handset is ready, willing and able.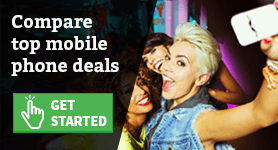 Similarly, you'll also need to be on a 4G tariff. While many tariffs include 4G access as a standard feature, it's not always the rule - so it's worth keeping that in mind when shopping around for a deal. 
Finally, if you're hunting for a 4G mobile, chances are that data usage is pretty high on your list of priorities. Unfortunately, 4G mobile phone contracts don't typically come with unlimited data, with only a handful of companies offering unlimited service. 
In April 2018, this 'unlimited data club' was a lonely group, and limited to just 3 Network and GiffGaff. However, if you're loyal to another network, don't despair. Many other networks do still offer contracts with high data limits, with some offering up to 60GB/month at the time of writing. 
Top tips for cheaper broadband 
With data limitations commonplace, it can be all too easy to exceed your data cap – especially if you rely on your phone's 4G connection for the bulk of your phone interaction. If you have a tendency to over-indulge when it comes to data, it's worth keeping a keen eye on your data usage to avoid falling foul of excess charges. 
What's more, tariffs that do offer sizeable data rations often come with a hefty price tag – another factor to bear in mind when shopping for 4G phones. It might be worth weighing up how much data you need... If you only use your phone for email and social media, you may not even need a robust stock of data to play with. 
Lastly, simply taking the time to shop around could save you a large chunk of change in mere minutes. If you're looking for a great deal on a 4G mobile phone, compare prices with GoCompare before you go any further – you may stumble across the best-value 4G mobile phone you've found so far. 
By Martyn Grant