Holy smokes! It's the BT mobile phone deals guide from GoCompare
It's good to talk - but are BT any good as a mobile network? Here's GoCompare's guide to BT mobile phone deals…
Key points
BT Mobile piggybacks on EE's network
BT does not offer pay as you go phones
Offers discounts for BT broadband customers
Who could forget that iconic scene where young Elliot's bike rises into the sky, past the full moon while in his basket sits... oh wait that's ET. This is about BT mobile phone deals. 
Anyway. In a competitive mobile phone marketplace, BT attempts to stand out in two ways. Firstly with sim-only family plans, and secondly with discounts for existing BT broadband customers. 
What is BT Mobile? 
BT Mobile is a virtual phone network owned by BT. It launched in 2015 and it piggybacks off EE's network. BT also owns EE, which it has since 2015. Turns out 2015 was a pretty busy year for BT. Despite all this, BT Mobile is run separately from EE with distinct tariffs, offers and customer services. 
BT mobile phone deals - what's out there? 
You can compare BT mobile deals on many sites, including GoCompare. But you can't nip down Carphone Warehouse or log on to Amazon to get a BT mobile phone deal. They're only available direct from BT. 
BT mobile sim-only deals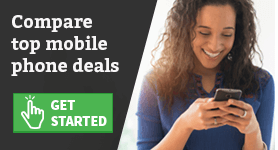 Fun fact: when BT Mobile first launched way back in 2015, it was a sim-only network. As such, BT sim-only mobile phone deals are among the most competitive around. All plans come with unlimited calls and texts. Price points then are centred on how much data you want. But in April 2018, it doesn't offer an unlimited or all you can eat data plan. 
BT Mobile really pushes its family sim plans. It works by offering bigger discounts the more sims you add to a plan.
BT mobile contract phones 
BT started offering phones with its mobile plans in 2017. In April 2018, the selection is a little bit smaller than more established networks. Yet you'll still find the latest iPhone and Samsung Galaxy models, plus phones from Sony, Google and Nokia. These mobile phone contracts mirror the sim-only deals with unlimited calls and texts. The contracts differ in price with the amount of data you want a month. 
BT mobile pay as you go (PAYG) phones 
At the time of writing, BT does not offer pay as you go mobile phone deals. Nor has it ever. But will it in the future? Definitely maybe. Keep an eye out for further news on this hot potato.
Although it's also worth noting you can't currently get PAYG deals through GoCompare either.
BT mobile phone deals for existing customers 
The big offer from BT is for its existing broadband customers. What is it? BT broadband customers can get a discount every month on all BT mobile phone deals. This could be a big percentage of what you pay monthly if you're on one of the lower tariffs. 
This deal has been around for a while and was still in place when we checked in April 2018. But nothing is permanent and time may change me, but I can't trace time. 
Is BT mobile any good? 
As one of the smaller networks, BT doesn't appear in Ofcom's customer surveys.  
But BT has some juicy extras that might be your jam: 
Free access to the BT Sport App is often thrown in 
BT reward cards are also frequently offered 
Family plans often come with a bulk-buy discount – and the bill payer controls the spending caps on other accounts, so no monster bills from the kids' phones! 
Access to BT's wi-fi hotspot network 
Wi-fi calling is enabled on the BT Mobile service 
And of course there's the usual discount for BT broadband customers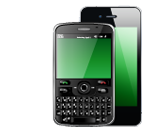 Again, incentives change all the time, so be sure to shop around and compare to see if anything tempts you.
Some potential downsides of BT Mobile include: 
4G speed restrictions unless you pay for an add-on 
No roaming outside of Europe and higher charges than other UK networks if you do
No PAYG phones 
How's BT mobile coverage in the UK? 
As it piggybacks on EE's network, we can apply EE's coverage results to BT Mobile. In Ofcom's survey of customers in summer 2016, 85% were satisfied with reception (1% below the average). Yet in the second half of 2017, EE (and therefore BT) was top of every category in RootScore's report on UK mobile phone coverage.  
How to find the best BT mobile phone deals 
Gifts and extras with a new phone can be sweet – but in the long run you'll probably be paying for them with a more expensive plan 
Check how much data you tend to use – there's no point getting a 30GB monthly contract if you're using less than 10GB 
Try not to over commit – most new phone contracts are 24 month affairs, and can you afford the outlay for that long? 
Compare prices and deals – use sites like ours to see a wide range of deals and tariffs 
Free handsets are seldom free – it's often cheaper to buy the handset then look for a sim-only deal 
Haggle with customer services for a better deal – especially if you're near the end of a contract 
By Sam Easterbrook