Deal with it – iPhone mobile phone deals
Want to learn about monthly contracts, pay as you go, sim-only and more? If so, this guide will be the Apple of your iPhone. 
Key points
Tariff options you can get for the iPhone are contract, pay as you go and sim-only
Contracts can offer consistency, and usually come with a new handset
Comparing tariffs for your iPhone allows you to view the deals that suit you
"We don't know if you've been told, iPhone's can cost more than gold! If you want to sell your soul, we've heard Apple takes them whole!" 
Read on to see if you can find a snazzy deal for your iPhone. Note: We were joking about the soul bit…  
iPhone mobile phone deals 
Choosing the right mobile phone deal for your iPhone can be a blur of technical jargon, numbers and handset names.  
Below are some of the options for iPhone mobile phone deals to help you unscramble what's on offer, and see if it's the right deal for you.  
First though, some definitions: 
Handset – refers to a mobile phone, which in this case, would be your iPhone.  
Tariff/plan - how many minutes and texts you can send, as well as how much data is available for you to use each month. 
Package – refers to the tariff and handset combined.  
Upfront cost – the price charged at the beginning of your contract, usually to help pay off the cost of the handset. 
Data – internet connection that uses your mobile phone signal.  
Upgrade – you might be given the option to have a better handset or tariff.  
Cloud – a way of storing your photos and videos online, to free up space on your iPhone.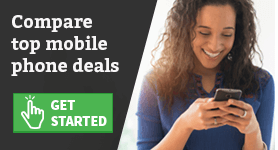 Contract
If you'd rather pay a regular price each month, with set texting, calling and mobile internet data limits, then a contract might be the right option for you. 
A contract will be for a set length of time, usually 12 or 24 months, and with a fixed tariff.  
An example of a mobile phone contract could be a package including an iPhone 6 handset, with 500 texts, 500 minutes and 500Mb of data, with a £200 upfront cost for £15 per month, lasting 12 months.  
Sometimes you might come across a package that has no upfront cost, but the monthly payments will probably be higher.  
Some contract have a minimum term date, which means if you cancel your contract before the minimum term has ended, you could be charged a fee.  
Some tariffs even offer unlimited texts, minutes or data. But these can be expensive, so if you don't text, call or use your data that much, an unlimited plan might be a bit over the top.  
To be put on a contract, you'll need to pass a credit check, as the  iPhone isn't technically yours until it's fully paid off at the end of your contract.  
Did you know...?
GoCompare was founded in 2006 - a year before the first iPhone!
Pay as you go 
If you don't fancy having your iPhone on a contract, a pay as you go (PAYG) plan might be a more flexible option for you.  
To make calls and use your texts and data, you simply pay money to top your iPhone up with credit. When the credit runs out, you top it up again, as needed.   
If you're a frequent mobile user, PAYG might not be the most economical choice, but it can be useful to keep track of your children's mobile phone usage – although it could be risky to give an expensive iPhone to a child. 
Also, we don't currently compare PAYG mobiles. Just so you know. 
Sim-only 
With a sim-only tariff, you'll have a monthly contract with a certain amount of minutes, texts and data, but you won't get an iPhone handset included.  
This allows you to put the sim in an iPhone you already own. It can also be useful if you want to keep your current iPhone, but change to a different plan.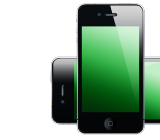 About Apple 
We could study Apple's company history all day and still find things to write about, but for now we'll just give you a brief run-through.  
Apple Computer Inc was founded in 1976 by Steve Jobs, Steve Wozniak and Ronald Wayne. After the initial founding, the two Steves asked Wayne to act as peacemaker between them and take a 10% share of company stock – that's a pretty cushy deal… 
… But twelve days later, Wayne backed out and sold all his shares for $500. The worst bit is, Wayne's 10% share would be worth around $72 billion today. Ouch. 
The first Apple computer, the Apple I, was sold for $666.66, followed by the Apple II in 1977, which was the first of its type to provide colour graphics.  
The Macintosh went on sale in 1984 for $2,495, with its iconic first TV advert and the first iMac was made in 1998.  
The iPod was released in 2001, with the iPhone following in 2007 and iPads coming later in 2010, all running Apple's own operating system, iOS.  
Since the initial launch, Apple has sold over 1.2 billion iPhones, making it Apple's most profitable product.  
Popular iPhone models include the iPhone 5s, 6, 6s, 7, 8, SE and X. Older models, like the iPhone 3 and 4s, aren't available to buy new anymore, so your options might be limited to a sim-only plan.  
Compare iPhone deals 
Choosing the right mobile phone deal is important, as you could be stuck on the same tariff for a good few months at least.  
You can compare different types of tariffs to find the right deal for you - whether you've got a particular iPhone model in mind, a certain budget, or you just want to see what's out there.  
By Amy Smith