Mobile phone deals for LG
Is Life Good with LG mobile phone deals? Read on to find out!
Key points
LG released its first Android-powered mobile phone in 2009
You can get LG phones on contract, pay as you go and sim-only
Before jumping right into a plan, don't forget to shop around to see if you can find a better deal
Want to learn more about mobile phone deals and how to get the right one for your LG mobile? Well, you've come to the right place!  
About LG 
LG (Life's Good) is a South Korean electronics company that was founded in 1958 as Goldstar. LG has four main industries: home entertainment, mobile phones, home appliances and air solutions, and vehicle components. 
LG is most well-known for its TVs and mobile phones. It introduced its first internet TV in 2007, which we now know as LG Smart TVs. LG uses technology that allows customers to change channels using gestures and voice recognition.  
Did you know...?
LG made a TV exclusively for India that repels mosquitos by emitting ultrasonic waves. The technology has also been used in air conditioners and washing machines
The first LG Android smartphone was released in 2009. It was called the LG GW620 (or the LG Eve – which we think sounds much nicer).  
The Eve had a touchscreen and a QWERTY keyboard, and was replaced by the LG Optimus in 2010.  
Popular LG phone models include the G4, G3 and G2 - along with the K10, Q6 and V30.  
LG mobile phone deals 
You could be stuck on the same mobile phone plan for a while, so you'll probably want to make sure you're getting a good deal.  
We've taken the technical jargon out of mobile phone plans, so you can clearly see what options there are when it comes to getting the right tariff for your LG phone.  
Pay as you go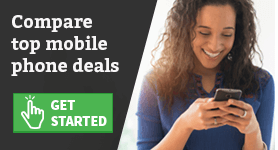 Many of LG's popular mobile phones are no longer available as new, so you can't get them as part of a contract package.  
Pay as you go (PAYG) is a flexible option that allows you to make calls and use your texts and data, by paying money to top up your LG phone with credit. When the credit runs out, you can top it up again, and you're good to go.   
While PAYG is a flexible option, it might not be the most money-saving option if you use your mobile a lot. Also, as a heads-up, you can't get PAYG deals through us.
Sim-only 
With a sim-only plan, you have a fixed monthly or yearly allowance of texts, minutes and data. Like PAYG, this option is handy if you're happy with your old phone don't want a new one. 
Contract 
A contract is a package deal of a new mobile phone and a monthly allowance of minutes, data and texts.  
In addition to your monthly payments, you might have an upfront cost to help pay off the cost of the mobile phone. Most contract terms last for 12 or 24 months.  
To be put on a contract, you'll probably need to pass a credit check, as the mobile phone isn't technically yours until it's fully paid off at the end of your contract.  
Shop around to find the right LG mobile deals 
Whether you've got a discontinued LG G2 and you're looking for a sim-only deal, or you want the latest high-tech LG smartphone on contract, comparing prices using a comparison site could save you time and money.  
View a range of deals from various providers, by shopping around to find an option that suits you.  
By Amy Smith