Guide to Nokia mobile phone deals
Famous for indestructible phones, how do the deals for Nokia's phones stand up? We've put them through their paces in this guide.
Key points
There are three types of deal: pay-as-you-go, contract, and sim-only
Each deal has its own benefits and downsides, so compare carefully
The Nokia 1100 is the best-selling phone of all time
Founded in 1865 in Finland, Nokia started its telecommunications arm in the 1970s, and is now one of the most well-known manufacturers of mobile phones. It became solely focussed on telecommunications in the 1990s.  
Nokia's 1100 model is still the best-selling phone of all time, first sold in 2003. The 3310 is also legendary for its long battery life and its exceptional durability. 
Although initially outpaced in the smartphone market, Nokia has now relaunched the 3310 to great fanfare, and brought out a self-titled number series including the Nokia 8. 
So, what's the best way to get hold of one of the most famous mobile phones ever? You could buy one sim-free, or you can take out a contract that includes the price of the handset. You can also buy them on a pay-as-you-go (PAYG) tariff - although it's worth noting you can't get this kind through GoCompare. 
But what does all that mean? Well, you can use our handy guide to unscramble the jargon of mobile phone deals. 
Nokia mobile phone deals 
There are several ways to pay for a phone. Each comes with its own benefits and disadvantages, so we've compared them all for you to help you in your choice of Nokia deal.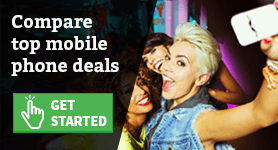 Nokia contract deals 
Usually in a contract, you're paying for both the cost of the tariff you want and the cost of the handset in one monthly sum.
So, for instance, you could have a contract that offered you unlimited minutes for phone calls, 1,000 free texts per month, and 4GB of mobile data to allow you to use the web wherever you are. It might come to a ballpark figure of £20 a month, but part of that cost is a monthly instalment towards the cost of the handset itself.  
This has one big advantage: buying a handset outright can be an expensive choice. In April 2018,the purchase of a sim-free Nokia 8 could set you back in the region of £300.  
A contract with a provider like O2 or EE breaks that cost down as part of your monthly payment, making it more affordable. 
However, a mobile contract locks you into that same monthly cost for anywhere between 12 and 24 months, and it cannot be cancelled if you find a cheaper deal elsewhere.  
Any unused minutes or texts may not be rolled over month to month, so you may not be paying for what you use, meaning a contract isn't always the best value for money. 
Nokia pay as you go deals 
A pay as you go (PAYG) tariff does exactly what it says on the tin. You pay as you use the phone, topping up a certain amount of credit every so often.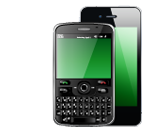 Pay as you go is designed more for those who use their phones sparingly, which is a rare phenomenon in the age of smartphones.  
Also, you can't currently compare PAYG deals through us.
Nokia sim-only deals 
If you already have a handset, a sim-only deal may represent the best of both worlds. You don't need to buy a new handset to get the deal, as you should be able to switch your phone's sim card for the new one.  
Unfortunately, should you need a new phone, you'll have to buy the handset outright, which could be very expensive. However, it will come without a sim card, meaning you aren't automatically tied to any one network or tariff. You're then free to upgrade phones whenever you like. 
It also means your sim card can easily be changed if you're travelling overseas.  
Sim-only contracts tend to be cheaper overall, as you're only paying for what you use, and they often allow you to roll over unused data or minutes. 
Top tips for cheaper mobile phone deals 
We can't choose the right deal for you and your Nokia. But we can recommend you compare available deals to find the right fit for you and your phone. There are plenty out there, so go and get comparing!
By Nick Dunn