Get zesty with Orange mobile phone deals
If you want to learn more about Orange's mobile phone deals, we've arranged this peachy guide to help you out. We've also managed to squeeze some fruity puns in there too.
Key points
Orange had a colourful company history, and is now represented by EE in the UK
You can't get Orange contract or sim-only deals anymore, but you may be able to find pay as you go options
If you had an Orange contract or sim-only deal in 2015, when Orange became defunct, you may have been automatically transferred to an EE plan
Comparing mobile phone deals is like comparing apples with oranges – there's so many options to suit different tastes! 
We'd like to say that searching for an Orange mobile phone deal is easy peasy lemon squeezy. However, the Orange brand was juiced in 2015. But if you're looking for a mobile plan nonetheless, the first thing to do would be to work out what your needs are so you can compare the deals that best suit you.  
About Orange 
Orange's company history is almost as nutty as a fruitcake, so brace yourselves.  
In 1991, Hutchinson Telecom acquired Microtel Communications Ltd, which was renamed as Orange Personal Communications Services Ltd. The Orange mobile phone brand was launched in the UK in 1994, and became Orange plc a year later.  
After a few mergers and acquisitions, in 2000, France Telecom bought Orange from Vodafone and took on the name Orange S.A. 
Back on home soil, Orange UK merged with T-Mobile UK to form EE (Everything Everywhere) in 2010.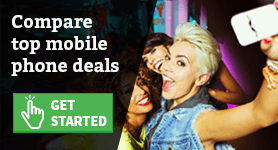 Orange had around 300 stores in the UK, but the Orange brand was phased out in 2015, and all Orange shops were rebranded to EE.  
You can no longer get Orange products in EE stores, so if an Orange tariff apeels to you, you'll have to look for deals online.
Be a top banana with Orange mobile phone deals 
Orange used to have a variety of mobile phone deals, with various features, benefits and even occasional free gifts! Alas, the good times couldn't last.  
Since being defunct, the types of mobile phone plans you can get on Orange are limited. But EE has taken over some of its tariffs, so let's get up to date with Orange mobile phone deals.   
Pay as you go 
With pay as you go (PAYG), you have to buy credit to top up your phone before you use it. This credit pays for calls, texts and using your mobile data. When the credit runs out, you'll need to top up your phone to use it again.  
We've heard through the grapevine that you can still get Orange PAYG deals through certain online retailers, whether you're an existing customer or not. Not through us though, sorry!
Back in the day, Orange had a zoo of PAYG plans, named after animals, with different features and benefits. 
Did you know...?
In 1996, Orange became the youngest company to enter the FTSE 100
While some of these animal plans - like the camel and monkey - have been discontinued, others might still be available... like the dolphin, canary and raccoon.  
Contract 
A contract means you pay a certain amount each month, for a fixed period of time (usually 12 or 24 months).  
Your contract package will cover the cost of a handset and an allowance of texts, calls and mobile internet data.  
There might be an upfront payment before your contract starts to help pay off the cost of the handset.  
Orange no longer offers contract packages, so you might have to look at other providers if you fancy a contract deal. Bear in mind that you'll have to pass a credit check to be eligible for a mobile phone contract.  
Sim-only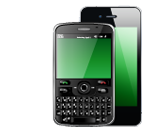 A sim-only deal provides an allocation of calls, texts and data, for a monthly fee. The difference between SIM-only and a contract is that you don't get a mobile phone handset with a sim-only plan.  
Like with the contracts, Orange doesn't do sim-only deals anymore, as they're now offered by EE instead.  
Orange mobile phone deals for existing customers 
When it comes to the transfer from Orange to EE, it's pretty much all cut and dried.  
Orange doesn't really have many options on offer to new customers, apart from its PAYG animal plans, and that's if you can find a retailer that still offers them.  
For existing customers, if you were on an Orange (or T-Mobile) contract in 2015, you might already have been moved to EE automatically. You should be able to check who your network provider is in your phone settings to find out. 
Think the time is ripe to upgrade your Orange contract or sim-only deal to EE? If so, your Orange provider will change to EE automatically when you switch.  
If you're looking to switch from an Orange plan, or you want to search high and low for those elusive Orange PAYG deals, then using a comparison service could be the best thing for you since sliced apples.  
By shopping around, you can see what mobile phone deals are on offer. And if Orange isn't the cherry on the cake, then there are plenty more providers to compare instead so you can find the right deal for you.  
Now we're off to bake an apple pie while eating some fruit salad. Yum! 
By Amy Smith