Could you find a cheaper Sony mobile phone deal?
If you have a Sony mobile phone, you'll probably want a good deal on your mobile phone plan.
Key points
Sony's mobile division was founded in 2001 and originally called Sony Ericsson
If you don't need a new phone, a sim-only deal might be better for you than a contract
Pay as you go is a potential money saver if you don't use your mobile often
Sony Mobile Communications Inc. was founded in 2001 by Sony and Ericsson but is fully owned by Sony after it bought out Ericsson's share. The mobile division's parent company, Sony Corporation, was founded in 1946.  
The name Sony is based on the Latin word for 'sound'. But the company was originally called TTK - Tokyo Telecommunications Laboratory - for 12 years, before changing the name to Sony. 
Along with mobile phones, Sony has also produced the PlayStation gaming console, the Walkman, a portable audio cassette player (you remember them, right?), and rice cookers.  
Mobile phone deals for your Sony 
You can get a good deal on your mobile phone plan by comparing various options and finding out which works for you.  
To compare your options, you'll probably want to know more about them, so we've compiled a brief rundown of the different types of mobile phone plans you can get for your Sony.  
Pay as you go 
Did you know...?
The 1979 Sony Walkman was nearly called the 'Sony Disco Jogger' – how funky is that?!
Pay as you go (PAYG) allows you to make calls and use your texts and data by paying money to top up your Sony phone with credit. When the credit runs out you can top it up again, and you're good to go.   
While PAYG is a flexible option, it might not be the most money-saving if you use your mobile a lot.
In addition, you can't currently buy any PAYG plans via GoCompare. 
Sim-only 
With a sim-only plan, you have a set allowance of texts, minutes and data. Like PAYG, this option is handy if you're happy with your old phone don't want a new one. 
Contract 
In a contract, you'll get a new mobile phone and a monthly allowance of minutes, data and texts.  
See also:
In addition to your monthly payments, there might be an upfront cost, to help pay off the price of your new mobile phone. Most contract terms last for 12 or 24 months.  
To be put on a contract, you'll need to pass a credit check, so it may not be the best option if your credit score isn't at its best.   
Things to look out for 
When you're shopping around for a good deal on your Sony mobile phone tariff, there are a few things you should bear in mind: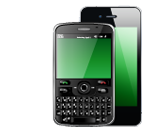 Only pay for what you need, and check you're not being sold something you won't use, like an extra data allowance or a more expensive Sony handset.  
Keep your eyes peeled for free gifts and promotions, but don't rely on them. 
If you don't need a new phone, it's probably cheaper to get a sim-only deal. 
Also, don't feel like you need to get a new phone for more storage – you can store pictures and videos online, so they don't take up room on your mobile.  
Don't use your phone very much? You might be better off on PAYG. But always weigh up your options first.
Haggle with the provider to get a better deal. Some deals might not have any wiggle room, but it doesn't hurt to try! 
Finally, you won't be surprised to know that our top tip for saving time and hopefully money on your mobile phone deal is to compare different tariff types, handsets and contract lengths using sites like GoCompare.  
By Amy Smith