Take a look at T-Mobile's mobile phone deals
Founded in Germany in 1990, T-Mobile is a well-known mobile phone network here in the UK. Learn more about its takeover by EE, what tariff plans it has and how to get a good deal on your mobile phone plan.
Key points
Since Orange and T-Mobile merged into EE in 2010, contracts and SIM-only deals are provided by EE
Some retailers do still offer T-Mobile pay as you go, but it's quite tricky to find
Make sure you understand the deal you're looking at, and read the T's & C's carefully
Before you dive right into finding a T-Mobile plan, it might be a good idea to check out what the rest of the market are offering and learn more about T-Mobile tariffs and maybe some money saving tips too!  
T-Mobile and Orange and EE – Oh my!  
T-Mobile is a mobile communications company that runs its operations in lots of countries around the world, like Austria, the Netherlands, Poland, the US and Slovakia.  
With T-Mobile in the UK, things are a little more complicated.  
T-Mobile UK and Orange UK merged to form EE (Everything Everywhere) in 2010. Most of T-Mobile and Orange's phone plans were converted to EE between 2010 and 2015.  
So if EE has taken over T-Mobile (and Orange, but that's another article), what T-Mobile phone tariffs can you still get in the UK? 
What's the deal with T-Mobile? 
Since being merged into the EE brand, all T-Mobile SIM-only and contract plans were automatically transferred to EE. 
If you had a T-Mobile phone deal in 2015, you may not have even noticed the switch, as all that really changed was the network name – tariff features and lengths were pretty much left the same for existing customers.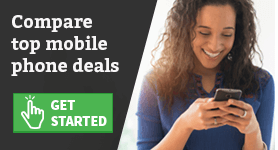 If you want to have a T-Mobile plan these days, you'll want to scope out EE's plans. Let's have a look at some of the plan types you can get with EE, to see if they might suit your needs.  
Contract 
With a contract, you pay a set amount each month for a certain allowance of data, texts and calls.  
Contracts are usually fixed for 12 or 24 months and might have an upfront cost if it includes the purchasing of a mobile phone.  
You may also be required to pass a credit check, as the mobile phone isn't technically yours until it's fully paid off at the end of your contract term.  
T-Mobile no longer offer contract deals, so you'd have to go through EE or another provider if this option takes your fancy.  
SIM-only 
Do you want the benefits of a contract without paying the price for a new mobile phone? SIM-only could be the way to go.  
You'll have a monthly contract with a certain amount of minutes, texts and data, but you won't get a handset included. This allows you to put the SIM in a mobile you already own, and away you go!  
Like with contracts, SIM-only is no longer an option with T-Mobile.  
Did you know...?
In January 2018, T-Mobile joined the Climate Group's RE100 initiative, which gets companies to commit to 100% renewable energy by 2021
Pay as you go 
Don't use your mobile much? Well a pay as you go (PAYG) might be the option for you.  
If you choose PAYG, you'll be able to pay to add credit to your phone, which allows you to make calls, texts and data.  
When you run out of data, you can just top your phone up again with more credit, which means you only pay for what you use.  
Some retailers do still offer T-Mobile PAYG deals, but finding one is unfortunately about as likely as finding a flying pig.  
Why should you compare mobile phone deals? 
We'd recommend comparing different mobile phone tariffs with T-Mobile (or EE, as they are now known as), to see which provider has the most suitable plan for your budget. 
Another top tip is after you've shopped around and compared prices, you could try a bit of haggling with the providers to see if they've got any wiggle room on the tariff prices.  
See also:
Making sure you full understand the deal you've chosen is also a good idea, and we hope we've been able to help you out a bit with that. If you need more info, the provider should be able to break it down further for you.  
Finally, don't be fooled into buying something you don't need. Providers may try to upsell you, meaning you get a more expensive handset or plan with features you don't need.  
Now you're armed with your knowledge of tariffs, providers and terms, you can go forth and compare mobile phone deals to your heart's content. You might even save yourself a few quid – fingers crossed!  
By Amy Smith