Ahoy-hoy! Welcome to the Three mobile phone deals guide from GoCompare.
Set your mind free and see our guide to Three! In other words, here's GoCompare's guide to Three mobile phone deals…
Key points
Three markets itself as a network for mobile internet users
Despite a rocky start, Three covers 97% of the UK population with 3G, according to its website in April 2018
Three mobile phone deals such as unlimited and all you can eat data are common
"Three, 
That's the magic number, 
Yes it is, 
It's the magic number."  
But were De La Soul talking about Three the mobile network? Well, no. But we are, as this is our Three mobile phone deals guide. Listeners listen, cause this here is wisdom. 
What is Three? 
"Our network was built for the internet." That's how Three describes itself. First with 3G and now 4G, Three was the first UK mobile phone network to offer all you can eat data. 
Three started out in Hong Kong and launched in the UK on Monday 3 March 2003 (3/3/03). Because it loves the number three. And it's Three not 3 in the UK, despite its fancy logo. 
Three mobile phone deals - what's out there? 
Three is one of the 'big four' mobile networks in the UK, alongside EE, O2 and Vodafone. So it has loads of choices when it comes to mobile phone contracts… 
Three mobile contract phones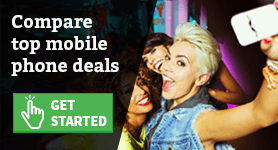 Oh, that new-phone smell. If you're after a new handset to go with your contract then Three can sort you out. Apple, Samsung, Huawei, Sony… even BlackBerry phones are available from it. 
Three will often throw in gifts and extras with a new phone. It's offered Netflix subscriptions, PS4s, and Bose headphones in the past. 
Shop around and compare deals from different networks to find the right contract for you.   
Three mobile sim-only deals 
The sim-only market has exploded with people keeping hold of handsets for longer. To attract or keep customers, mobile operators are slashing costs and piling on data bundles. Three is no exception and usually has some cracking deals, especially for big data users. 
Three won Best Phone Deal of the Year at the 2017 Mobile Choice Awards for its £18pm 30GB sim-only plan. 
Compare Three's sim-only plans to get a good deal. 
Three mobile pay as you go phones 
Pay as you go (PAYG) mobile phones are ideal for low-usage peeps or those on a budget. Kids too if a parent is picking up the bill. 
Three offers all the latest smartphones. You can also find those indestructible blighters with battery-life that can be measured in weeks. 
PAYG tariffs have dropped in price over the past couple of years, so could be an cheaper option for some people. Heavy users, especially with data, might be better off on contract mind.
Also, you can't currently buy PAYG deals through our website. You can compare contract phones and sim-only deals though.
Three mobile broadband and dongles 
As this is our guide to Three mobile phone deals, we'll not go into too much detail here. But get your goggles round our mobile broadband and dongles guide if you're after more info. Needless to say, Three usually has plenty of deals on data - but compare what's out there before committing.
Is Three any good?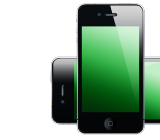 In Ofcom's 2016 survey of UK mobile phone customers, Three scored: 
89% for overall satisfaction (below the average of 92%) 
80% for satisfaction with reception (average was 86%) 
And 5% of customers had a reason to complain (above average of 4%) 
On top of that, Ofcom announced in March 2018 it was investigating Three and Vodafone for 'traffic throttling'. It's about net neutrality rules rather than road rage. Three said it would be "working closely with Ofcom to understand their concerns." 
Time for some more positive news. Three was voted Best Network for Data and for Roaming at Mobile Choice Consumer Awards 2017. It won the Best Network – Customer Support category at the 2017 Mobile News Awards. Three was also commended for Customer Service and Best Network Performance at the same awards. 
Three mobile coverage 
Three used to have a bit of reputation for poor coverage. This was down to its focus on 3G rollout over older spectrums. Yet Three now covers 97% of the UK population, according to its website. It was also the first mobile network to hit the government's target for coverage. But check if your home and workplace gets a good Three signal on Ofcom's map.† 
How to find the best Three mobile phone deals 
Check how much data you actually use – there's no point getting a 20GB monthly contract if you're using less than 5GB 
Compare prices and deals – some price comparison sites *cough* GoCompare *cough* don't just do insurance… 
Free handsets are rarely free – it can often be a lot cheaper to buy the handset then go hunting for a sim-only deal 
If you don't use a phone that much, pay as you go might suit you better than a monthly contract 
Gifts and extras with a new phone can be sweet – but in the long run you'll probably be paying for them with a more expensive plan 
Thinking of changing phones as you're running out of storage? Back up pictures and videos on the cloud, clear your cache, and delete unused apps - you'd be surprised how much space you'll free 
Try not to over commit – most new phone contracts are 24 month affairs. Can you afford to be tied in for that long? 
Try haggling with customer services for a better deal – especially if you're near the end of a contract
By Sam Easterbrook