Could a Vodafone tariff bring power to your mobile phone?
Pushing an incredible 444 million customers worldwide, the Vodafone Group is one of the largest mobile phone companies on the globe.
Key points
According to the Vodafone website in April 2018, it has almost 444m customers around the globe
Sim-only deals offer much of the same perks as monthly payment phone plan, without the added expense of the handset
Compare the latest Vodafone deals using our comparison tool
As such, it should come as no surprise that the telecoms giant spares no expense on its marketing campaigns. In fact, recent ads for the mobile juggernaut have seen a variety of personalities, ranging from Daniel Craig and Martin Freeman to Yoda the Jedi Master and a pair of computer-generated bees. Quite the party line-up indeed! 
Vodafone has even announced plans to get involved in the space exploration game, proving that it's quite literally aiming for the stars in the years to come. Continuing this trend of big spending, Vodafone launched one of its most expensive ad campaigns to date in late 2017, with the new slogan claiming that "the future is exciting" with Vodafone. 
While its business plans make it hard to argue with that statement, the question remains: do the Vodafone mobile deals live up to that same mantra? If you don't already have one, might you be getting VodaFOMO? Let's find out... 
What Vodafone mobile phone deals are available? 
As part of the 2017 campaign, Vodafone made a conscious decision to revert from its 3D logo back to the classic two-dimensional version of yesteryear. Luckily, the deals Vodafone has on offer are anything but flat.
With 98% coverage across the UK in April 2018, Vodafone has gone the extra mile to offer its customers great network connectivity. This even earned them the honour of being named Mobile Network of the Year 2017 by Trusted Reviews. 
Better still, Vodafone has mirrored the network improvements in its services. It now offers a myriad of options for current and prospective customers. The following features were correct in April 2018.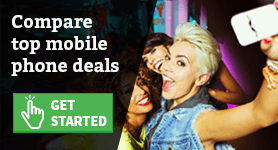 Vodafone pay monthly 
Depending on how you use your phone, Vodafone mobile phone deals offer a variety of options that could allow you to truly get the most out of your mobile. 
With options ranging from the economical plans with just the essentials to comprehensive tariffs replete with extras, Vodafone has plenty of options to suit your budget and needs. 
Unlimited texts are included in each package, while unlimited minutes are also included in most plans. Better still, many of these also include a 24-month subscription to a entertainment network of your choice, with the option of choosing between Spotify, Now TV or Sky Sports Mobile TV. 
The various Vodafone pay monthly deals also offer the freedom to take your home plan abroad via the global roaming scheme. This allows you to use your UK data, minutes and texts in 50 roam-free destinations at the time of writing, including a myriad of European countries and a number of non-EU destinations. 
Vodafone sim only 
If you're happy with the phone you have and/or are looking to save a bit of money on your monthly outgoings, a Vodafone sim-only deal could well be the option for you. 
A typical Vodafone sim deal offers all the meaty goodness of a standard pay monthly plan without the added expense of the hardware. With no cost of the handset padding out your bill, monthly price plans start from little over a tenner. However, remember that the best Vodafone sim-only deal for you may not always be the cheapest Vodafone sim-only deal. Always be sure to weigh up exactly what you need for your circumstances. 
One of the biggest differences from a sim-only deal on Vodafone and a standard pay monthly phone plan is the duration of the contracts. Options include two primary contract lengths – a standard 12 month contract and a shorter 30-day contract – allowing you far more freedom than the typical 24-month contract included with a pay monthly phone plan.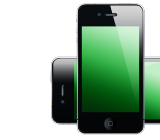 Vodafone pay as you go (PAYG)
For those that don't wish to be shackled into a set contract, a Vodafone pay as you go deal could be a potential solution. As the name suggests, a Vodafone PAYG deal allows you to control your outgoings, simply paying for what you use and nothing more. If you don't use up all your credit, the remainder simply rolls over from one month to the next. You can usually keep a beady eye on your level of credit with an app.
By and large, PAYG deals are catered for those who don't heavily rely on their mobiles. So if you're a demon for downloads, the price of a PAYG can rack up pretty quickly. They're also useful for parents footing their child's mobile bill, keen to avoid any nasty monthly surprises.
It's also worth noting that you can't currently compare PAYG deals with us. But there are plenty of other Vodafone mobile deals available.
Other Vodafone perks 
Vodafone offers a number of handy perks to its network, including a simple process that allows you to retain your phone number if you don't want to change. This applies to both existing Vodafonians and new Vodafone customers, and can be done via an easy online form. 
Meanwhile, pay monthly customers on certain plans may also be eligible for an early upgrade, although fees do often apply. Having said that, existing Vodafone customers can also trade in their old phone for discounts on your next upgrade. So, if you don't mind parting with your current handset, you could use your old phone to offset the cost of the upgrade. 
In addition to that, Vodafone also offers a variety of 'passes' designed to let you enjoy the entertainment, social media and general interaction on the go without eating into your data allowance. For example, the Video Pass allows you unlimited access to video streaming for one set fee, which is ideal for those that like to indulge in apps like Netflix. 
Saving money with Vodafone mobile 
With so many Vodafone mobile phone offers available and a variety of pros/cons related to each, it can be difficult to know where to start when it comes to choosing the best Vodafone deal for you. 
Let GoCompare do the hard work for you - just take your new phone journey via our comparison tool. A quick and easy search can help uncover some great deals with next to no effort. Get comparing! 
By Martyn Grant