How can we help you with your money needs today?
Key points
The more financial products you compare, the better your chance of finding the right one
Sticking with the same product year after year could cost you money - interest rates and other terms change
We're dedicated to showing you product features as well as headline deals to help you find the right option
Whether you're saving, borrowing or looking for financial protection and security for your loved ones, Gocompare.com's core aim of getting you the right deal at the right price can help ensure your money's working as hard for you as it can.
Scandals such as the mis-selling of PPI and of mortgage endowments, or the FCA's investigation into low rates in the savings market, have shown that there's little to be gained by putting blind, long-term trust in banks and other financial institutions.
The only sensible option for cash-conscious consumers is to ensure they're well informed financially, that they shop around for the best deals, and that they stay on top of their money, keeping an eye on new products… and watching out for changes to the ones they already have.
We were the first comparison site to focus on showing you the features of insurance policies as well as the price, and this simple tenet remains central to our thinking about every product.
Need more information?
Money articles and guides
To help make your financial choices well informed, clear and uncomplicated, we aim to provide you with the information you need and our best-buy tables let you compare interest rates, balances and all the key product features.
While we strive to make the online process as easy and transparent as possible, we also recognise that there'll be times when you want to speak to an expert. For complex products like mortgages, life insurance and income protection we can connect you with free, impartial advisers.
Whatever your money needs, we hope you give us a try. We're continually working to improve services across all products with the aim of connecting our customers to the right financial information, boosting knowledge and making their lives that little bit easier.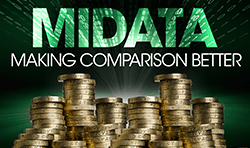 That could be within our quote journey, through our customer service, in our ever-expanding range of product guides, articles and videos, or by using interactive tools such as our income tax calculator and savvy saving quiz.
If you're looking for loans or credit cards you'll see we offer a smart search tool, allowing you to make a so-called 'soft search' that doesn't impact on your credit rating. This means that you'll then only see the deals you're likely to qualify for, helping you avoid failed applications that can damage credit scores.
Gocompare.com is the first comparison site to offer the exciting midata service for current accounts, making bank account comparison better by allowing consumers to easily connect their options with the actual data from their account use.
Remember that we don't charge our customers for using our service and we're unbiased - we don't accept advertising or sponsored listings.
You can also rest assured that Gocompare.com won't sell your data and won't add fees or commissions to the prices you compare.
We're the only price comparison site that has British Insurance Brokers' Association (BIBA) membership, a fact that helps us keep up with the latest in best practice, and we're authorised and regulated by the Financial Conduct Authority.