You're moving out for the first time, but are you prepared for the financial realities? Find out the fiscal essentials of leaving home and living on your own.
Your own place with your own rules, where you're free to do whatever you like; it sounds pretty appealing after years spent with the parents.
But there's more to flying the nest than being able to choose your own dinner or having guests over whenever you want. Make sure you're up to speed with the ins and outs of everyday finance away from the family abode.
Finding the right place to live
Where you choose to live will have an enormous impact on your life, so be sure to give it serious consideration before making a decision. It's important to think about:
The area you live in
Is it close to work, or employment opportunities? If not, you may end up spending a lot of time and money commuting
What facilities are nearby? You need to be close to a doctor and a corner shop at the very least, but consider your lifestyle and whether the area will meet your needs. If you're an active person, for example, is there a park or gym in the area? What about pubs, restaurants and shops?
What's public transport like in the area? This is particularly important if you don't drive, or will be some distance away from family and friends
Is it a safe area? Police.co.uk † has a tool to help you find out crime rates by neighbourhood
When you move into your own place, you'll have to inform a number of authorities and utilities providers
The place you live in
Are you taking on the responsibilities of being a tenant, or looking to buy your own property?
Would you prefer a flat or a house? Consider the environment you're used to and ask whether you'd be ok with a change
Do you want to live by yourself, or with others?
Can you afford to live there?
Once you've taken into account utility bills and other necessary outgoings (such as home insurance, phone bills or credit card payments), do you have enough left over to cover rent or mortgage payments and enjoy a decent quality of life? Not sure? There's more on bills and budgeting below.
Sorting out bills
When you move into your own place, you'll have to inform a number of authorities and utilities providers. The main ones are:
Gas and electricity
When you move in, you should inform the company that's currently supplying gas and electricity to the property that you're a new customer (your agent or landlord should be able to tell you which company that is).
If you choose to stay with that supplier, they'll set you up with a new account and will discuss payment options with you (monthly, quarterly, direct debit, and so on).
It's up to you whether you choose to get your gas and electricity from the same provider (dual fuel), or from separate companies, and you don't have to stay with the property's current supplier. You can learn more about the options and compare gas and electricity prices here.
Make sure you have the right bank accounts and related financial products
Water
There'll be one main water supplier in your area (find yours here).† When you move into your new place, contact them to let them know and they'll sort you out with an account and guide you through the payment options.
Council tax
The cost of your council tax is determined by your property - how large it is, where it's situated, etc. When you move in you must contact your council to inform them that you're now living at that address.
The council will tell you how and when you must pay your council tax, and will also make sure you're placed on the electoral role so you can vote in local and national elections.
If you're a full-time student or living on your own, you may be eligible for a discount.†
TV licence
If you plan on watching television in your property you'll need a licence. This includes watching TV via a computer, tablet or mobile phone, or recording it as it's broadcast.
You can pay for your licence in a variety of ways - find out more at TV Licensing.†
The right accounts
In order to keep on top of your finances - and to help stick to a budget - you should make sure you have the right bank accounts and related financial products.
A current account
You'll use your current account for everyday spending, and it will probably be this account that you pay your rent and bills from. Make sure you've got the right one by comparing current accounts.
There are no hard and fast rules when it comes to setting a budget, but you need to make sure that your monthly outgoings don't exceed your income
A savings account
Your monthly budget should allow you to set aside a sum for savings in case of emergencies, rainy days, or special treats, such as holidays.
An Individual Savings Account (ISA) should definitely be considered as it allows you to save money tax-free, but remember that you have a limited ISA annual allowance. Learn more about ISAs and other savings products and compare savings rates here.
A credit card
It's not compulsory to own a credit card and, indeed, many people feel more comfortable without one, but they can be helpful in case of emergencies, and could even prove financially rewarding if used properly. Learn more about credit cards before making your decision.
Maintaining a credit card responsibly will also help bolster your credit rating, which may be useful later in life when applying for a mortgage or a loan.
However, it's important to remember that credit needs to be paid back, and while it can be easy (and tempting) to blow your credit limit, doing so can incur charges that you may struggle to pay off.
Managing a budget
There are no hard and fast rules when it comes to setting a budget, but you need to make sure that your monthly outgoings don't exceed your income. To work it out, use a mobile phone app, an online budget calculator such as the one provided by the Money Advice Service,† or good old-fashioned pen and paper… that's up to you!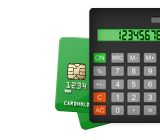 As a starting point, figure out exactly how much money you need in order to pay your rent or mortgage, and your utility bills. Then factor in the cost of getting to and from work.
Subtract this total figure from your monthly income and what you're left with is the amount you have to spend on everything else, including food, clothing, toiletries, going out, phone bills, and so on.
It can be helpful to allocate portions of your leftover budget to specific items. For example, a quarter on food, or 5% on going out.
You should also include a portion for your savings account. Even if it's just 10% of what's left over, every little helps and you'll be glad of it if you run into an emergency, or when it's holiday time.
It's important to be flexible with your budget - don't create one that's so hard to stick to you end up blowing it every month and feeling discouraged.
Keep track of what you're spending your money on (use a money tracking app or just a notebook - but be honest about everything you buy!) and then consider where you can make cutbacks, or even allowances.
Revisiting your spending habits regularly and knowing exactly what's going where puts you in charge of your finances and fosters good money habits that you can take with you every time you move.
By Rachel England