Mobile bank branches drive straight into your town or village to bring banking to your doorstep, but are they an alternative to traditional branches?
Key points
Mobile banks can be an alternative for remote towns or villages with no access to a local branch
Vehicles typically complete the same route each week and visit towns and villages for 45 minutes to an hour
They offer basic banking services and appointments with staff
Mobile banking may mean just one thing to many people these days - accessing your bank using a mobile or tablet app - but for those who live in remote locations, mobile banking can be something else entirely.
Mobile bank branches are banks on four wheels which travel around areas of the UK and offer a lot of the same current account services as customers would find in a branch, including depositing cash, withdrawals and bill payments.
These bank buses often have on-board technology such as computers and tablets to allow customers to use the bank's online services.
Why do mobile bank branches exist?
Mobile banks travel across areas that are no longer served by bank branches, which may have closed for a variety of reasons.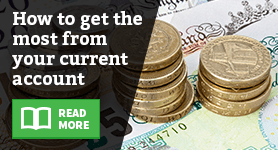 Over the years the UK bank market has seen hundreds of branches close down, some of which were the only branches serving their local area.
The Campaign for Community Banking Services,† a lobby group, notes that there were 479 branch closures in 2014, including 124 which were the last bank in the community. This trend only seems set to continue.
According to research by Gocompare.com conducted in July 2015, only 37% of current account holders knew where their bank branch was, and less than half (47%) had visited it in the previous12 months.
But that doesn't mean that customers don't want a local branch - when asked what they considered most important when choosing a bank, the second thing people said after good online banking was having a local bank branch.
A mobile branch is a halfway house between having a permanent branch and relying on internet banking, which some customers don't feel comfortable using, or may not have access to.
There are many ways to communicate with your bank, and mobile bank branches can play a part in that.
How do mobile bank branches work?
Mobile bank branches work in the same way as 'normal' banks, offering many of the same services.
Customers can find out when their branch is visiting their town or village and make an appointment to speak to one of the members of staff on board.
They can also pop in to make deposits, pay bills and access forms.
Vans typically follow a set route and stop at each place for around 45 minutes to an hour, at the same time each week.
In December 2016, banks offering a mobile branch service included RBS and NatWest, which had 19 mobile banking vans on the road.
Mobile banks may also come complete with their own satellite, so that customers whose areas do not have broadband connection can use the van to access online banking services.
Does your bank have a mobile branch?
You can find out if your bank has a mobile branch - and whether it comes to your area - by visiting its website or giving it a ring.
Switching bank accounts
If your bank has recently removed your local branch and you're not happy, you could look into switching.
Shop around using a comparison service such as Gocompare.com and see if you can find the right bank for your needs.
"Switching bank accounts became quicker and simpler following the introduction of new faster switching rules in September 2013," said Gocompare.com's Matt Sanders.
"The new rules give banks a seven-day time limit to switch a customer's account and they must seamlessly transfer direct debits and standing orders.
"This, coupled with the midata current account comparison tool, which uses customers' real financial records to help them make more meaningful and better-informed decisions about accounts on offer, means that it's never been easier to find the current account best suited to your needs."
By Emily Bater