Find out how you could save money and pay for your wedding, keeping costs down without compromising the big day.
There are any number of ways to save on the costs of your big day, depending on how thrifty you choose to be
It's one of the biggest and potentially most expensive days of your life. Between the caterers, flowers and venue, there's a lot to think about… and pay for.
So take a look at some of the ways in which you could build up your savings and get the wedding you want, hopefully without breaking the bank.
Make a wedding budget
Making an itemised budget in priority order can be a great way to kick off your wedding planning. Try to agree with your partner on a maximum expenditure for the big day and take steps to prevent spending over what you can realistically afford. This should help to keep you on track and within your means.
There's plenty of free information on the internet about how to create a budget, and plenty of handy apps to consider. If you'd prefer, of course, you could go old-school and try a pen and some paper.
Money-saving tips when planning your wedding
There are any number of ways to save on the costs of your big day, depending on how thrifty you choose to be.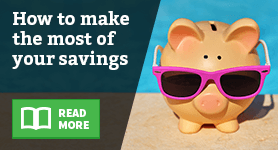 In general, the venue and caterers are likely to hit your savings pretty hard, but options such as avoiding peak wedding dates, getting married on a week day or marrying in the morning or late afternoon could take a significant amount off your overheads. Consider the following:
The dress
Renting or borrowing a wedding dress could knock quite a bit off of your spending and you'll have one less thing to store in your cupboard for years, too.
Cake
Think about only having a small, symbolic cake to cut rather than an epic 10-tiered masterpiece. After all, the majority will probably end up going to waste - it's often the last thing guests want after a day of merriment and excess.
Wedding photos and videos
Instead of hiring a professional photographer for your reception, you could instead give guests disposable cameras so they can document the night for you. If you have a relative or friend who's nifty behind the lens, why not consider them as the main photographer? Or why not think about using a student photographer?
The same goes for the video of your big day - a wedding guest with a steady hand could be a lot less expensive than a professional, and a friend or relative is likely to have more empathy with you as a couple.
Resist telling the venue owner that you're planning a wedding... say it's a family gathering and mention the 'W' word later on
Save on your invitations
Invitations can be quite a costly expense, so if you or your partner have a little computer know-how, why not have a go at creating your own, or even building a wedding website? That way, instead of sending out invites guests can simply visit the site for all the details of your nuptials and RSVP easily. There's also the added advantage that the site can be easily updated with new information.
Added extras
When it comes to weddings even the little things like place settings can add up, but have you thought about making them yourself? Do you have a talented DJ as an uncle? Perhaps your cousin is renowned for her baking skills? It could be time to call in a family favour or three...
Don't say the 'W' word
Word on the street is that if you mention to a venue that it's being hired for a wedding rather than, say, a family gathering, then the venue is likely to bump the price up. If possible it could be worth resisting mentioning the 'W' word - this could be a great time to try out your haggling skills to see how much you can save.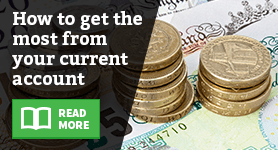 Saving for your wedding
Current accounts, savings accounts and ISAs
Just where should you keep your wedding fund? A savings account could be a sensible option and there are lots of different types available depending on your needs. Remember that some current accounts can offer better interest rates than dedicated savings options, although terms and conditions may apply.
If your wedding date is relatively close, you may want to consider an easy-access savings account. This should allow you to withdraw funds whenever you want, easily and without any penalties. As with a current account, though, you'll have to be disciplined and remember that those lovely funds are there for your wedding - so hands off!
Have you got a year or more before your wedding? For the potential of a better interest rate, consider a savings account where you're required to give notice when you need to make a withdrawal, the period of which will depend on the product.
A regular savings account, where it's necessary for you to save on a monthly basis for a set period of time, could be the option you feel suits your needs. This will usually involve depositing a minimum amount every month, so make sure you've identified this and are able to commit.
Debt-surfing is a dangerous way of managing your finances
All such savings accounts will also be available within the tax-free wrapper of an ISA. These have defined annual limits - you can get the details from our guides.
ISAs can be good options for building up long-term savings, but as you plan for your wedding your needs may be more short term. Taking advantage of a short-term, tax-free ISA boost for wedding savings may suit your circumstances, but remember that when you withdraw the money you risk losing that element of your lifetime's tax-free allowance for good.
Save on your bills
Take a look at where you could be saving money around the house, freeing up funds which could be better used for your wedding. If bills seem to be getting steeper and your money just doesn't seem to be stretching as far as it used to, perhaps it's time to see if you could be saving on any of your expenditures.
Shopping around for a better deal on outgoings such as your energy tariff, car insurance and broadband package could really help build up your wedding fund.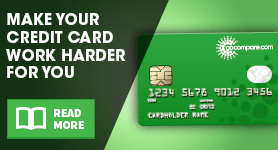 Paying for your wedding
Starting your married life in debt is not what any couple wants, but if your savings aren't enough to cover the wedding costs you may have to think about borrowing options. Consider the pros and cons of some of the main choices:
Credit cards
When purchasing wedding items with a value between £100 and £30,000, you may want to consider using a credit card for transactions. Doing so will give you purchase protection from your card company if the product bought is faulty or the goods/services you've paid for aren't delivered.
It may be worth thinking about using a cashback or rewards credit card so you get something back for your spending, but remember to try to pay back the complete balance at the end of every month. Otherwise it's likely that the interest accumulated will cancel out any gains.
Alternatively, think about using a 0% credit card where, depending on the card, you could pay no interest for an extended period, perhaps longer than 18 months. Try to be disciplined and pay off the balance before the end of the interest-free period, though, or you could face high interest charges.
If you already have credit card or store card debt, consider whether shifting it to a balance transfer card could save you money.
Your nuptials are likely to be a major expense and it's worth thinking about taking out wedding insurance
If you do this, try to clear the debt during the cheaper interest period to minimise repayments, but if this isn't possible consider shifting the remaining debt again to another balance transfer card once the introduction deal has finished. Such debt-surfing is a dangerous way of managing your finances, though - you may not qualify for a new deal, and unexpected circumstances could leave you in trouble.
It's worth bearing in mind that you'll need to pay back more than the minimum on whichever credit card you choose each month in order to avoid getting into more debt. If this isn't possible then perhaps a different option of purchasing should be pursued.
Loans
Taking out a loan isn't a decision to be taken lightly, but committing to such a deal and a structured repayment plan may be a better option for you than a credit card. Depending on the circumstances, it's possible that you'll pay back less in interest than if you use plastic.
Read our guide to wedding loans for more information on the options available and the advantages and disadvantages of each, including peer-to-peer loans.
Remortgaging
If you own a house, freeing up equity from your property could give you the money you need to spend on your wedding and - depending on the circumstances - could be the most efficient way for you to borrow cash.
But remortgaging your house is a big step to take and your home is at risk if you choose to go down this route, so check all the options available and decide on the right one for you. Take a look at our guide on remortgaging for more information.
Consider wedding insurance
However you've budgeted, your nuptials are likely to be a major expense and it's worth thinking about taking out wedding insurance.
Perhaps your guests could contribute towards your marital holiday rather than a traditional gift list?
If you do opt for such a product, ensure that you're aware of what your policy will pay out for and for how long you'll be covered.
Wedding insurance could cover loss or damage to vital components of the big day such as wedding attire, rings and cake. It may also cover any failure by suppliers to provide you with what you've paid for. Of course, if you purchase on a credit card this could already be protected.
Gift lists
There are lots of different options to explore if you aren't particularly enamoured by the traditional gift list choices.
A lot of online stores make it possible to compile your wedding list without even leaving your sofa. Just browse their website and add your favourite items to the list, then your guests simply buy the gifts online.
Alternatively you could ask for money instead of presents if you're saving up for something in particular, like a house or car, or you just want to pay off the debts you've accumulated in organising the big day.
If you'd prefer to do away with the wedding gifts altogether, think about asking your guests to donate to your favourite charity instead.
Honeymoons
Are you planning a post-wedding getaway? Whether you're a pair of sun worshippers or would prefer a more culturally engaging city break, finding the right holiday to mark the start of your life together can be a lot of fun.
Perhaps your guests could contribute towards your marital holiday rather than a traditional gift list?
Remember your contents insurance
Once the big day has come and gone and you're still in a post-marital state of bliss there's only one thing to do - open the wedding presents! If you're lucky enough to receive some amazing gifts, make sure you let your home contents insurance provider know.
Some insurers provide boosted protection around special events to take into account the extra value of items in your house, but you should consider whether you need to up the value limit on your contents cover.
By Abbie Laughton-Coles
[SeanSocialShare]