Guide to mortgages for first-time buyers
Key points
Before applying for your first mortgage you'll need to raise a deposit and make sure your credit record's up to scratch
You should consider exactly what sort of product's best for you, whether that's fixed or tracker rate
Don't forget to factor in fees, conveyancing, stamp duty and moving costs
Buying your first home is one of the most exciting moments in your adult life, but it can also be daunting.
Finding the right first-time mortgage deal is essential, because a slight difference in rate can add up to thousands of pounds more over the lifetime of the loan.
That makes it extra important that you take the time to compare the mortgage rates you qualify for, so that you can make sure you find the best deal possible.
Preparing for your first mortgage
Before even thinking about a mortgage application, you need to put down the groundwork to make sure you're ready.
The deposit
For almost all mortgages, you'll need to get a deposit together and borrowing money for a deposit usually isn't an option.
Discuss any plans for a gifted deposit with family and start saving hard and reducing frivolous outgoings wherever possible.
Look into the government's Help to Buy Isa which could top up your own savings efforts, as well as paying interest.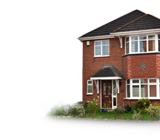 Your credit file
It's really important that you make sure your credit file's as good as you can get it before putting in a mortgage application.
You can check your credit file yourself using a free or paid for service and can take sensible steps to improve your credit score by making sure all bills are paid on time and that credit cards and loans get paid off.
Types of mortgages for first-time buyers
If you're a first-time buyer, your biggest hurdle is likely to be raising a deposit.
There are some 100% mortgages available aimed at first-time buyers that don't require you to have a deposit and may instead ask for a guarantor.
Need more information...?
However, these are extremely few and far between, so you may find you have far more options if you can stretch to a 5% or a 10% deposit.
Low-deposit mortgages are available with most lenders, although you'll probably find rates and fees are higher than those for larger-deposit mortgages.
Low-deposit mortgages include products that have government assistance under the Help to Buy scheme, which provides an equity loan to help you get on the property ladder with just a 5% deposit.
Shared ownership mortgages might be another option worth considering for first-time buyers looking at new-build houses and flats.
Fixed rate or tracker rate mortgages?
When you take out your first mortgage, you'll have to decide whether you want a fixed or a tracker product.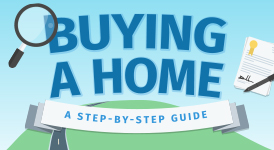 Fixed-rate mortgages will give you the security of knowing what your monthly repayments will be for the duration of the deal term (typically two, three, five or 10 years). This is definitely worth considering for first-time buyers on a tight monthly budget.
Tracker-rate mortgages will 'track' the Bank of England base rate, so your monthly payments could change at any time. They may offer competitive rates and low fees, but consider whether you could afford the monthly repayments if interest rates were to rise.
Choosing your mortgage term
Whether you choose a fixed-rate or a tracker-rate mortgage, you're usually locked into the deal for a set term – two or five-year terms are common, but you can also find products with, for example, three or 10-year terms.
Did you know...?
If you want to repay your mortgage before your initial deal ends, you may have to pay an early repayment charge
If you want to repay the mortgage or change deals before the end of the term, you'll usually have to pay an early repayment charge, which can run to thousands of pounds.
This might not prevent you moving house though, as many lenders allow you to 'port' your mortgage – letting you move it to a different property with you.
Nevertheless, when taking out your first mortgage, it's wise to consider what the future might hold when choosing your term.
Costs and fees for first-time buyers
If you've never bought a house before then there's a lot to consider and budget for.
Mortgage fees
Mortgages can come with a number of fees, so you need to compare more than just the initial interest rate or monthly payments.
There may be an application fee to pay at the outset, which might not be refundable if your application's rejected. Then there could be a product fee or booking fee for the mortgage, plus the lender may ask you to pay its own legal and valuation fees.
There are plenty of fee-free and fee-assisted mortgages around, but you may find these have a higher interest rate.
A mortgage adviser can do the sums for you to find out what products will cost you less at the outset or over the whole deal period, depending on your needs.
Solicitor and conveyancing fees
Your legal fees might be the biggest cost of taking out your first mortgage, so it's a good idea to compare costs and get some recommendations from friends and family before instructing a solicitor or conveyancer.
As well as the highly variable cost of the solicitor or conveyancer, conveyancing will include some fixed-cost items, such as conducting various local authority searches on the property.
Ask for a fixed-price quote in advance if you're concerned about spiralling costs.
Surveys
Your mortgage lender will need a valuation survey to be carried out and the cost may or may not be included in the cost of the mortgage.
Remember, this valuation is purely for the lender to check the property is adequate security for the mortgage - it won't tell you anything about the condition of the property.
You might also decide to commission your own Homebuyers Report or full structural survey to check the property more thoroughly.
Stamp duty land tax
Stamp duty land tax is another considerable cost to take into account when buying for the first time and your conveyancer can advise on how much it'll be.
Properties worth up to £125,000 pay a zero rate of stamp duty, so you could avoid the tax entirely if you can haggle the price down below that threshold.
Moving costs
A house purchase is a major financial commitment and if you're planning to buy with friends or a partner, you need to make sure you've thought through all the possible problems
After all those other fees, don't forget to leave some budget for actually moving house and setting up home.
Get quotes from several removal companies to compare costs and book one well in advance.
If you're setting up home for the first time or moving out of rented accommodation, don't forget to factor in the cost of things like kitchen appliances, which can really stack up.
Finally, before you move in, you'll need to arrange your home insurance.
It'll probably be a condition of your mortgage that you take out buildings insurance from the date of exchange of contracts, and you might also want to take out contents insurance for your possessions.
There are also a variety of other insurance and protection products that you may need to consider; read our guide to mortgages and insurance, and remember that you can shop around - you shouldn't have to rely on the extra products offered by your estate agent or mortgage provider.
Joint mortgages with partners or friends
Arranging a mortgage with friends or a partner could make your first home more affordable.
Pooling your resources so your deposit is larger can also help you get a better rate. But a house purchase is a major financial commitment and if you're planning to buy with friends or a partner, you need to make sure you've thought through all the possible problems.
For example, what if you decide to move on? Would you force a sale or would the other homeowner pay you rent? What if prices fell and you were left in negative equity? What happens to the property if you were unable to sell it?
You need to plan for every eventuality, so that no-one is left struggling if your circumstances change.
It's a good idea to have a solicitor draw up a legal agreement, such as a deed of trust, to make sure everyone knows where they stand and what share they own.
Compare mortgage rates together so that you know from the start that everyone can afford your plan.
By Felicity Hannah and Derri Dunn