Find  out more about whether you can get a mortgage for a home affected by flooding, and the future effects of buying a home at risk of flooding.
Key points:
It can be hard to get home insurance for flood hit homes, which may make it difficult to get accepted for a mortgage
Affordable home insurance may be available through the Flood Re scheme
A mortgage advisor can help you find a lender for an unusual home
Getting a mortgage for a home in an area that's been hit by flooding - or in an area at risk of flooding - can be difficult, but not impossible.
While buying a home in a flood-hit area may seem risky, large areas of land may be at risk of flooding yet might never actually be affected.
Even in areas where flooding can be extreme, properties can still be mortgagable - those mortgages just might be harder to come by.
Can you get a mortgage on a property in a flood-hit area?
Getting a mortgage on a home with a flood risk is possible, but it may be tricky - it all depends on the severity of the flooding in your area or the level of risk.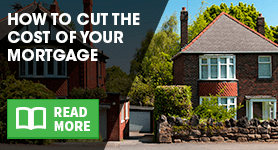 When offering a mortgage, lenders assess whether the property is a secure investment in the event it has to be repossessed and sold.
This is assessed by doing a valuation, based on the property itself and on outside factors such as location.
If your home is in a flood-hit area or is found to be at risk, it may be difficult to get home insurance.
Lenders require you to have buildings insurance in place to get a mortgage, so  a home that can't  be insured is usually also unmortgageable.
To find out whether the property you're looking into buying is at risk of flooding, you can check the Environment Agency's Flood Map for England and Wales.†
For Scotland, you can use the flood information on the Scottish Environment Protection Agency (SEPA) website.†
Home values in flood hit areas
It's not always apparent whether or not a home might be prone to flooding - not all flooded areas are near a river or the sea.
Whether or not a property is at risk of flooding should be discovered during the searches. If flooding is detected as a risk you might want to consider whether or not to progress with your purchase, or walk away.
Flooding risk can not only affect the property's value, but in the event flooding occurs you could be facing months of pain and cost - not to mention emotional distress.
According to a 2009 report by the Royal Institute of Chartered Surveyors (RICS),† flooding has a temporary impact on property value - after three years prices tend to level out.
Furthermore, according to RICS if your home is said to be at high risk of flooding but the area hasn't actually had a flood event, property value isn't affected.
Buying a previously flooded home
If you're buying a home during a mild season and aren't sure about the severity of past or future flooding, it's important to get information from the seller about the property's history.
The conveyancer will let you know what they discover, but they should also ensure that the seller provides proper evidence that they've treated the house appropriately for flood damage.
Certificates for wet rot and damp timber treatment should be requested, and you could also request a damp survey.
While this will be at an extra cost you could negotiate the asking price down with the seller to make up for this, and the cost would be smaller that what you might incur if you go ahead with the purchase without the right checks.
If problems haven't been addressed, speak to the seller about the chance of treating them before buying - if they're keen to sell they'll want to be helpful.
Home insurance for flood-hit properties
Before your lender will allow you to exchange and complete, they'll want to see evidence of buildings insurance.
Yet there has been a lot done to ensure that homes in flooded areas can get home insurance, such as Flood Re.
Flood Re is a not-for-profit fund or 'reinsurance' scheme set up to ensure home owners in flood-risk areas can access affordable home insurance.
Remortgaging a flooded home
If you want to remortgage a home that has been flooded, you may face a few difficulties.
As part of a remortage a lender will conduct a valuation, which will give the lender an indication of its current worth.
While a valuation may be impacted in the short term by flooding, once you've made repairs your home should return to its market value.
If flooding impacted on remortgaging it would have a significant effect on the market, which is why Flood Re was introduced in February 2016.
By Emily Bater