Guide to mortgages on leasehold properties
Key points

A property with a lease under 80 years can be difficult to mortgage and sell
Conveyancing can be more expensive for leasehold properties
Some freehold houses may have leasehold gardens and garages
When buying a property it's important to know whether it's a freehold or leasehold, as this will have an effect on the type of mortgage deal you'll be eligible for.
Purchasing a leasehold property means you're effectively a tenant - albeit a very long term one. You usually don't technically own the building itself or the land it sits on.
It's owned by a landlord, known as the freeholder, and once the lease is up, it will then revert back to being owned by the landlord, unless you're able to extend the lease.
This is contrary to a freehold property where you own both the building and the land it occupies outright.
Owners of properties with leases on the shorter side will also see a negative effect on the value of the property, because as it shortens you'll see depreciation in value.
So there's a lot of things to think about before you decide to buy a leasehold property, not least being able to get a mortgage.
Loan to value on leasehold mortgages
It's worth noting that mortgage providers will often have a lower loan-to-value (LTV) that they'll lend on leasehold properties. If it's a new build flat or house it could be even lower again.
So, for example, a lender might offer to lend 90% on a freehold property, but only 85% on a leasehold flat. If the flat's a new build, they might only lend a maximum LTV of 75%.
The lease length
If the lease is below 80 years it can have a huge negative effect on the value of the property.
Need more information...?
The reason for this is because when it falls underneath the 80-year mark, the lease becomes more expensive to renew and it's really difficult to find a mortgage lender who is willing to lend on it.
So if you've got your heart set on a leasehold property, it's important to make sure the lease won't drop below the 80-year mark while you're living there, because it may be difficult to sell on.
However, you may be able to extend the lease by 90 years if you own a flat, or 50 years if you own a house.
Buying a property with a short lease
A lease with a length of under 80 years is considered a short lease. Anything less can cause problems when applying for a mortgage as lenders will usually only lend on properties with leases above 70 years.
In some cases you may be able to find a provider who is willing to lend on a 65-year lease but this is very rare.
It's extremely important to find out how long the lease is before purchasing a property.
If you fail to do so, your purchase could be scuppered by a flat or house which is near impossible to get a mortgage on.
Extending the lease during purchase
If the property you want to buy does have a lease that's less than 80 years, it could be possible to extend it at the point of sale.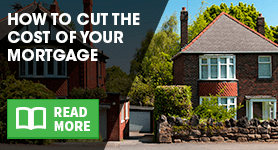 This has to be done through negotiation with the current owner, as they'll need to start the lease extension process on your behalf.
This is because you need to have owned the property for at least two years before you're able to serve a tenant's notice which kicks off extending the lease.
If the current owner isn't prepared to begin the lease extending process, think about finding another property to purchase, as it could save a lot of hassle and money in the long run.
Costs and fees for buying a leasehold property
Buying a leasehold property may end up being an expensive option, so consider any other choices available to you too.
Note that if the lease length drops below 80 years, you'll have to pay 50% of the 'marriage value' on the flat or house to buy the freehold or extend the lease.
The marriage value is the extra value the property would gain by extending the lease or buying the freehold. So you would need to factor this in when purchasing the property as it could cost you a pretty penny.
Try not to take the estate agent's word on what it'll cost you to extend the lease, as they may not have all the information.
Speak to a solicitor or surveyor to get a more accurate grasp of how much you'll need to spend and whether it's worth it.
Conveyancing costs for leasehold properties
Conveyancing costs are usually higher for leasehold properties due to the extra costs involved.
The more complex the transaction, the higher the cost will be and there will usually be extra legal fees for extending the lease at the point of purchase.
You might want to consider choosing a conveyancer with experience and expertise in leasehold purchases.
Mortgages for leasehold houses
Leasehold houses aren't very common but there are exceptions to look out for, so it's always worth checking the legal pack before signing for anything.
New build house
The majority of flats are leasehold and it's possible for a house to be leasehold, however it's usually only if it's part of a shared ownership scheme.
If you're buying a new-build house or a house built on a fairly new estate, it's important to investigate the lease situation before deciding to purchase.
Although the house and the property it occupies are freehold, the garage, garden and other shared areas may be leasehold.
Your conveyancer should make you aware of any leaseholds that are involved in the purchase and their significance, including any maintenance charges and future ownership issues.
By Abbie Laughton-Coles