Guide to mortgages for new-build homes
Key facts
When applying for a new-build mortgage you'll need to consider timing - can you get a mortgage offer in time for the builder's deadlines and will your home be finished before your mortgage offer expires?
There may be incentive deals on offer for new builds, which could include payments of stamp fees or furniture packages - but be careful that these incentives don't affect the loan to value (LTV) on your mortgage
You may find that you'll need to save a bigger deposit for a new-build home and some lenders have extra restrictions on certain types of new-builds
New-build properties can be appealing, because they seem to offer more structural security than an older house and are built to be more energy efficient.
What's more, older homes could have expensive pre-existing problems that need fixing, like damp or subsidence.
However, getting a mortgage for a new-build property can be slightly tricky, especially if you're looking to buy a flat rather than a house.
And, of course, they don't come without their fair share of potential problems, including possible delays in completion and unexpected costs.
It's definitely worth investigating the pros and cons of a new-build versus an older house before you take the plunge and put in an offer.
When should you apply for a new-build mortgage?
If you're thinking about a new-build and you need a mortgage, it's crucial that you consider timing and how your mortgage offer could expire before your home's ready.
Once you've received a mortgage offer, it'll generally be valid for around six months. It's important to check the validity period of the mortgage offer as it'll differ between providers.
If the property still hasn't been completed by the time your mortgage offer expires, you may be given an extension on the offer, but this will depend on the lender.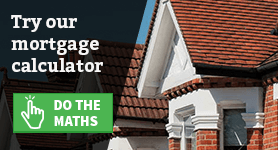 If the lender won't extend your offer, you face having to make your mortgage application all over again.
If anything changes with your new-build that could potentially impact on your mortgage - such as a change in its value - the lender has the right to withdraw the offer.
This could be a major headache if you're already committed to the purchase when the offer falls through, leaving you without a mortgage in place.
Some developers impose strict deadlines to exchange contracts once the deposit has been put down. The time period can be as short as 28 days.
This can be difficult to accommodate for many mortgage lenders, so always enquire whether there are any time restrictions to adhere to.
Buying a new home off-plan
Buying a new home off-plan is when you commit to purchasing before construction has even started.
Need more information?
This can be risky because, apart from the fact you put down a deposit when you're not completely sure how your house will turn out, it can make getting a mortgage more difficult - and that's the last thing you need.
You'll be asked for a deposit by the builder, which is between 10% and 30% of the property's asking price, and you'll need to sign a contract agreeing to pay the outstanding money when your home is built.
Your mortgage lender will have to organise a valuation by a surveyor, which will be dependent on the property plans and it's specifications. But not all lenders will be prepared to offer mortgages on this basis, so you may have a smaller pool of lenders to choose from.
However, some lenders have products designed to accommodate the issues of buying unbuilt properties, with longer deadlines on their offers.
In some cases your provider could be in a position to extend the offer, but try not to count on this as it's not a given and it could also give them the opportunity to change the terms of the loan.
If your offer does expire you can reapply for the mortgage but, if you're unsuccessful, you'll be left with no financing and a house you've agreed to buy. In this scenario you would lose your deposit if you couldn't find a mortgage or other funding.
The same goes if you change your mind and decide not to purchase the property - which could actually lead to you being sued by the house builders - so it's not a contract to enter into lightly.
Did you know...?
The Help to Buy scheme could help you to buy a new home with as little as 5% deposit, but you must buy your home from a registered Help to Buy builder
If the property value falls before your home's completed, it may not provide the mortgage lender with enough security.
Lenders will carry out a valuation of the property at the beginning and the end of the build - note that the amount they're prepared to lend could change if the valuation does.
Be aware that you have the right to cancel a purchase and receive a full refund if the completion date of the build is more than six months past its initial proposed date. This is provided for under the Consumer Code for Home Builders.
Lending criteria for new-build mortgages
If you decide to buy a new-build property you may experience more restrictive criteria on the loan than if you were purchasing an older home.
Loan-to-value
Loan-to-value (LTV) is the ratio between the mortgage amount and the value of your property. The higher the LTV, the more risk you pose to the mortgage provider.
Mortgage providers are often a lot stricter on the percentage they offer for new-builds in order to protect themselves from devaluation in the early years.
Many lenders will only offer around 85% LTV for a house and as low as 70% for a flat, which may be an issue if you don't have access to a large amount of money for the deposit.
Flats
You may find it more difficult to get a mortgage for a flat which is in a high-rise building.
Even if it's on a lower floor, many lenders impose a maximum overall number of floors for apartment buildings they're willing to lend on.
Lenders may also be reluctant to touch apartment buildings with unusual construction, or those positioned above commercial premises such as restaurants or supermarkets - as inner-city new-build flats frequently are.
Finally, buy-to-let investors should be aware that some lenders exclude new builds from their criteria, or impose a lower loan to value.
Incentives and developer deals
As there's a lot of competition between new-build companies, to sweeten the deal some developers may offer incentives to make their properties more appealing. These incentives might include:
Payment of stamp duty or legal fees
Upgrades to the property you're buying, such as a higher-spec kitchen or garden landscaping
Furniture packages
A contribution towards the deposit
Cashback
Note that mortgage lenders may take into account any deals that you receive and reflect this in your mortgage offer.
Lenders are typically ok with builders' incentives up to about 5% of the property value. Higher levels of incentive may be factored into the lender's calculations, often by pushing up the property purchase value, which can result in your LTV being higher.
Buyer schemes on new-build homes
With home-building always on the political agenda, there are schemes available that could make buying a brand new home more affordable.
Help to Buy
You may be eligible for the Help to Buy scheme, which could allow you to buy your new home with as little as 5% deposit.
For new builds, you must purchase your home from a registered Help to Buy builder, which you'll be able to find through your Help to Buy agent. To help you save your 5% deposit, you may want to open a Help to Buy Isa as well.
Shared ownership
Another option for buying a new-build home is shared ownership, where you get a mortgage for as little as 25% of the full property price. You then pay rent to the local authority on the portion of the house or flat that you don't own.
However, shared ownership is only available on selected properties - your local authority should be able to tell you what's available in your area. What's more, you need to earn less than a certain amount to be eligible for shared ownership.
Advantages of buying a new build
New-build properties can be appealing to buyers and they have plenty of plus sides to consider when deciding the type of home you want to purchase.
Ready to move in
If you don't have the money to plough into renovating an older home, a new-build could be an attractive option. You'll be able to move in straight away when it's been completed and it should be at a liveable standard, with everything brand new.
As they're built to modern specifications, new-builds should be very energy efficient and you shouldn't have to fork out for major expenses like a new roof or boiler for quite some time.
Customisable
In some cases you may be able to add finishing touches as the building is taking place, giving you a home that's better suited to your requirements and tastes. Of course, be aware that extra finishes can come at a cost - try to negotiate with the builder, or work out whether you might be better off buying options and extras from elsewhere after you move in.
Guaranteed
The majority of new-build properties will have a guarantee from the builder, which is usually 10 years. This is only if the home is registered with the National House Building Council.
Disadvantages of buying a new build
Although you may be tempted by the possibility of not having to do anything to a property when you move in, there are a few drawbacks that you may want to consider before purchasing a new build.
Risk of losing money
It may be difficult to make money back on your home with new builds - at least in the short-term.
These types of properties tend to be initially marked up because of their newness, and you're looking at extra charges if you want to customise it with things like carpets and appliances.
You may have to bite the bullet and take a financial hit if you want to sell shortly after purchasing.
Extra costs
With most new-builds, you're essentially paying for the bare bones of the home.
Always be aware of what's included in the price and what will be added to your bill. All finishes are likely to be extra, so make sure you take this into account and that you're not seduced by a plush show home.
It may be new, but you may still want to pay to have a full building survey done and there could very well be structural problems that need addressing.
Your new-build home may not be finished to a very high standard. You'll need to complete a snagging list, detailing any issues you have with the property once it's been finished but before you move in. This is to include things like cracked tiles or walls - it's not meant to cover issues such as if you suddenly decide you want a wall knocked down.
The unknown
If you buy 'off-plan' you won't know exactly how your home will turn out until it's finished and you'll have a commitment to purchase before it's completed. So if it doesn't turn out quite as expected, it could be an issue.
In some cases it may be necessary to make a commitment to purchase a house before it's actually finished, which means that you may end up with something a little different to what you imagined.
See also:
If you're buying based on the showroom, make sure it measures up. Developers will regularly set up rooms to make them look bigger than they actually are; for example using a slightly smaller bed to give the illusion of space. However, the tape measure never lies, so make sure you whip yours out.
Delays
All sorts of things can delay the completion of a new build and, the further in advance you commit to buy, the more opportunity there is for the build to hit problems.
Something as simple as a few weeks of torrential rain could hold things up and, if you're renting in the meantime, long delays might put you in a difficult situation. Be prepared for a wait if there are delays in the building schedule and plan accordingly.
By Abbie Laughton-Coles