From gifting a deposit to offsetting savings, there are many ways for parents to help children or grandchildren get a mortgage and step on the property ladder.
Key points
Lending money, rather than gifting it, may impact borrowers' affordability
Parents taking out extra borrowing or using their own property as security may put their own home at risk
Parents can help in ways that aren't monetary, such as by providing cheap accommodation
More and more borrowers are relying on the bank of mum and dad when it comes to getting on the property ladder, and there are a number of ways to help children who want to get a mortgage.
According to research by the Council of Mortgage Lenders (CML),† in 2014 52% of first-time buyers received help when buying a home, either from family or through government schemes such as Help to Buy.
Gifting a deposit
If you're looking for a way to help your children buy a home, a gifted deposit can be the simplest way.
This is when a sum of money is given away to form some, or all, of the deposit.
Importantly, a gifted deposit must come with no obligation to repay the money.
Gifting a deposit or increasing a deposit won't only help borrowers access a mortgage, it can also help them access more competitive deals if it increases their deposit from, say, 5-10% to 15-25%.
A number of caveats come with gifted deposits. A mortgage lender will want proof that the money is a gift, which will usually mean signing a declaration saying that the person gifting the money doesn't want it back and doesn't expect to have any equity or legal interest in the property.
If the person gifting the deposit dies within seven years of making the gift, inheritance tax may have to be paid.
Lending the money
An alternative to gifting money is lending it. While borrowing money for a mortgage deposit from family may seem better than taking out a loan as borrowers may not need to pay interest, it's still considered a loan for the purpose of the mortgage application.
Did you know...?
Some lenders won't accept borrowers if they take a loan to fund their deposit - even from parents
Since the Mortgage Market Review (MMR) in 2014, lenders may not allow you to take out a mortgage if you have a loan to repay.
If lenders do allow borrowers to take out a loan, they're likely to add repayments to your monthly outgoings.
This may impact a borrower's affordability assessment, so could reduce the size of mortgage a lender is willing to consider offering.
However, if saving a large enough deposit is the main obstacle to your child's homeowner ambitions, rather than their affordability, this could be a solution.
Guarantor mortgages
If giving or lending money to children isn't an option, another way parents can help is by being named as a guarantor on their child's mortgage.
Products that allow this are sometimes marketed as 100% mortgages, as the borrower can sometimes borrow as much as 100% of the property's value.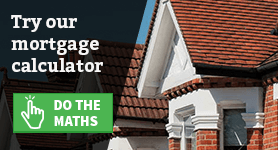 A charge is placed against the guarantor's house, which means that if the borrower defaults on mortgage payments the guarantor's home could be at risk.
Joint mortgages
Another option for parents is to buy into a property with their children and take out a joint mortgage.
This kind of investment allows the child to perhaps buy a more expensive house, as their parents' earnings are also taken into account when calculating their affordability.
However, this is generally only an option if parents are still working. Also, under MMR rules lenders may decline to give a mortgage to parents over a certain age.
It could also be a problem if they still have a mortgage of their own, as it may involve getting a second mortgage.
Buying a home together will have consequences for parents who already have a home.
Another property may be considered a second home and so they may be liable to pay capital gains tax (CGT) on the profits of the home if it's sold.
There may also be an extra 3% stamp duty due when buying a second property.
Parents also need to consider the implications for their credit score. Being named as a joint mortgagor links their credit records to their child's. This means that if the child makes mistakes with their personal finance, it'll affect the ability of the parents to get credit in future.
Offset mortgages
Some lenders may offer a family offset mortgage which allows parents to offset the value of their savings against their child's mortgage.
Parents can put their savings into an account linked to the mortgage.
The child then pays less interest, as the savings are used to 'offset' the amount of the mortgage that interest is paid on. On the flip side, there's unlikely to be any interest paid on the savings.
Family offset mortgages can be useful as parents don't have to give their money away.
Instead, they lock their money away for a certain period of time, sometimes until their children have paid off around 25-30% of their mortgage.
Remortgaging
One option parents could consider is remortgaging their own home to fund a deposit.
Remortgaging is a big step to take, as it'll end up costing more in interest and may mean putting the parental home at risk.
Risks of helping your chidren buy a home
All of these options come with associated risks which need to be taken seriously.
It may be worth considering speaking to an independent financial adviser, who could advise you as to how best to help children or grandchildren without putting yourself or your home at risk.
Personal and secured loans
Some parents may be tempted to take out a personal or secured loan in order to help their children, but this is something you should think about carefully.
Lenders may want to see proof of funds for any money being given to children, and if it has come in the form of a loan they may not allow it, even if the loan isn't being take out by the home buyer.
Equity release
An equity release mortgage releases value from homes which are owned outright, without an existing mortgage. Also known as lifetime mortgages, these allow you to borrow up to 50% of the value of your home. But such products can eat up some or all of the value of your estate, so it's not an option to be taken lightly.
Alternatives
See also:
There are alternatives available for young people who need a helping hand onto the housing ladder, including government schemes such as Help to Buy and shared ownership.
If none of the above options are feasible it may be a case of children playing the waiting game and saving for a deposit.
It's important to remember that parents can help in ways that aren't monetary - for example, by providing cheaper accommodation in their own home for children while they save.
By Emily Bater