Guide to mortgages for buying repossessed properties
Key points
Getting a mortgage for a repossessed property isn't any harder than going through the same process for an average home, but you'll probably have to move fast
Lenders have a duty to try to get the most money for a property, so there's a greater risk of gazumping
Speak to a mortgage adviser for further guidance on buying a repo property
A repossessed property is a home that's been seized by the lender because the owner couldn't pay the mortgage.
The property is then sold to recoup the lender's money - that means you could get a bargain, as the lender usually wants to sell quickly.
Many repos are sold through estate agents, so you may not know a property is repossessed before viewing it. Possible signs of a repo are if the home is vacant and listed for less than you would expect.
The buying process for a repossessed home is like any other at the beginning.
You still need to go through the same processes, from checking your finances to vetting the property thoroughly.
In some cases repossessed properties go to auction, and buying a home at auction comes with its own set of issues.
Getting a mortgage for a repossessed property
As a rule, buying and getting a mortgage for a repossessed property isn't any harder than going through the same process for an average home.
As with any other home, it's prudent to visit it a number of times before making an offer. If you're worried about any structural issues it may be worth visiting with a builder or surveyor beforehand.
Repossessed properties are more likely to have fallen into disrepair and may have been left vacant for some time.
Your lender will want to undertake a valuation before lending you the mortgage sum, and the value might be lower than expected if the property hasn't been well maintained.
Need more information?
Just because a property is a bargain doesn't mean you should scrimp on important checks. As well as a valuation survey you may want to get a HomeBuyer Report or a structural survey.
These are for your peace of mind, while a valuation is for the lender.
Getting a mortgage for a repossessed property shouldn't be any more difficult than for properties of the same type and value sold in the standard way, but it's worth speaking to a mortgage adviser who'll be able to help with any particular issues lenders may have with the property you want to buy.
Conveyancing
Conveyancing for a repossessed property is the same process as with any other, but there may be less property information available.
In a normal sale, the seller will know about any issues or problems with the property as they've lived there, whereas in a repossession the seller will be a mortgage lender who won't have this information or knowledge.
This may relate to alterations, or whether the property has any issues such as damp or flooding.
How to spot a repossessed home
Estate agents sell repossessed properties like any others, and they won't be listed as repossessed
Look out for homes that are vacant and have no furniture or white goods
Boarded up windows, extra locks on doors and 'do not use' tape on appliances are other clues
A conveyancer may be able to find some of this information or it may remain unknown - if you decide to proceed with the purchase, this will be a risk you have to accept.
If you're buying at auction, it's advisable to have a conveyancer look at the property title and particulars beforehand, and to get a survey, before bidding.
Once an auction is completed you're committed to buy, so there's no going back.
Problems with repo properties
Repossessed properties can come with a number of issues, including being unoccupied and in a state of disrepair.
Missing fixtures
The previous occupant may have stripped out white goods, or even things like boilers, radiators and kitchen cabinets to sell in an attempt to make ends meet during the repossession process.
Be vigilant for any missing items when you view the property.
Make sure you know exactly what's being sold with the property and what the vendor intends to remove and sell separately before exchange as well.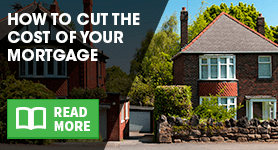 Gazumping
Lenders are legally bound to get the highest possible price for a repossession property.
This means gazumping is an issue because agents will continue marketing the property after your offer has been accepted.
If someone offers even a little more than you, your sale may fall through.
Repossession sales are often rushed through for this reason, instead of taking the average of two-to-four months.
A mortgage adviser can help by guiding you towards lenders that might be able to arrange a mortgage more swiftly. Likewise, it's a good idea to find a conveyancer that specialises in transactions where time is of the essence.
Switched off utilities
Repossessed properties can be vacant for months, which means utilities like gas and electricity and the phone line may get turned off.
Before you move in, make sure that utilities can be switched back on quickly.
Some companies may charge, but you can save any money by switching provider as soon as you move in.
Moving in to a repossessed property
Once you've got the keys and moved into your new home, everything should be plain sailing - but there are a few things you should check in the weeks and months after you've unpacked.
Your credit score won't be affected by the debt problems of the previous occupier, but you may find that you still receive demands for unpaid bills at the address.
If you receive debt notices after moving in, ring the companies and let them know the previous owners have moved - that way you won't get any bailiffs at your door.
By Emily Bater