Saving a deposit for a mortgage can be the biggest hurdle to buying a home, so see if our top tips can help you speed up the process.
Key points
Plan what kind of deposit you're aiming to save (is it 5%, 10%, 20%?) as this will give you an idea of how long it's going to take
Pay down any credit card or loan debt before prioritising saving
Consider switching regular sources of expenses such as insurance, broadband and energy supplier, plus your current account
Take advantage of government schemes like the Help to Buy Isa
Saving up a deposit for a mortgage can seem like a massive challenge if you want to buy your own home.
From mortgage affordability rules to the increasing cost of renting, getting on the housing ladder has got harder and harder for first-time buyers.
According to the Association of Residential Lettings Agents,† first-time buyers in England who bought a home in 2016 will already have spent an average of £52,900 on rent.
If you're one of the many people struggling to save up for a deposit, there are a few things you can do to speed along the process.
Get planning
The sooner you start planning and saving, the sooner you'll be able to start looking for your own home.
If you have a rough idea of where you want to buy and how much it might cost, you can start working out how much a month you need to save and how long it'll take you.
It's easier to get saving when you have a goal in sight, but don't be too dispirited if the goalposts move.
The amount you need depends on the percentage of deposit you need to buy your prospective home.
In today's mortgage market you'll need to find a deposit of at least 5-10% of the purchase price in order to qualify.
Be aware that if you have a low deposit you're unlikely to be able to access the most competitive interest rates, meaning you'll pay more for your home over the course of your mortgage.
In the past 100% mortgages were an option, but these are now very rare and generally come in the form of guarantor mortgages.
Pay off debt first
It's a good idea to prioritise paying off debt over saving, so if you've got any credit card or loan debt you might want to work towards paying that off before saving for a house.
Although it's possible to save and pay off debt at the same time, prioritising repaying debt will mean making a saving as you'll pay less in interest.
Get the most out of your savings
It's important to be realistic about how much you can afford to save a month. For example, if you need to save £15,000 and want to buy in three years' time, you'll need to save £417 a month.
If this sounds unrealistic - and it might well be if you're renting and don't want to make any huge sacrifices - then you may need to extend the length of time you plan to save. Doing this now means you won't be disappointed in a few years.
Saving is all well and good, but it's essential to make sure you're getting the most out of your savings. Don't let your deposit build in a low-interest account - place it where you think it'll earn the most interest.
You may be tempted to lock away your deposit for some time in fixed-rate bonds which may offer higher returns, but consider keeping your deposit accessible so you can use it when you need to.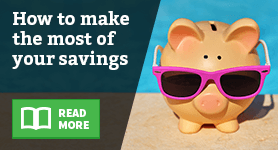 Think about opening a regular-savings account and depositing a set amount each month. This type of account can be a good way to get competitive interest rates, but watch out for any terms and conditions restricting your access to the funds.
Don't limit yourself to savings accounts. A high-interest current account could be the most effective place to store relatively small amounts of cash.
Many have terms you need to meet to get the interest and avoid fees, but remember that it's possible to have more than one current account.
You might also want to consider investing some of your savings in peer-to-peer schemes. Returns can be attractive, but bear in mind that they're not guaranteed and there's risk to your capital as you won't have the protection of the Financial Services Compensation Scheme.
Above all, make sure you compare interest rates and shop around regularly to maximise your interest return.
Reduce your outgoings
It's easier said than done, but the quickest way to make saving less painful is by putting yourself on a budget.
Take a look at your outgoings and consider how you can reduce them, from reducing the number of nights you go out each month to going to planning one big shop a week rather than making several trips to expensive convenience stores. Read our money-saving tips for more ideas.
If you're renting and finding it difficult to save, it might be worth considering moving back in with parents or moving into cheaper rented accommodation.
Both of these are worth considering, if at all possible. Rent is likely to be your biggest outgoing, so reducing it could make a big difference to the amount you save a month.
If you're already saving as much as you can and still can't make the sums add up, you may need to reconsider buying a home right now.
Switch to save
One of the quickest ways to save on outgoings is to look at your bills - such as gas and electricity and car insurance - and see if they can be reduced by comparing and switching supplier.
It's also worth comparing current accounts to see whether you could be getting more from yours. If you're currently losing money on fees, switching to another provider could save you cash, or switching to an account that offers cashback or rewards for banking with them could make you a bit of money to boost your savings.
Cashback credit cards are also worth thinking about, so long as you know you're disciplined enough to pay off the full balance at the end of each month.
Take advantage of government schemes
There are a number of government schemes that can help to supplement your deposit, or make the journey to buying your home a bit easier.
Help to Buy Isa
Solely for first-time buyers, a Help to Buy Isa allows savers to deposit up to £200 a month, which the government then tops up by 25% - a tax-free, £50 bonus for every £200 saved.
With a Help to Buy Isa, savers can earn up to £3,000 in government bonuses over four-and-a-half years, and interest rates on these accounts can also be attractive.
See also:
First-time buyer mortgages
The government bonus is only paid when you buy your home, and is claimed directly by your conveyancer.
If you think you want to buy a home in the next few years it's a good idea to open a Help to Buy Isa as soon as possible.
To claim the entire government benefit you have to save for over four years, but you can remove the cash and claim the bonus after you've saved £1,600 - which is possible in as little as three months.
Lifetime Isa
The Help to Buy scheme will eventually be replaced by the Lifetime Isa, which will be available for the under-40s from 6 April, 2017.
Help to Buy
Help to Buy is a government scheme that applies to homes in England and Wales.
If you have a deposit of 5% and fulfil the government's criteria, you can either benefit from an equity loan or a mortgage guarantee.
An equity loan provides an interest-free loan of 20% of a new-build home's value on top of your 5% deposit.
A mortgage guarantee scheme allows people with a 5% deposit to have easier access to mortgages, as the government guarantees part of the mortgage to the lender.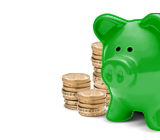 Shared ownership
With shared ownership you'll still need a mortgage to buy your share of the property, but the mortgage will be a lot smaller.
Shared ownership allows you to buy an initial share of your home and then 'staircase' to own 100%, but beware - this can take a long time and could cost a lot.
You may also be limiting yourself for a number of years, as selling can be difficult.
Borrow a deposit
If you're struggling to get a deposit together and don't know what else to do, you might be tempted to look into borrowing the money for a deposit.
However, this comes with its own set of obstacles, and if you need to borrow to get a deposit together, you should be asking yourself whether you're really in a good position to buy a home at all right now.
By Emily Bater