Guide to 125cc motorcycle insurance
Key points
Motorbike insurance is a legal requirement for every rider on the road
125cc bikes are seen as low risk by insurers and should prove one of the cheaper motorcycles to cover
Passing your test could get you access to cheaper premiums, but won't necessarily cover the associated costs
Compare policies to find the right insurance at the right price
Although you don't need to have passed a test to ride a 125cc on the road, you'll still need motorbike insurance as a legal requirement.
So, whether you're a learner on one of these machines or you've passed your test but still enjoy riding a smaller motorbike, find out how to get the right cover at the right price.
Insuring a 125cc motorbike or scooter
For the over-17s, 125cc bikes - either small motorbikes or larger scooters - generally fall into lower insurance groups.
This can make them a cost-effective option, even for younger riders and/or less experienced riders.
If you go on to pass your motorbike test on a 125cc machine, you need to let your insurer know.
As you will then be a qualified biker, there's a chance that your provider may lower your premiums to reflect this when you come to renew.
125cc insurance on a provisional licence
Completing your Compulsory Basic Training (CBT) is a vital first step along the road to becoming a biker, but not everyone immediately goes on to take their bike test.†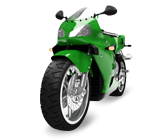 It's perfectly legal, and often cheaper and more practical, for some riders to keep the L plates on and instead ride their 125cc motorbike on a provisional motorbike licence.
As you'd expect, insuring a motorbike on a provisional licence is likely to be a little more expensive than if you've passed your motorbike test.
A motorcyclist who has undergone training and a test will be regarded as a more competent rider than a learner - even if that learner has been riding on L plates for the same length of time as the rider who's passed their test.
Despite this, you can still earn a no-claims bonus while riding on your provisional licence, and other factors like your age and the area in which you live will also affect your premium, just as they would with any other rider.
Inexperienced rider excesses
Whether you've passed your test or not, insurers will see you as more of a risk if you're inexperienced and many raise their excesses accordingly.
Need more information?
On 16 October, 2014, Gocompare.com analysed 32 motorcycle insurance policies listed on the matrix of independent financial researcher Defaqto.
It was found that 23 of the 32 charged an additional excess for inexperienced riders.
Check your policy wording carefully to find out if there is an additional excess for an inexperienced rider.
Also, check what your insurer classes as 'inexperienced', as definitions will vary from one provider to another.
Cutting insurance costs for 125cc motorbikes
Compare 125cc motorcycle insurance
Yes, you've guessed it… our top tip for finding the right cover and reducing costs is to shop around and compare as many quotes as you're practically able to.
125cc motorbikes and scooters are sought-after machines that are small, light and easy to steal
Gocompare.com's motorbike insurance comparison service allows you to quickly and easily search from 31 brands to find the right cover at the right price.
To help locate the appropriate deals, our forms will ask you to state how much riding experience you have, plus whether you're riding on a CBT certificate, a provisional licence or a full licence.
Think about getting your motorbike licence
As suggested above, passing your test is likely to result in a small reduction in your premium, and in an increased choice of insurers who are prepared to quote for you.
Note, though, that savings may be small, and passing a motorcycle test can be an expensive business.
If you don't need to ride on the motorway or carry passengers and you're happy to display L plates, you may not want to take a test at all - remember that years of riding experience and amount of no-claims bonus is likely to mean more to insurers than whether you've passed your test.
Did you know...?
Overestimating your mileage could drive up your premium unnecessarily
Upgrade security
125cc motorbikes and scooters are sought-after machines that are small, light and easy to steal, so try to make the criminals' job harder with effective bike security.
Note that the installation cost of security devices might not be outweighed by discounts on your insurance premium, but it could help avoid the heartache, hassle and expense of finding a patch of fresh air where you last parked your ride.
What's more, it could preserve your no-claims bonus, thereby helping future insurers to look on you more favourably.
Don't overestimate your mileage
Although most bikers average around 3,000 miles a year, on a small, low-range machine of 125cc or less your mileage might be a lot lower.
Overestimating how long you're on the road could drive up your premium unnecessarily.
Storage
Where you keep your bike can also affect insurance costs, so if you have a small, 125cc bike-sized space in your garage or on your drive, use it… and tell your insurer.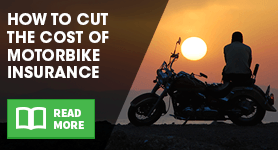 Why ride on a provisional licence?
Riding a motorbike or scooter on a provisional bike licence is a straightforward and cheap way to get out on the road on two wheels.
All you need to do is apply for your provisional licence, get a bike, get it insured, take your CBT test and you're off.
With CBT costing around £70-120 at the time of writing (October 2014), it's by far the most cost-effective way to get riding.
For a full bike licence you have to add the time and cost of a theory test, two practical tests and pre-test bike lessons to this, which can easily push the total to well in excess of £500 and could take weeks or months.
How long can you ride your 125cc bike on a provisional licence?
You can ride indefinitely on a provisional licence, providing you have a valid CBT certificate and you display L plates.
Once you've taken your CBT, you can ride your 125cc motorbike for two years before you have to attend CBT again. There's nothing to stop riders renewing their CBT every two years and continuing to hit the road with L plates.
This approach is a popular choice with commuters in cities who never need anything more than their small motorbike or scooter.
Getting a full 125cc motorbike licence
There are a few drawbacks to riding on a provisional licence and CBT certificate. Firstly, you're restricted with the type of motorcycle you can ride.
See also:
Those aged 17 or over can only have a motorbike or scooter up to 125cc, which can reach speeds of up to around 65mph.
There are other restrictions, too. If you only have a provisional licence, you're not allowed to carry pillion passengers or to go on the motorway. You also need to display L plates at all times.
Once you pass your test, you can ditch the L plates, carry a pillion passenger if your bike is suitable and ride on the motorway.
Be aware that passing the A1 motorbike test still only allows you to use a bike up to 125cc.
If you pass the test on a bike with automatic transmission (ie a scooter), it'll be recorded on your licence so you won't then be entitled to ride a geared bike without taking another test on one.
By Derri Dunn