Guide to classic motorcycle insurance
Key points
Classic motorbikes may be cheaper to insure as policy providers may expect them to have low annual mileages and to be well maintained
Security devices and safe storage could bring discounts
Gocompare.com can help you compare quotes for most classic bikes, but you may need to speak to a specialist insurer for particularly old or unusual machines
Whether it's a 1968 Triumph Bonneville or a 1988 Suzuki Katana, a classic motorcycle is an enthusiast's pride and joy.
You might have put a lot of hard work into its restoration and maintenance, so the right motorbike insurance is essential.
To get the right cover, it's important you tell your provider exactly what it's covering and how you're using your vintage machine.
Who insures classic motorcycles?
Many mainstream insurance providers can offer a competitive policy which can be found using Gocompare.com's comparison service.
If the bike is a very rare import so old and unique that it's not on the Association of British Insurers' database, you might have more difficulty finding suitable cover with mainstream providers.
You may also have very specific requirements regarding the bike's use or value.
In such instances a policy with a provider which specialises in classic motorcycles might be needed.
Need more information?
How old is a 'classic' motorbike?
There's no definitive age for classic bikes as every insurance provider has its own rules and definitions. Some will consider a classic to be 15 years old while others might consider it 25 years.
There are also providers who offer a 'future classic' policy which covers younger motorcycles that are being maintained with an eye to becoming a classic motorbike in the future.
What's the difference between classic and standard motorcycle insurance?
Classic motorcycle policies can often be cheaper than standard policies. This is because, statistically, classic motorcycle owners tend to be lower risk as they're enthusiasts who cherish their vehicle and mainly use it in fair weather.
Policies are also characterised by lower-mileage use and safe storage as the bike is not typically a day-to-day, commuting vehicle.
Many classic motorcycle policies will also have a minimum policyholder age of 25, although policies do exist for 21-year-old riders who have a full category A licence.
Top tip
Stay up to date on the market value and, if it increases, inform your insurer
Agreed value policies for classic bikes
With some insurance providers, classic vehicles can be insured for an agreed value rather than the market value.
This is because - while most vehicles depreciate over time - well-maintained classics can hold, or in some cases increase, in value, meaning that they will be worth far more than the market value for other motorbikes of the same age.
Evidence of the bike's condition – photos, receipts of work done and parts purchased – may be required to verify the bike's value. Stay up to date on the market value and, if it increases, inform your insurer.
Note that agreed-value policies may cost more than a standard classic motorcycle policy or include an administration fee.
In the case of classic bikes most of the common modifications made, as long as they're in keeping of the style of the original bike, would have no effect [on premiums]
Robert Balls, Bikesure
Laid-up and storage policies
If you're not taking your motorcycle on any public roads you may want to discuss storage or laid-up cover with a specialist insurer.
These policies will cover your bike solely for fire and theft and will require safe, locked storage.
Instances where this type of cover might be useful are during restoration, or if you've restored a bike purely for display.
Modifications and classic motorcycle cover
When it comes to maintaining a classic bike, it's possible that new, manufacturer-approved parts won't be available.
If you have to use non-approved parts, no matter how authentic they look your insurer has to be informed. As with all motor insurance policies, any addition or modification to your motorbike must be declared.
Did you know...?
Members of a recognised enthusiast's club can sometimes enjoy a discount
"Insurers understand that due to the age and cherished nature of [classic motorbikes], replacement parts are sometimes used and cosmetic changes often made," said Robert Balls from insurer Bikesure.
"Anything that's been changed from the standard model should always be declared. There's a common misconception that modifications will increase premiums dramatically, but in the main this simply isn't true.
"In the case of classic bikes most of the common modifications made, as long as they're in keeping of the style of the original bike, would have no effect."
Classic scooter insurance
Insurers understand that classic scooters are just as cherished by enthusiasts as other classic motorbikes, so policy providers are able to offer similar cover and quotes are available through Gocompare.com's motorbike insurance comparison service.
One key distinction between a classic motorbike and scooter policy relates to the sort of licence you have, because scooters within certain speed ranges can be operated with AM licence entitlement.
AM entitlement is given automatically on provisional and full driving licences if you have a valid Compulsory Basic Training (CBT) certificate.†
Not all insurers will cover riders without a motorbike licence, so your options may be more limited when it comes to insurers. However, there are specialist companies who can offer cover to scooter riders with AM entitlement.
Keep your classic motorcycle policy premium down
As with all motorcycle insurance policies, the same sort of risk factors are considered by underwriters when calculating your premium, including your age, your riding experience, where you live and your occupation.
However there, are a few ways you might be able to reduce the cost of your insurance.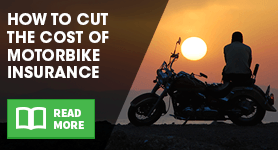 Safe storage
Many classic policies insist on locked garage storage and will consider that the motorbike may not be in use on a day-to-day basis.
Investing in a secure storage shed with a ground anchor could help with premiums and provide peace of mind.
Security devices
Immobilisers, alarms, trackers and Datatags aren't authentic, classic accessories but security devices could save your bike and they'll earn you a discount with some insurers, too.
On 23 September, 2014, Gocompare.com reviewed 32 motorcycle insurance policies listed on the matrix of independent financial researcher Defaqto and found that 21 gave a discount for vehicles with an alarm, 24 for an immobiliser and 23 for a Datatag.
Keep mileage low
Don't over-estimate your mileage. Keep a record of your annual mileage and update your provider if you're not covering as many miles as you thought you would.
Classic bike club membership
Members of a recognised enthusiast's club can sometimes enjoy a discount.
Different insurers will have relationships with different clubs.
You should be aware that membership subscription may well be more than the discount itself, but remember that there may be other benefits that come with club membership.
If you use Gocompare.com's motorbike insurance service, you'll be asked in the quotes process whether you're a member of a biking organisation and this will be taken into account when your results table is produced.
By Dave Jenkins