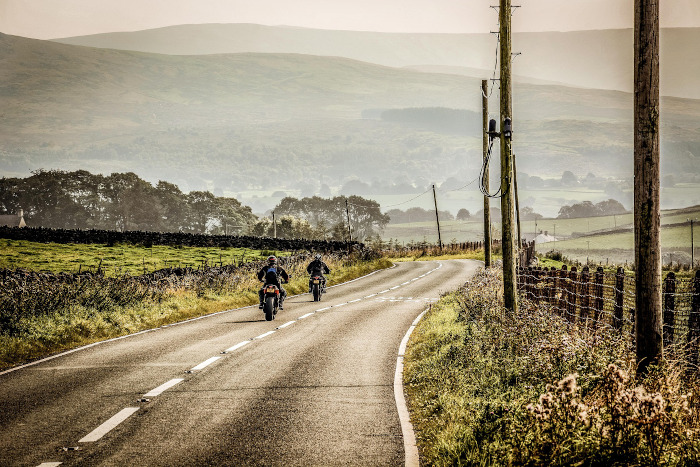 In 2020, 285 motorcyclists were killed on the roads in Great Britain. A further 4,429 were reported to be seriously injured and 8,890 were slightly injured in accidents across the UK.[1]
Meanwhile, according to government data, the environment of the road contributed to a shocking 7,546 reported accidents on Great British roads in the same timeframe. A "poor or defective road surface" was listed as one of the factors in 424 of these accidents within the year, eight of them being fatal.[2]
In light of these shocking figures, we decided to investigate the condition of England's roads further. This research will reveal how a lack of maintenance can impact our most vulnerable road users, and discuss with experts how motorbike riders can stay safe while out on two wheels this season.
The state of our roads - motorists' opinions
According to the RAC, the condition of Britain's local road network is not improving. In fact, it's deteriorating due to "inadequate maintenance investment".[3] If this continues, figures for accidents caused by poor road surfaces could keep rising.
The company's annual report also found that over half (58%) of motorists believe road conditions where they live have declined over the past year, rising from 49% in just two years. This was a worry for road users of all ages, with 46% saying the state of local roads is a top concern to them.
Road surface problems were found to be one of the main causes of worry, with a staggering 98% of those concerned about local road conditions pointing to this as a reason why. Yet, despite the overwhelming public opinion, the issues are still not being tackled.
Why are motorbike riders more vulnerable on our roads?
While road surface issues (such as potholes) can be a cause for concern for car drivers, they aren't the most vulnerable road users to such obstacles. Motorbike riders, as well as others on two wheels, are at an increased risk from any ruts, bumps and cracks, meaning they are more likely to fall foul to perilous road conditions.
Colin Brown, a spokesperson from Motorcycle Action Group, said: "A motorcycle is extremely sensitive to changes in grip level and loss of grip having only two small contact patches with the road as opposed to the four larger contact patches that cars have.
"Observation skills are paramount to avoid these issues, but focusing on the road surface can equally distract riders from other hazards… So, whilst a poor road surface may not directly cause a collision it can be an indirect cause."
Are motorbike riders covered by insurance for road surface related claims?
In terms of motorbike insurance, the most comprehensive levels of cover will insure motorbike riders for this type of incident. However, the problem with this is that it will go down as a fault, so riders should consider if they really want to make a claim, as it will impact their policy.
Before claiming, motorcyclists should think about how their no claims bonus may be affected, whether making a claim would increase their premium in the long run and how much the compulsory and voluntary excess will cost in the short term.
Another option available to riders is to claim compensation from the relevant organisation, depending on the road type and location. Riders can find out which body is responsible (such as the council) by searching for the road using its postcode at Gov.uk, then file a claim against them.
You can request a claim form from the relevant authority who should post one out to you. These are often called 'quick claims' and are the fastest method of reclaiming from councils. Remember, this could still take time and there is no guarantee your claim will be successful.
To assist in your claim, we advise:
If it's safe to do so, take pictures of the offending road surface and the damage caused to your motorbike.
Note the time and exact location of the road (the road name and the nearest marker post number or feature which identifies the part of the road you were on).
Seek out any witnesses to the incident who could help if you need to claim from a local authority.
Keep receipts of any repair work you needed to have done on your motorbike, including the dates and details of the damage caused, again, in case you need to claim.
The worst places to ride - English beauty spots are a biker's worst nightmare[4]
To have the most enjoyable experience while riding, many motorcyclists will actively seek out challenging and interesting routes, rather than taking busy main roads for their journey. So, researching England's B and C roads alone, we have uncovered the best and worst places to ride, based on road surface condition.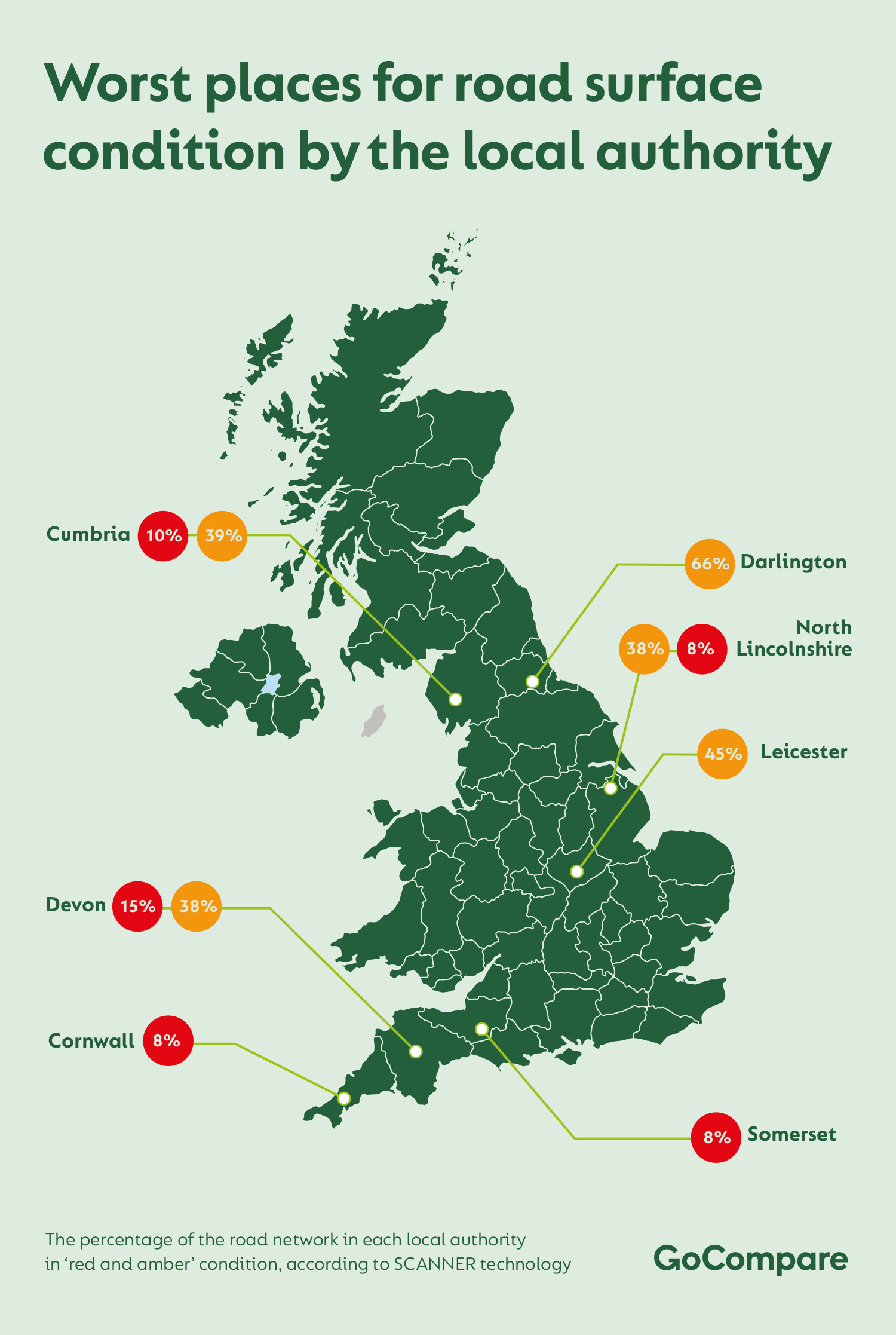 | Local Authority | % of road network in 'red/poor' condition (according to SCANNER technology) | Local Authority | % of road network in 'red/poor' condition (according to other technology) |
| --- | --- | --- | --- |
| Devon | 15 | Southend-on-Sea | 27 |
| Cumbria | 10 | Derbyshire | 24 |
| North Lincolnshire | 8 | Liverpool | 15 |
| Cornwall | 8 | Shropshire | 14 |
| Somerset | 8 | Bradford | 11 |
| | | Northamptonshire | 11 |
Surprisingly, some of the country's most well-known beauty spots could cause problems for motorbike riders. Based on SCANNER technology, Devon and Cornwall were the first and joint-third-worst areas for road conditions.[5] A huge 15% of Devon's B and C road network was highlighted as being in a red condition, meaning it potentially needs immediate repair work.
Cumbria, home to the Lake District and endless scenic surroundings for motorbike riders, was identified as the second-worst place for road conditions, according to government data. It also had one of the top five highest percentages of 'amber' roads, leaving just over half (51%) of its road network in a good condition.
Large parts of England's road network fall into an 'amber' category, meaning it may need maintenance soon, but is not yet in a bad enough state to warrant further investigation. Darlington has the largest percentage, meaning exactly two-thirds of its B and C roads were not up to standard, with Leicester and Cumbria coming second and third respectively.
| Local Authority | % of road network in 'amber' condition (according to SCANNER technology) | Local Authority | % of road network in 'amber' condition (according to other technology) |
| --- | --- | --- | --- |
| Darlington | 66 | Bristol | 74 |
| Leicester | 45 | Northamptonshire | 72 |
| Cumbria | 39 | Cheshire West and Chester | 71 |
| Devon | 38 | Bradford | 61 |
| North Lincolnshire | 38 | Liverpool | 54 |
| | | Southend-on-Sea | 54 |
The best places to ride - it's safer up North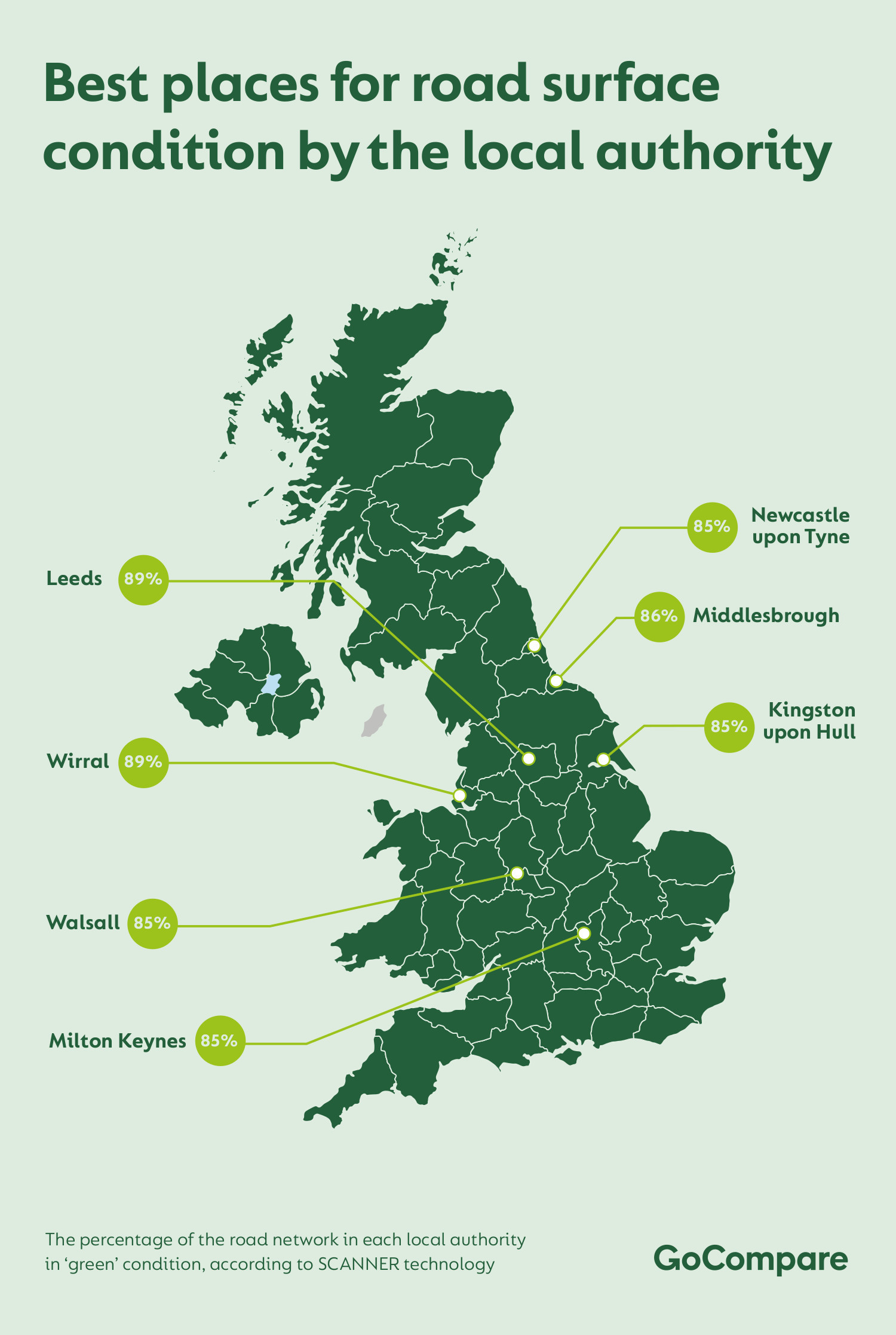 | Local Authority | % of road network in 'green/good' condition (according to SCANNER technology) | Local Authority | % of road network in 'green/good' condition (according to other technology) |
| --- | --- | --- | --- |
| Wirral | 89 | Telford and Wrekin | 80 |
| Leeds | 89 | Manchester | 77 |
| Middlesbrough | 86 | Shropshire | 75 |
| Walsall | 85 | Blackburn with Darwen | 72 |
| Milton Keynes | 85 | Oldham | 69 |
| Kingston upon Hull | 85 | | |
| Newcastle upon Tyne | 85 | | |
On the other hand, motorbike riders may want to consider a trip to the North of England if they're out in search of the best-maintained B and C roads. The roads in the Wirral (North West England) and Leeds (Yorkshire) were found to be in the best state, with a massive 89% of the road network in each area in a good or 'green' condition.
Middlesbrough (North East England) also ranked highly, as just 14% of its road surfaces fell below good condition. Meanwhile, Kingston upon Hull and Newcastle upon Tyne were tied for third place, with 85% of their roads being up to standard.
How to stay safe on your motorbike - expert opinions
In light of our findings, we spoke to two experts about how motorbike riders can stay alert, aware and safe on our roads.
Colin Brown, a spokesperson from Motorcycle Action Group, said: "We highly recommend riders take advanced training (we are currently supporting the Motorcycle Industry Association - MCIA - project to launch an online post-test training hub that aims to signpost riders to local training courses and providers) and of course practice. Reporting potholes and other defects to local authorities is also highly recommended.
"Take all the training you can, stay alert and report problems with the road surface for the benefit of your safety and that of your fellow riders."
Jim Freeman, chair of the British Motorcyclists Federation, comments: "Even inexperienced riders learn to scan road surfaces constantly. Then, change speed, throttle opening and direction as appropriate. You can't always [avoid these problems], you need to learn how to ride over them.
"Be paranoid. It doesn't matter if it's the road surface, the weather or other road users - they're all out to get you. Get advanced training. Learn to read road conditions. Be constantly aware."
About this data
[1]This data is sourced from the Department for Transport report: Reported road casualties in Great Britain: motorcycle factsheet, 2020, published on the 25th November 2021.
[2]This data is sourced from the Department for Transport report: Reported Road Casualties Great Britain Annual Report 2020: Contributory factors in reported accidents by severity, Great Britain, 2020.
[3]This information can be found within the RAC Report on Motoring 2021.
[4]This data is sourced from the Department for Transport road condition statistics 2020/21 for England only. The statistics (including any tables or infographics) used in the research is based on the data for B and C roads only.
The tables show the Road Condition Indicator (RCI) scores for surveyed local authority roads. They are split by 'green' or 'good' (no further investigation or work is needed to bring it up to standard), 'amber' (may need work sometime soon), and 'red' or 'poor' (further investigation is required to ascertain if work is needed immediately).
The following parameters are used to calculate the RCI: Rut depth (i.e. the depth of the ruts running along the length of the road caused by where the wheels of vehicles drive), 'bumpiness' along the road surface (called longitudinal profile), the texture of the road surface, cracking of the road surface and more.

[5]SCANNER technology vs. other technologies.
Although SCANNER is stated as the technology to be used by local authorities to report the information used, some use alternative technologies to SCANNER surveys and have self-reported data. Since the data is not directly comparable, the results have been split into two separate sections.
SCANNER technology (machines that carry out surveys on roads) looks at the surface condition of the road, such as how many defects there are and whether the surface is breaking up. It then provides a percentage for the RCI (Surface Condition Assessment for the National Network of Roads).