Find out how to get cover for your riding leather, helmet, boots, gloves and other apparel, either on your motorbike or home insurance policy.
Key points
Not all motorbike policies offer this cover and it's an optional extra on the majority of those that do
Should cover helmets, boots, gloves and other protective riding gear - whether it's leather or not
You should expect cover for damage but not necessarily for theft - for this, consider a home insurance policy with cover for items away from home
"The Edge... there is no honest way to explain it because the only people who really know where it is are the ones who have gone over."
So said Hunter Thompson,† presumably while losing it outside Big Sur Hot Springs, having had his helmet and riding leather nicked and subsequently realising that he lacked appropriate motorbike insurance cover.
The great Dr Gonzo would not have been the only such biker left high and drenched with barely a no-claims bonus to cover his modesty.
Don't assume that your protective riding gear is covered by your bike insurance, and think about your options for theft as well as damage in an accident.
Remember that a good policy should also cover your riding boots and gloves, plus other protective motorcycle clothing - whether made of leather or not!
Is helmet and leather cover standard on bike policies?
In March 2014, Gocompare.com reviewed 34 motorcycle policies, using the information provided by the matrix of independent financial research company Defaqto.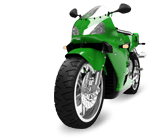 Just 15% of those policies offered helmet and leather cover as standard, although a further 53% offered it as an optional extra, typically costing around £35.
Levels of helmet and leather cover
Of the 34 policies studied in March 2014, 32% would pay out between £500 and £900 for damage to the rider's helmet and clothing, while 9% offered more than £1,000 worth of cover and 3% provided unlimited cover.
At the other end of the scale, 6% of the policies studied offered cover of less than £300 for a biker's protective gear.
"The amount of cover you need for your riding gear will depend on how expensive your equipment is," said Gocompare.com's Lee Griffin.
Claiming on your helmet and leathers normally won't affect your no claims bonus, but this can vary by provider
Lee Griffin, Gocompare.com
"As most policies offer helmet and clothing protection as an added extra, it's important to weigh up whether you're getting your money's worth.
"For those with budget gear, policies offering less than £300 for helmet and clothing protection may be more than enough.
"However, if your protective clothing is particularly expensive, it's worth looking for a policy with a higher level of cover."
Damaged and stolen equipment
If your gear is damaged in an accident then helmet and leather cover should be able to help you out, but don't assume that the same applies if you're the victim of theft.
"Most policies' helmet and leather cover will offer to either replace or repair your existing gear should they be damaged," said Griffin.
"This is particularly useful in regards to helmets, as these will normally need to be replaced following an accident.
"However, it's important to note that motorcycle insurance providers will typically only pay out if your equipment is damaged, and not if your gear is stolen.
"Claiming on your helmet and leathers normally won't affect your no claims bonus, but this can vary by provider - it's worth checking before you buy."
Covering helmet and leather theft
If your helmet and leathers aren't covered by your bike insurance there are other options to look at.
Claiming for helmet and leathers may affect any no claims bonus you have on your home contents policy
Lee Griffin
"Remember, it's also possible to cover your riding gear on your home contents insurance if you have accidental damage cover and have added protection for items away from the home," said Griffin.
"This should cover your equipment for its full value should it get damaged or stolen, less any excess that applies.
"However, it's worth bearing in mind that this may affect any no claims bonus you may have on your contents policy, which could make this option unsuitable for those with inexpensive gear.
"Regardless of how you choose to cover your equipment, it's important to make sure that the cover you have is adequate for your needs.
"Weigh up all the options available to you, and don't assume that every provider will offer the same level of protection - it can vary significantly."
By Sean Davies
[SeanSocialShare]