Find out how companies use risk factors such as your address, occupation and riding history to calculate your bike insurance quotes.
Did you know...?
Improving the security of your motorbike could help to keep quotes low
Companies take many factors into account when working out your quote for motorbike insurance, which is why they ask so many questions.
They work out how likely you are to claim on your policy and this is reflected in the price of your premium.
Insurers may focus on different criteria when calculating your quote, which means they can vary from provider to provider. The main areas they look at are: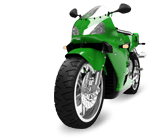 Motorbike claims history
This is particularly important to insurers and plays a significant part in calculating premiums.
You're required to give details of any claims you've made in the past five years, and even if it wasn't your fault it's still likely to have an effect on your premium.
If you haven't made a claim for over a year, you may be given a no claims bonus, which could see your quote decrease significantly.
Riders on the insurance policy
An insurance company will ask for information about who will be riding your bike, including their riding history, age, claims and convictions history.
Adding a rider under 25 who has a speeding conviction and has previously crashed their bike will almost certainly increase your insurance costs in comparison to adding a 40-year-old with no claims or convictions.
Riding convictions
It stands to reason that the more riding convictions you have, the more you'll be charged for your insurance.
Someone who speeds habitually is likely to be seen as having more chance of being involved in an accident, and hence of costing their insurance company money.
Insurance companies will generally ask for your conviction history for the last five years.
Rider's medical conditions
If you have had, or currently suffer from, a medical condition or disability that may affect your riding, you must tell the Driver and Vehicle Licensing Agency (DVLA).
It will then decide whether to place any restrictions on your driving licence. If you have a restricted licence, insurance companies will factor this in when calculating your premium.
For further details regarding medical conditions, consult the official DVLA information.†
Mileage
Motorbike insurance companies will ask you how many miles you cover a year. It's likely that the more time you spend out on the road the greater they will consider the risk that you will have an accident or make a claim.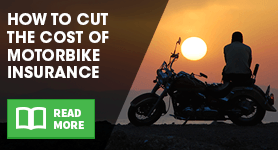 Rider's occupation
Some occupations attract higher insurance premiums than others.
For example, paying out on a claim for a professional sports person may cost an insurance company a lot more than for, say, an office worker.
Other occupations that may increase your insurance premiums are workers on licensed premises and entertainers.
Motorbike security
Keeping your motorbike as secure as possible can help to keep insurance premiums down.
Improving motorbike security could help, but bear in mind that your outlay will not necessarily be covered by premium savings.
Motorbike parking
If you're able to, park your motorbike in a garage when it's not in use.
Did you know...?
What you use your bike for will be taken into account when your quote is calculated
Otherwise it's recommended that you keep your bike in a safe, well-lit area, off the street whenever possible, with a cover over it.
Different insurance companies will apply different rating factors when it comes to assessing the risk of parking and how it impacts on your premiums.
The safer and more secure options are naturally more likely to be reflected in lower premiums.
Value of your motorcycle
The value of your bike will play a major factor in determining the level of your insurance premium. More expensive motorbikes will generally cost more to insure than lower-priced vehicles.
Age of your bike
Older and classic motorbikes can sometimes be cheaper to insure than newer models, as the parts often cost less to replace.
Of course, if parts for a particular model are rare, expensive and hard to find, insurance will be more expensive.
Motorbike modifications
If you have any modifications made to your bike, such as a specialist paint job or power-increasing exhaust, bear in mind that it's likely to drive up your insurance premium.
Modified motorcycles may be deemed more attractive to thieves, more valuable and more expensive to repair.
Generally speaking, security is the only bike modification that may result in a lower insurance premium, although some specialist providers may look favourably on modified bike owners as they appreciate the care that has gone into the machine.
Insurance and motorbike use
What you use your motorbike for will have an impact on the cost of your insurance premium.
Just using your bike socially to visit friends, or at the weekends in the summer for enjoyment, should mean you are much less of a risk to your insurance company than if you use your motorbike to travel back and forth to work, or you use your bike for your work.
If you need business use on your motorbike then your premium may increase to cover the increased mileage you'll be doing as you're seen as a greater risk of having a claim or accident.
Where you live can have an effect on your insurance quote, for example, built up areas with high levels of traffic could increase how much you will pay
Here are the different types of use for your motorbike. Make sure you tell your insurance company exactly what you use your bike for:
Social, domestic and pleasure: Cover for day-to-day riding, such as visiting family, friends, or going shopping
Commuting: Covers you to ride to and from one fixed place of work. It also includes travelling to, and parking at, a railway station
Business use: Use of your motorbike in connection with your job, such as riding to more than one place of work
Commercial travelling: Covers you and your bike for things like door-to-door sales
Motorbike insurance excess
Insurers will typically lower insurance quotes if you agree to pay a higher voluntary excess.
This means that, in the event of making a claim, you pay a nominated amount on top of the compulsory excess outlined in your policy.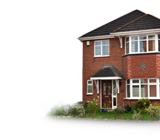 Your address
Where you live can have an effect on your insurance quote. For example, built-up areas with high levels of traffic could increase how much you will pay, as you may be deemed more likely to make a claim.
Make sure you give your insurance company the address that you spend most of your time at.
If you're a student who rides their motorbike whilst away at university, tell your insurance company. Otherwise if you make a claim on your insurance it could be invalid.
By Abbie Laughton-Coles