Guide to insuring imported motorcycles
Key points
Cover is readily available for imported bikes, but costs may be higher and choice of insurers more restricted
Parallel imports should prove less problematic to insure than grey imports and Q-plated bikes
Try Gocompare.com's quick and easy quotes service, but if you don't see appropriate deals there may be specialist insurers to turn to
Although the majority of modern motorbikes are built in the Far East, sometimes bikes make it to the UK that were never intended for our home market.
There are some advantages to an imported bike, though - if you've moved to the UK from elsewhere in Europe you may want to take your bike with you rather than sell it, perhaps you're craving a particular bike that's only available abroad, or the price may be attractive.
There are two main classifications of imports, defined largely by where the bikes were originally registered, and the classification your vehicle falls into could make a big difference to your motorbike insurance costs.
When you enter Gocompare.com's quote process you'll be asked whether your bike is an import.
If you say yes, you'll be asked if it's a parallel import (made for a non-UK market but available through a manufacturer's franchised dealer in the UK) or a grey import (from abroad and not available from a manufacturer's franchised dealer in the UK).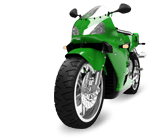 Make sure you answer accurately, and note that your responses will have implications for the cost and availability of cover.
Parallel import motorbike insurance
A parallel import is a bike that's been brought into the UK from another EU country, so it'll already meet minimum UK standards.
Need more information?
Parallel imported bikes often have an exact equivalent available as a non-import in the UK.
There may, however, be differences in the bike's specification, such as the odometer displaying kph as the primary unit rather than mph.
In theory, insuring a parallel import shouldn't differ much from insuring a standard UK model of motorbike, as there'll be little or no difference between the machines.
However, you may find that you have less choice of insurers as some providers may be unable to give a quote for imported vehicles.
Grey import motorbike insurance
Grey imports are bikes that aren't available in the same guise in the UK and are imported from outside the EU.
The paint finish or lubrication and oils used might have been designed for milder climates and could prove less durable when exposed to UK weather
Japan is the principal source of these bikes, often for high-specification 250cc or 400cc bikes that aren't available from UK dealers.
Such machines may need to have work done to make them comply with UK legislation, such as changing the indicator lens colour.
Insuring a grey import bike is often more expensive than either a parallel import or a standard UK model and you'll probably find you have less quotes to choose from.
This is because insurers see these vehicles as a greater risk - as with modified motorbikes, if they're involved in an accident repair or replacement costs are likely to be higher as it might be tricky or more costly for garages to source spare parts.
The paint finish or lubrication and oils used might have been designed for milder climates and could prove less durable when exposed to UK weather, making the vehicle more prone to damage and wear.
What's more, the reason for importing motorbikes from countries such as Japan is often to secure a model or specification that just isn't available in the UK - for instance, nippy, lightweight bikes of 400cc that have a high power-to-weight ratio and sporty styling.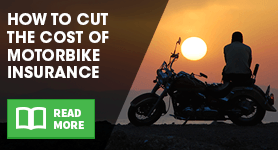 As insurers may class these bikes as being a greater accident and theft risk, this could also push up premiums.
Because of this, it's important to compare quotes to get the right cover.
Try our quick and easy comparison service, but if you're struggling to find the right cover you may have to think about a specialist insurer or broker.
Q-plated imported motorbike insurance
Q plates are issued by the DVLA for vehicles whose age or identity is in doubt, and this might occasionally be the case for imported motorbikes.
A Q plate would be placed on an imported motorbike that has met all European road and safety standards, but has gaps in its document history so its age can't be determined.
Did you know...?
Gocompare.com can introduce you to specialist insurers who can help you find cover for a Q-plated vehicle
This is more likely to be the case if your imported bike is an older machine, or a classic motorcycle.
Insuring a Q-plated imported bike can be challenging - the 'Q' denotes uncertainty about the vehicle, and as insurance is all about calculating risk, this makes it harder to classify, pushing up the price and availability of quotes.
Because of this, specialist insurers may be able to help. In Gocompare.com's quote process you'll be asked to indicate whether your bike is a Q plate and, if so, you'll be given details of specialist motorbike insurance providers who may be able to quote over the phone.
Tips for buying an imported motorbike
In many ways, buying an imported motorbike is more straightforward than with a four-wheeled vehicle - after all, steering wheels on the wrong side and radios that can't get a UK signal aren't a consideration. Nevertheless, there are a few things you should pay attention to…
Costs
For imported motorbikes, the costs don't end with the price of the bike itself. If you're dealing with an importer, you may need to pay VAT and shipping costs, which can be considerable. You'll also need to pay vehicle tax from the date the bike is first registered in the UK.
As previously mentioned, insurance costs could be higher, especially for grey imports, and servicing and maintenance could be pricey due to unfamiliarity with the vehicle and scarcity of spare parts.
You'll need to weigh all this up if your main motivation for buying an imported bike is because the price tag in yen looks like an unbeatable deal while it's at a Japanese bike dealer.
Condition
Beware of paying for a bike that hasn't yet landed in the UK. If you can't view it, the finish, specification and condition might not be what you're expecting. Try to use a reputable exporter or dealer.
Imported motorbike warranties
For parallel imports from within the EU, UK dealers should still honour any manufacturer warranty periods. But note that, as each country has its own warranty periods, the period of cover might be shorter than what you'd get with a non-imported bike.
Suitability
If a bike was never designed to be sold in the UK, consider why that might be. Ok, so it may just be that it was an economic-based decision because it wouldn't be a best-seller here, but you should take time to consider whether your chosen bike will get on with the UK's unique climate, terrain and roads.
By Derri Dunn