Guide to learner and new riders' motorbike insurance
Key points
There are no dedicated learner motorbike insurance polices - arrange standard bike cover
Premiums are likely to be more expensive than for older and/or more experienced riders
Follow our tips for keeping premiums low for learner and new riders
Obtaining your motorcycle or moped licence is a great personal achievement.
Unlike learning to drive a car with a competent driver beside you or a professional instructor with access to their own brake pedal, you are solely in control of your vehicle from the very first time you decide to ride.
Given that, it's essential that you have the right level of training to ride the right type of bike and that you have appropriate motorbike insurance cover in place, too.
Insurance for learners and new riders
If you're being taught to ride at a professional riding school it's likely that you'll be using their motorbikes which should already have appropriate insurance.
However, if you're using your own motorcycle at a riding school and/or are riding with L plates, you'll need to have arranged insurance cover.
Need more information?
Due to the extensive range of licences and levels of ability there are no dedicated learner rider insurance policies like the ones for learner car drivers.
From the moment you apply for insurance you'll have to be covered by a regular motorcycle or moped policy - this could be your own policy, or you may be a named rider on someone else's insurance.
It's important to choose the right level of cover. Your first wheels may be cheap but the lowest level of cover, third party only, might not be the cheapest - or safest - option.
Note that one of the fastest-growing areas of insurance for new car drivers, telematics, is not currently an option for bikes, although debate has started about the possibility of black box policies for motorbikes.
How learner and new riders' premiums are calculated
Like all vehicle insurance policies, premiums for new and young riders will be rated on a variety of factors.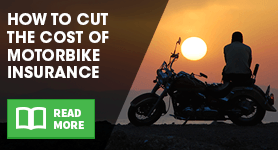 As well as the type of bike, its value and how powerful it is, your policy premium will also take into account factors such as:
Your age
Location
Who else has access to the bike
However, there are two particular rating factors that typically have a great significance on your premium as a learner or new rider…
Experience and use of other vehicles
If you've taken up riding a little later on in life, you've already obtained a full car licence and/or have driving experience, this will be considered and rated positively by underwriters.
Did you know...?
Some insurers place an additional excess on policies taken out by young or inexperienced riders
Unfortunately, of course, if you're 16 and you've just started riding a moped, you won't be able to take advantage of such bonuses.
Younger, inexperienced riders are statistically more likely to be involved in an accident, meaning that they will be charged higher premiums by insurers.
On the other hand, if you do have experience it provides evidence that you understand the road and can deal with different traffic conditions.
In many cases you can take further advantage of this experience by using the no claims bonus (NCB) you may have built up from another vehicle.
When providing your details to an insurance provider or entering your details in the Gocompare.com comparison service, you'll be asked for this information.
Many insurers will look on this favourably and might even transfer your car NCB to your new motorcycle policy.
Additional excesses for young and inexperienced riders
It's not just premiums that can be more costly - some insurers will also place an additional excess on policies taken out by young riders and/or inexperienced riders.
On 20 October, 2014, Gocompare.com analysed 31 motorcycle insurance policies listed on the matrix of independent financial researcher Defaqto.
It was found that 21 of the 31 charged an additional excess for inexperienced riders.
What's more, some providers apply an excess based on age, whether or not you have previous experience of motorcycling.
Of the 31 policies analysed, 25 charged an additional excess for riders aged under 21, while 24 policies charged an additional excess for riders aged between 21 and 24.
Check your policy wording carefully to find out if there is an additional excess for younger or inexperienced riders.
Also, check what your insurer classes as 'inexperienced', as definitions vary from one provider to another.
Cutting the cost of motorbike insurance for new riders
While it's almost inevitable that a learner or new rider will pay more for their insurance than an experienced biker, there are ways to try to combat the higher prices.
Firstly, choose a less powerful/less sporty bike, even if you have the licence to ride a large machine - smaller motorbikes are often cheaper to insure and premiums for commuter or street bikes are often less than for aggressive, supersports-type bikes.
Pay attention to the rating factors indicated above such as security and modifications, and use our articles to help you find the right approach to cover.
Depending on your circumstances it may be possible to build up your experience as a named rider on a more experienced rider's policy rather than taking out your own insurance.
Just make sure you declare the correct information to insurers - if you're the main rider of a bike but you say that it's someone else, you're committing an offence known as fronting. This is illegal and could invalidate your policy.
Carrying pillion passengers
In order to carry a pillion passenger on your motorcycle you must have a full licence for the type of bike you're riding.
It's also essential you inform your insurance provider that you wish to carry passengers as it will be considered when rating your premium.
Naming a more experienced rider on a policy under your name could also prove beneficial, but again make sure that the information is accurate and that you've obtained the permission of the more experienced rider.
Do your best to keep a clean riding record by riding safely and sticking to speed limits - when you start to build up a good reputation insurers will take note and reduce premiums.
To help keep your record clean, think about taking an advanced riding course.
There are many such courses available that can help to improve and enhance your riding skills and make you a better, safer and more confident rider. What's more, some insurers will offer a discount if you've passed such a course (although this will not necessarily outweigh the course fees).
Our top tip for saving money on young riders' motorbike insurance is, of course, to shop around for the right cover. Gocompare.com's quotes service allows you to review options from 31 brands in one quick and easy search.
Other basic requirements for learners and new riders
See also:
CBT course
While you can insure a motorbike or moped with just a provisional licence in place, before you can legally ride on any public road you must complete a Compulsory Basic Training (CBT) course.†
CBT courses are regulated by the Driver and Vehicle Standard Agency, they usually take a day to complete and costs vary from provider to provider.†
Licences
There are various types of moped and motorcycle licences you can achieve depending on your age, experience and the power of bike you want to ride:
AM: Mopeds up to 50cc/30mph (for age 16+)
A1: Small motorbikes with a power output of no more than 11kW/125cc (for age 17+)
A2: Medium motorbikes with a power output of no more than 35kW and a power-to-weight ratio of 0.2kW, or around 600cc (for age 19+)
A: A full motorcycle licence, allowing you to ride any motorcycle unlimited in size and power. You can take this test from age 21 if you've held an A2 licence for two years, or from age 24 if not, via direct access
NB: If you obtained a full car licence before February 2001 you can ride a moped under 50cc without an additional licence.
By Dave Jenkins