Motorbike and moped licences have an impact on many aspects of riding, including insurance premiums... Find out more about the options and requirements.
Gov.UK pages
Motorbike and moped licences can seem complex, but it's vital that you have the legal right to ride your chosen machine on the road.
If you fail to ensure this you'll almost certainly invalidate any motorbike insurance you may have, and there are likely to be serious legal implications.
Motorbike licences and insurance
Remember that the type of licence you hold is likely to impact on the price you pay for your insurance.
For example, you can ride a motorbike or scooter on the road without passing a test so long as you've applied for a provisional licence, taken your Compulsory Basic Training (CBT) and arranged appropriate insurance cover.†
If you choose to go on to pass your test and inform your insurer, though, it's possible that this will qualify you for a discount when you come to renew your cover.
Also note, though, that such a saving will not necessarily outweigh the cost of taking a test.
Considerations such as years of riding experience and no-claims bonuses typically have more of an impact on premiums than licence type.
If you compare quotes using Gocompare.com's motorcycle insurance service, our forms will ask you to choose your licence type from a simple dropdown menu. The options are: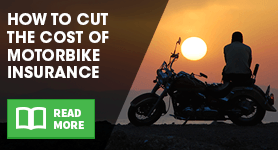 UK full bike
UK full moped
UK full car
UK provisional bike
UK provisional moped
EU full bike
EU provisional bike
International full bike
International provisional bike
Other European full bike
Other European provisional bike
You'll also be asked how long you've held a licence for.
Motorbike licence requirements
Use the government's website page on motorcycle licence requirements for the official information you need, or read on for a brief breakdown of the main licence types.†
Moped provisional licence
Mopeds offer a cheap way to travel, you can ride one before you're able to ride a motorbike or drive a car and scooter and moped insurance premiums tend to be low.
Mopeds have a maximum engine size of 50cc and a top speed of about 31mph, and do not weigh more than 250kg.
To ride a moped you must be 16 or over, have a provisional licence and have completed CBT.
You can apply for a moped provisional licence up to three months before your 16th birthday. You'll have to pay a fee and will need identification.
Moped full licence
Once you have your moped provisional licence, you're on your way to possessing a full moped licence, categorised as an AM moped licence.
To obtain this you need to complete CBT before passing the theory test and a two-part practical test on a moped not more than 50cc and 4kW.
If you hold a full car driving licence and you passed your test on or after 1 February, 2001, you don't need to apply for a provisional licence, but you'll still need to complete CBT.
If you passed your driving test before this date, you don't need to complete the training and are eligible to ride a moped without needing to display L plates.
Note that it's recommended that you undertake CBT anyway as being on the road in a moped is very different to being in a car.
Motorbike provisional licence
If you're 17 or over you can hold a provisional motorbike licence, which you can apply for through the government website.
You'll have to pay a fee and will need to take identification. Your sight must also meet minimum requirements.
You also have provisional entitlement to ride a motorbike if you hold a full car driving licence. This might also apply if you have a provisional car licence with motorbike entitlement.
Before you're allowed to ride on public roads, you must complete CBT.
After this has been done you'll either have to pass both your theory and practical motorbike tests within two years or take the CBT again.
Following CBT training you're allowed to ride on public roads but not motorways. You mustn't carry pillion passengers, and you must exhibit L plates until you've passed your test.
Motorbike full licence
To gain your motorbike licence you must hold a provisional licence and have passed both the theory and practical parts of the test.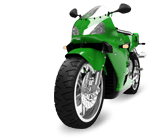 The theory test for motorcyclists has two parts, a multiple choice section and a hazard perception element.
Next is the motorbike practical, which tests your ability to ride safely in a range of driving conditions and your knowledge of the Highway Code.†
There are rules on the type of bike you can ride, depending on your age. The categories are:
A1 light motorcycle
A2 motorcycle
Category A motorcycle - unlimited size (21-23)
Category A motorcycle - unlimited size (24)
By Sean Davies