What measures can you take to improve the security of your bike, and how may they impact on the price of your motorcycle insurance?
Key points
The right security can help reduce motorbike insurance premiums
Insurance savings will not necessarily outweigh the outlay on the security device
Look for Thatcham-approved devices, and check whether insurers recognise them before buying
Gocompare.com's comparison service helps you inform insurers of the level of security your bike has
If you tell your insurer you have a particular security device, make sure you use it
According to the Motorcycle Industry Association, over 26,000 motorbikes were stolen in England and Wales in 2012, accounting for 43% of all motorbike insurance claims.[1]
Given that, it's not hard to see why security is a major factor for insurance underwriters when they calculate your motorbike premium.
Sadly motorcycles are an easy target for thieves and criminal gangs.
According to motorbike security company Datatool, bikes are twice as likely to be stolen as cars.[2]
Your pride and joy can be taken within a matter of seconds, wheeled away or simply picked up and driven off in a van.
There are many measures you can take to help prevent this, though, and some can help reduce the cost of your premium.
Security and motorbike insurance
Every provider has their own set criteria for covering your bike, meaning that security devices and methods are rated differently between insurance companies.
But if you've installed the right security, and you've found the right provider, you can enjoy significant savings.
Did you know...?
Note that some insurers may only apply one security discount, even if you have multiple devices installed
When you compare quotes through Gocompare.com you'll be able to list any sort of electronic alarm, immobiliser and/or tracker you have, and to indicate whether you have secure markings on your bike.
You can also indicate any mechanical security devices, chosen from a drop-down list and including disc locks, chains, padlocks and u-locks.
Note that some insurers may only apply one security discount, even if you have multiple devices installed.
Your information will be taken into account when your results page is calculated, with insurers returning quotes appropriate to your level of security and the way they rate on it.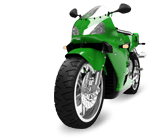 Note that an investment in security will not necessarily be repaid in premum savings, but you should consider other advantages such as peace of mind, the benefits associated with avoiding the loss of your ride and future insurance savings if you build up a no claims bonus.
Remember that, if you tell your insurer you have a security device such as an alarm, you must then use it. If, for example, your bike was stolen and your alarm wasn't turned on, you risk invalidating your policy.
What security devices impact on motorbike premiums?
On 15 February, 2017, Gocompare.com analysed 42 motorcycle policies listed on the matrix of independent financial researcher Defaqto and found that many offered discounts for security devices, including alarms, disc locks, immobilisers, Datatags and ground anchors.
Only 11 policies didn't offer a discount for any of these devices, but the type of security devices that received a discount varied quite a lot from one policy to another.
Immobilisers were the security device most likely to receive a discount, with 28 of the 42 policies offering this. Next were Datatags (25) and alarms (26).
Physical security was slightly less widely discounted, with just 21 of the 42 policies offering a discount for a disc lock, and 19 for a ground anchor.
Here's some industry advice on anti-theft products and how to invest in them:
Consult a bike specialist before investing
The motorbike security market is vast, with a plethora of options. Your domestic situation will influence which devices you buy. It's also wise to make note of possible devices and compare insurance quotes based on the ones you're considering.
Retain proof of the device you've installed
Insurers can ask to see this proof at any stage of your policy coverage.
Look for the Thatcham seal of approval
Experts in vehicle safety and security, Thatcham rate all types of devices from immobilisers to chains and ground anchors.
Secure markings are about the cheapest insurer-acknowledged anti-theft method you can go for
Other secure-tested marks of approval include Sold Secure, ART Holland, Classe SRA, NF France and PZU Poland.
Some insurers do recognise these organisations, but in the UK Thatcham still remains the most consistent anti-theft body for underwriters.
Don't go overboard
Be aware that your premium may not reduce further with each device and safety measure you install.
If your insurer applies a security discount for installing one measure, that might be as much of a discount as they allow.
Don't let this affect the combination of security investments you apply. The harder your bike is to steal the better, both for your peace of mind and your future premium costs.
Ground anchors, bike garages and mechanical security
At home or on the road, locking your bike to something solid and immovable with a Thatcham approved u-lock or chain is a major deterrent.
Ensure that the chain is looped through a part of the bike that is difficult to remove, such as the gap in the swing-arm on the rear of the motorcycle.
See also:
Make sure that your steering lock has been applied, too.
At home
According to the National Crime Intelligence Services, 80% of motorbikes are stolen from the owner's home.[2]
If possible, keep your bike out of site in a dedicated high-security motorcycle shed, or install a ground anchor on your wall or concrete floor.
When installing a ground anchor, ensure it's in a hard-to-reach position so that the chain isn't easily accessible.
On the road
When possible, lock your bike to a dedicated motorbike/cycle stand. It should be well-lit and will often be in the view of a CCTV camera.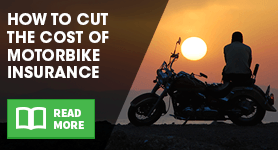 If that's not possible, use a lamp post or any other immovable object. Ensure that the bike fits snug against the post with no slack on the lock or chain.
Chains are cumbersome devices, but always remember to keep it in your possession when your bike isn't locked.
If your chain is canvas-covered check it regularly - the canvas can be removed and the chain can be tampered with for future theft if you lock it in the same space regularly.
Disc locks are also considered a reasonable deterrent, but should only be used in combination with other locking devices as they are easy to remove by professional thieves.
Immobilisers, alarm systems and trackers
Immobilisers have developed hugely in recent years. Unfortunately they're not fitted as standard on many bikes, but they can be installed easily by a professional.
If fitting yourself, ensure the immobiliser kill switch is very well hidden. Remember to discuss the make with your insurer to ensure that they recognise it as a secure device.
Many Thatcham-approved immobiliser systems come with a combined alarm.
Whether you invest in individual alarm systems or combine them with immobilisers they should never be relied upon as a singular deterrent method.
By the time an alarm is triggered it might be too late. More sophisticated systems can trigger an SMS alert to your phone.
GPS-based tracking devices are also recognised by many insurers.
While they are a great way to trace your bike, the problem is that the act of theft will have already occurred. Trackers are highly recommended but let's hope you don't have to use it.
Secure markings
Secure markings or data etching/coding on different parts of the bike (as many as possible) mean that thieves will find the bike much harder to sell or dispose of.
They mean that your bike will be a lot easier to trace and identify if stolen, and this method is about the cheapest insurer-acknowledged anti-theft method you can go for.
While inconspicuous, the code is visible if you know what you're looking for. Thieves certainly will, and if they're stealing to order then coding is a major deterrent.
Like every other security device on the market, there are many coding options available. As always, look for the Thatcham-approved secure marking techniques.
By Dave Jenkins