Warranty Direct
Bike Warranty
Warranty Direct's extended bike warranty can help absorb some of the costs and give you motoring peace of mind. Available for bikes under 10 years and with less than 60,000 recorded miles.
Guide to motorbike warranties
Key points
A motorcycle warranty is an optional insurance policy that can protect against the risk of mechanical breakdown
Warranties can be taken out on new or used motorbikes, but remember you may already have one from the manufacturer or dealer
Prices and levels of cover for bike warranties vary widely, so compare options, read the small print with care and look out for exclusions
While motorbike insurance is essential if you want to ride legally on the road, mechanical breakdown insurance (MBI) in the form of a motorcycle warranty is optional… but it could prove vital in keeping your two wheels rolling.
With a bike warranty you'll pay a monthly premium and in return your repair bills can be covered for a specified list of mechanical and electrical problems.
Premium prices and cover options can depend on factors such as the age, make and model of your motorbike and your anticipated annual mileage. Many warranties also require you to pay an excess when a claim is made in the form of a percentage of the cost of the labour and/or parts.
A typical bike warranty could last for anything between one and five years, perhaps with the option of extending the deal at the end of the term. Other policies may be based on the motorcycle's mileage rather than its age.
Should I take out a bike warranty?
Whether or not taking out a motorbike warranty is the right decision will depend on your individual circumstances and your mechanical luck - you may end up paying more in premiums than you ever claim back, but the reverse may also be true.
Need more information?
If you decide that you do want a bike warranty, it's important to shop around and compare the options to find the right deal - policies vary enormously in terms of price and cover levels, and there are a variety of possible exclusions that you need to be aware of.
You also need to know that certain terms and conditions will have to be met to keep the warranty valid.
This could include keeping within mileage limits, sticking to the service schedule, only using approved garages for services and repairs, not modifying the bike and only using approved parts, fuel and lubricants.
You'll also be expected to display a reasonable degree of diligence in maintaining your bike - having a warranty is NOT an alternative to essential motorbike maintenance, and neglecting this area could have serious safety as well as financial implications.
Types of motorbike warranty
There are several types of warranty to choose from for your bike.
Manufacturers' motorcycle warranties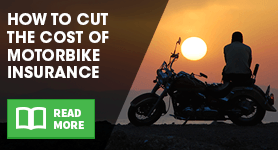 New bikes come with a manufacturer's warranty. This doesn't mean that you can't buy an additional warranty yourself, but if you're considering this make sure it offers value for money.
Don't assume that a bike you buy second-hand is still covered by the manufacturer's warranty; even if it's within the warranty period, the previous owner may not have adhered to the terms of the deal.
Independent dealer bike warranties
Motorbikes bought from a dealer or garage often have a warranty provided by the seller to cover them.
This may be for a relatively short period of time - perhaps three months - but some dealers offer lengthier warranties.
You may also be offered the opportunity to extend the dealer warranty for an additional fee. If you're considering this, look carefully at the deal you're being offered and remember that there might be more appropriate motorbike warranties available away from the dealership.
Extended motorbike warranties
An extended motorbike warranty - also known as an after-market motorcycle warranty - is an insurance policy you can take out yourself, whether or not the bike has an existing manufacturer or dealer warranty in place.
You may need to provide proof that your motorcycle has been serviced by a VAT-registered garage within a certain period of time, while older bikes are likely to need a current MOT certificate.
Many warranties will also cover things like the front forks, suspension, brakes and frame
As with other types of warranty, remember that you'll need to stick to the terms and conditions of the policy, something that may - for example - limit the choice of garages that you use for servicing, or the number of miles you can do.
You may also want to think about checking whether the warranty can be transferred to another vehicle should you decide to change your motorcycle during the policy period. Remember that, if such a transfer is allowed, it's likely to be accompanied by an administration charge.
Mechanical problems covered by a motorcycle warranty
There's no standard list of mechanical issues covered by a motorbike warranty as every policy will differ and - even when the list of items covered is the same - you need to be aware of exclusions and the way they're interpreted.
Even the most basic of policies should cover the breakdown of the engine, swinging arm unit and gearbox, while it's also common to expect help with things like the clutch, cooling system, electrical problems, casings and the shaft drive unit.
Many warranties will also cover things like the front forks, suspension, brakes and frame, while even more comprehensive policies are also available - typically for the highest premiums.
Whatever level of cover you choose, though, make sure you've read the small print with care and that you're aware of any exclusions.
Exclusions on motorbike warranties
Bike warranties can come with extensive lists of exclusions. It's also worth being aware of the reputation of the warranty company, as the interpretation of the clauses can be crucial.
'Wear and tear' is perhaps the most important and controversial area.
While most riders would surely agree that a 'wear and tear' clause could reasonably exclude things like tyres and damaged bodywork, some warranty firms may try to apply this to major mechanical problems.
Oil leaks can be another controversial area - it's possible that a bike warranty may pay for the cost of replacing a failed part, but not to repair the damage that was caused by oil leaking from that component.
Similarly, you should watch out for any exclusions detailing 'consequential loss', where damage to an insured part is caused by the failure of a non-insured component.
Exclusions can also, of course, apply if you fail to adhere to the terms of the policy by, say, failing to stick to the service schedule or using unauthorised garages.
Other things to look out for on motorbike warranties
Another controversial area with bike warranties is 'betterment', which is when a new component fitted as part of a repair is of a higher quality than the original. In such circumstances, some policies require you to make a payment towards the repair bill.
On a more positive note, some motorcycle warranties will offer assistance if you're riding in Europe, an element of breakdown cover and/or a hire bike while your ride is off the road.
Alternatives to motorbike warranties
The most obvious alternative to taking out a bike warranty is simply to put money aside regularly for future repairs.
To give this a more fancy name, you can use the money you would have paid in premiums to 'self-insure'; that is, to build up a savings pot that will hopefully be sufficient to cover any repair bill that comes in.
You may also find some of the elements of a bike warranty contained in a motorbike breakdown policy. This would typically be as part of a premium policy, an element known as motorbike breakdown repair cover that can help out with garage bills.
These alternative options are worth considering, but the right motorbike warranty can offer security and peace of mind. The decision on whether that's worth the outlay in premiums can only be made by the individual bike owner.
By Sean Davies