Carrying a passenger on a motorbike has insurance implications for both the rider and the pillion. Make sure you've got the right cover…
Key points
Pillion insurance is rarely included as standard on policies
Most insurers will be able to offer cover if it's requested, although this is likely to be at a cost
In Gocompare.com's quote process you'll be asked whether or not you require pillion cover
Provisional licence holders cannot carry pillion passengers under any circumstances
If anything comes close to the thrill and pleasure of controlling a motorcycle, it's riding as a passenger.
No one forgets their first exciting experience riding pillion.
But it comes with great responsibilities for both the rider and passenger, and you need to consider whether you have appropriate cover under your motorbike insurance.
Pillion law
To legally carry a passenger on a motorcycle you must have a full motorbike licence for the class of bike you're riding.
Provisional licence holders cannot carry pillion passengers under any circumstances.
What's more, the bike must be designed to carry a passenger with a dual seat and rear footrests fitted specifically for carrying pillions.
There's no age restriction placed on the passenger, but they must be able to sit astride the seat so that they're secure on the motorcycle and their feet reach the footrests.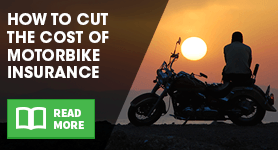 It should go without saying that pillion passengers must sit facing forward at all times, but it's also a legal requirement.
Both the rider and the pillion passenger must also wear helmets that adhere to UK safety standards.
The rider must understand that the decision to carry a passenger is theirs and that they're legally responsible for the passenger's safety and behaviour throughout the journey.
What's more, the rider must have the correct bike insurance in place to cover riding with a pillion passenger.
Pillion insurance cover
Coverage of pillion passengers used to be standard on all policies, but it's now far more common for an insurance company not to include this on your policy unless requested.
Did you know...?
Passengers are not deemed as a third party when riding with appropriate pillion cover
Read your terms and conditions, but if you're not certain you have the appropriate cover and you're considering carrying a passenger on your motorbike then you must inform your insurer and, if necessary, advise them to update your policy.
Even if you carry a passenger in an emergency situation, if you don't have pillion cover then you could risk voiding your policy and picking up penalty points on your licence for riding without insurance cover.
Most insurers will be able to offer pillion cover and price it according to other risks on your policy.
How much you'll have to pay will depend on individual circumstances such as the rider's age, riding experience and type of bike.
If you use Gocompare.com's motorbike insurance comparison service you'll be asked if you require cover for a pillion, and if you say yes you'll be shown appropriate quotes on the results page.
If you don't require this cover it's best not to request it as it's likely to lead to a more expensive premium.
Why do bikes have separate cover for passengers when cars don't?
It could be argued that the weight of passengers in a car affects handling and there's certainly an added danger of driver distraction, but such factors are negligible in comparison with the impact made by carrying a passenger on a motorcycle.

A bike rider is likely to experience:
A change to the bike's centre of gravity
Impact on throttle and clutch control
Harder cornering, overtaking and manoeuvrability due to the extra weight
More difficulty braking, especially when riding downhill or on wet surfaces
Passengers also tend to shunt forward when brakes are suddenly applied, which adds an extra risk in terms of potential injuries or accidents.
How passengers are covered
Pillion passengers have the same right to claim as the policy owner in the event of an injury and can claim up to the policy limits.
As with car passengers, they are not insured in relation to the vehicle so wouldn't be able to claim any costs for damage to the bike itself.
Passengers are not deemed as a third party when riding with appropriate pillion cover.
However, if they were to suffer an accident and correct insurance cover wasn't in place, the insurer may deem the cost of any injury the passenger receives as a third party cost.
Consequently, the insurer may attempt to recoup the cost through the policy holder (the rider) as the rider would be in breach of their policy terms.
Rider responsibility
Carrying a pillion passenger is a huge responsibility for the rider. As well as ensuring they have the correct cover in place, the rider is also answerable for the passenger's behaviour whilst on the motorcycle.
For example, if the passenger misbehaves or acts irresponsibly and causes an incident, then the rider could potentially be blamed for dangerous or reckless driving.
Thankfully the majority of pillion passengers respect the risks that their position brings and the main rider duties are to ensure they feel comfortable and confident.
Being a pillion passenger can be an exhilarating experience, but it's certainly not a passive role
Especially if it's their first time riding on the pillion.
Before the journey commences, the rider should check that the passenger has appropriate clothing for the ride, show the passenger where to hold onto the motorcycle and explain how the bike drives.
They should tell the passenger to relax and that they need to lean into the corners with the rider, that they should avoid sudden movements, and that they should never be afraid to speak up if they're feeling uncomfortable or concerned.
Being a pillion passenger can be an exhilarating experience, but it's certainly not a passive role.
They should keep their eyes on the road as much as the rider so that they're as prepared as possible for every corner - and every eventuality.
By Dave Jenkins