GoCompare does not compare short-term motorbike insurance, but you may find the right cover through a standard policy instead. 
Key facts
It's illegal to keep an uninsured vehicle unless you've declared it SORN
Short-term motorcycle insurance policies are rare, but there are specialist providers
If you're borrowing a motorbike, consider whether you could become a named rider on the owner's policy
Taking out an annual policy then cancelling it when you no longer need it is another option to consider
If you only need motorbike insurance for a few days or months, short-term cover might be the most cost-effective option. 
There can be any number of reasons why you might need to insure a motorbike or scooter for just a short period.
Times when you might need to think about your insurance and consider whether you're covered include:
On a test ride
Collecting or delivering a bike
If you've hired or borrowed a bike
Riding a courtesy bike
If you're sharing a ride with a friend as a pillion or sidecar passenger
You should be aware that, in 2011, it became illegal to keep a vehicle that isn't insured unless you've filled out a statutory off-road notification (SORN).
The new law perhaps had more impact on motorcyclists than on other motorists because of the seasonal nature of biking.
Previously, many motorbikers might have preferred to insure and use their vehicles in the summer, then saved money by staying off their bikes in winter.
Often this would be done without bothering with a SORN, either because of a lack of storage off the highway or it not being considered worthwhile saving a few pounds on already-cheap motorcycle tax.
But since the change in law requiring motorbikes to be continuously insured, the number of seasonal and short-term motorbike insurance policies on the market have been cut dramatically.
However, if you are a fair-weather biker, or you just need insurance for a few days or months while you're borrowing a friend's bike, there are still options.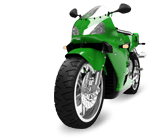 The convenience and cost of this type of cover could potentially make it cheaper than making a change to an existing annual policy and, if you need to make a claim on a temporary policy, it shouldn't affect your existing no-claims bonus.
Remember that short-term motorbike cover isn't a replacement for an annual insurance policy, and providers will apply restrictions as to the number of policies that you can take out in any rolling 12-month period.
This could be expressed by the insurer as a maximum number of occasions or a maximum number of days.
You can find out more about how the cost of standard motorbike insurance policies are calculated in our helpful guide. 
Finding short-term motorbike insurance
Please note that dedicated short-term motorcycle insurance isn't currently offered through GoCompare, but there are some specialist providers that you can go to directly.
It's worth investigating all the different options for temporary motorbike insurance cover
Matt Oliver, Gocompare.com
Bikesure, for example, can offer insurance policies for anything from a day or two, up to three months, for riders aged 21 and over.
The shorter-term options might be an option if, for example, you're borrowing a friend's bike for a few days, or taking your bike to the garage to sell it.
The three-month cover could work for you if you're using a bike for an epic summer tour of Europe, but won't be riding for the rest of the year.
Alternatives to short-term motorbike policies
Although short-term motorbike insurance will suit some riders, for others it may be cheaper to simply take out a standard full-year policy or, if borrowing a bike, to become a named rider on the policy of the motorcycle owner.
When you get a motorbike insurance quote through GoCompare, you can specify your expected mileage.
Did you know...?
If you cancel your motorbike policy before the full year is up you won't be entitled to a no-claims bonus
This is likely to be low if you only use your bike on high days and holidays, and low mileage is one factor that can help keep the price of a premium down.
If you don't need your policy for the full year you may want to consider cancelling it after its served its purpose, something which could entitle you to a partial refund if you haven't made any claims.
Be aware that the refund is often not simply pro-rata, though - there are usually cancellation fees to pay and some providers may issue a 'short-rate' refund, which means that the percentage refund you receive will be reduced the longer you've had the policy.
Also, if you cancel your motorbike policy before the full year is up you won't be entitled to a no-claims bonus.
Be warned - if you pay your insurance by direct debit, simply cancelling the direct debit won't cancel your insurance.
Instead, you'll still be liable for the cost and will be reneging on a credit agreement, which could have a very negative impact on your credit rating.
Check terms and conditions carefully to work out how much you'll pay if you have to cancel your insurance early when weighing up whether short-term or annual insurance is the better option.
Declaring your bike SORN
If you decide that you don't want to insure your motorbike year-round, the law now requires you to SORN it for periods when it isn't insured.
Did you know...?
If you don't have insurance for your bike and you don't SORN it, you could face a fine, have your bike impounded or even be prosecuted
Before declaring a motorbike SORN you'll need somewhere off the public highway to keep it, whether that's on your drive, in your garden or in the garage.
As motorbikes are more vulnerable to corrosion and damage from bad weather, it's a good idea to invest in a decent cover to protect it if you have no indoor motorbike storage.
You can use the government's website to declare your bike off road.†
You'll need either the reference number from your tax renewal letter, or the one from your bike's logbook. You can also make a SORN by phone or post if you prefer.
If you don't have insurance for your bike and you don't SORN it, you could face a fine, have your bike impounded or even be prosecuted.
"It's a legal requirement to keep your bike insured all year round or to notify the DVLA that the bike is off road with a SORN," said GoCompare's Matt Oliver.
"There are various short-term options out there, and companies like Bikesure offer policies that allow you to take out cover for up to 90 days, but you would still need to have the bike insured via a standard policy, or you would need to have the bike SORN by notifying the DVLA.
"It would be worth investigating a couple of different options but it could be that a standard annual policy is the best bet.
"Either way a customer needs to be aware of what they're legally required to do."
SORN motorbike insurance
Even if you're not actually riding your bike and you've declared it as off the road, it's still possible to get it covered.
Laid-up fire and theft policies, or SORN policies, give you cover for your motorbike while it's being stored and they can be good value if you don't need to ride your bike for a while.
They're often popular for classic bikes that are only for display purposes or are in the process of being restored.
If you choose not to insure your bike while it's laid up, make sure you have effective motorbike security.
By Derri Dunn