Try our top motorbike insurance money-saving tips to cut the cost of your premium without compromising on cover.
Key points
Shop around for the right cover
Only pay for the cover you need
Try to pay annually
Think carefully about your choice of bike, security measures and where you park
Finding a cheap motorbike insurance quote that offers the right level of cover can be a struggle whether you're looking for the first time or renewing a policy, but there are measures that could help make the price more competitive.
Remember that it isn't always about getting the cheapest premium.
Sometimes it can be worth paying that little bit extra to get cover with all the features that you require, such as replacement bike cover if yours breaks down.
Here are our tips for saving money on your bike insurance:
Choose a smaller, older or less expensive bike
Motorbikes with a less powerful engine can help to reduce your insurance premium, as could an older, less expensive bike or classic motorcycle.
This is because repair and replacement costs tend to be lower (although this might not be the case with rare bikes).
Avoid modified and unusual motorbikes
Choosing a bike with lots of modifications will probably raise the price of your premium as they may be judged more expensive to repair or replace, and more attractive to thieves.
Imported motorcycles can also be more problematic when it comes to insurance, especially so-called 'grey imports' - bikes that aren't available in the same guise in the UK and are imported from outside the EU.
Limit your mileage
You're likely to get a discount from your insurance company if you do a relatively low mileage. You may be seen as less of a risk to them because you won't be on the road as much.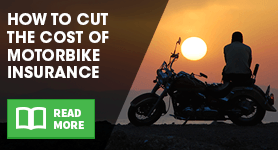 Pay annually
If you can pay for your insurance in full when you take out the policy rather than by monthly instalments, you're likely to see a discount.
Improve your motorbike's security
Make sure you have good security protection on your motorbike. For example, a Thatcham-approved† electronic alarm and immobiliser should have a positive impact on your premium.
Park your motorbike in a secure area
If your bike is kept locked up in a garage overnight, or is stored off the road on a driveway, this could help to reduce the cost of your policy.
Read more in our guide on overnight motorbike storage and insurance.
Did you know...?
If you want to carry a passenger (pillion) you'll probably have to pay more for your insurance cover
Consider who rides your bike
The price of your insurance can be affected by who is insured to ride your motorbike.
Having a young, inexperienced rider on your policy will generally mean that your premium will increase, but adding (with their permission) an older and/or more experienced could help to cut costs.
Make sure you accurately describe who the main rider of the machine is, though - if you don't you risk invalidating your insurance by committing a criminal offence known as fronting.
Take a motorbike training course
By improving your riding skills you could see a benefit in the price of your insurance.
Do note that, although there are many benefits to such courses, potential savings on your insurance premium will not necessarily outweight the cost of taking the course.
Consider motorbike cover type
Depending on your circumstances it may be worth considering an insurance policy with a lower level of cover such as third party, fire and theft - perhaps if you own an old bike that isn't worth much money.
But always remember to read the policy carefully before purchasing to know what you will and won't be insured for. Note that third party-based policies typically offer much lower levels of cover - and are not necessarily cheaper.
Only pay for what you need
As with choosing your level of cover, look out for the optional extras on your policy and don't pay for more than you need.
For example, legal assistance or access to a courtesy motorbike may not be essential to you, and if you've included pillion (passenger) cover you're likely to pay more for a policy.
You may consider motorbike breakdown cover an essential product - but think about whether you'll get a better deal by buying a separate breakdown policy rather than choosing it as an add-on your insurance.
Motorbike use
How you use your bike will have an effect on your bike insurance. For example, if you only use it to go on social trips and for everyday activities such as shopping or visiting friends then you're likely to be seen as less of a risk than if you ride to work - read more about insuring a motorbike for work use.
Build up your no claims bonus discount
Riders who are claim free for a number of years will usually be rewarded by their insurer with a lower premium.
Increase your voluntary excess
Agreeing to pay a higher voluntary excess will often result in a lower insurance quote. But always remember that, in the event of a claim, you'll have to pay the excess before you're able to get your bike back from the garage.
Consider only insuring in season
Seasonal motorbike insurance used to be a popular option, but a change to the law means that bikes must now be insured year-round unless owners have filled out a statutory off-road notification (SORN).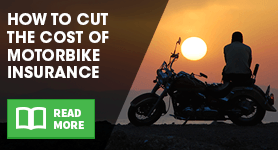 If you don't need your policy for the full year you may want to consider cancelling it after its served its purpose, something which could entitle you to a partial refund if you haven't made any claims.
Be aware that the refund is often not simply pro-rata, though - there are usually cancellation fees to pay and some providers may issue a 'short-rate' refund, which means that the percentage refund you receive will be reduced the longer you've had the policy.
Also, if you cancel your motorbike policy before the full year is up you won't be entitled to a no-claims bonus. Read more about short-term motorbike insurance in our guide.
Shop around for the right motorbike quote
Each time it comes to renewing your motorbike insurance, don't just settle with your existing insurer. By shopping around you could find a policy that suits your needs at a cheaper price.
Insurance brokers
Using a broker may help in finding cover for specialist vehicles or circumstances
Remember that your search will be limited to those insurance companies the broker deals with
Your renewal may have gone up for any number of reasons.
Perhaps because of the current economic climate, rises in costs that insurance companies are paying out for claims, your insurer changing its target market, or your insurer relying on your inertia when it comes to renewal.
Alternatively, it could be higher if you have made a claim or received a motoring conviction.
There are four main ways of shopping for motorbike insurance:
Use a bike insurance comparison site such as Gocompare.com
A time-efficient way of comparing prices and policy details through one quick and easy search.
You'll have access to products from most of the UK's leading insurers and you can search at any time of the day or night.
Note that you may have more difficulty in finding the appropriate quote if your circumstances or motorbike are unusual.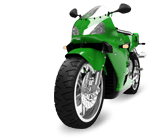 Phone individual companies
This can be time consuming, can limit the comparison against other providers and may restrict the times when you can search for your insurance.
But your queries may be answered straight away, and it may be a way to find cover for specialist vehicles or circumstances.
Look at insurance company's own internet sites
This allows you to get a quote in your own time, but this again can be a time-consuming option and one that limits the comparison against other insurers.
Visit a broker or insurance company on the high street
Brokers will compare a number of different insurance companies on your behalf, and this can be a way of finding cover for specialist vehicles or circumstances.
Convenience can be a downside to using a broker, and remember that your search will be limited to those insurance companies the broker deals with.
By Abbie Laughton-Coles