If you want to use your motorbike for towing, you need to make sure you're insured and that your trailer is safe and legal.
Key facts
You must check whether your insurer covers you for towing before riding with a trailer
Some insurers give third party trailer cover as standard, or you may be able to add it
You may also be able to add the value of your trailer to your policy by declaring it as an accessory
In the Gocompare.com quotes process you'll be asked whether you use your bike for towing
Not many people associate towing with motorcycles, but did you know it's legal to pull a small trailer behind you if you have a full motorcycle licence and the right insurance?
You'll need a trailer that's designed to be towed by a motorcycle and you should also make sure your motorbike insurance covers you for towing.
If you compare policies through Gocompare.com you'll be asked whether you use your motorbike for towing and, if you say yes, you'll then be presented with appropriate quotes on the results screen.
If you don't need this cover it's best not to add it as it may result in higher premiums being quoted.
Insurance for towing with a motorbike
It's vital to check whether you're insured or can get cover to tow, as your provider could void your policy if you're in an accident while towing a trailer when you're not covered.
Your motorbike insurance may cover you for towing as a standard feature, but you need to check your policy wording carefully and/or speak to your provider.
Insurance for motorbike trailers

Many insurers will only cover you on a third-party basis for towing a trailer – they won't provide cover for the cost of the trailer itself if it's stolen or damaged.
This means that, if you have an accident, even if your motorbike is covered by a comprehensive policy you'll probably only be able to make a claim for the cost of your bike, not for your trailer.
But the third-party trailer cover would insure you for any injury or damage your trailer causes to someone else or their property.
On 12 August, 2014, Gocompare.com reviewed 32 motorcycle policies listed on the matrix of independent financial researcher Defaqto. Only two specifically mentioned that they provided cover for damage to, or loss of, a trailer.
Even if your insurer only covers your trailer third party as standard, it may be able to add it to your policy as an accessory and provide cover for it this way.
This is likely to mean an increase in the price of your insurance, but will mean you have a chance of recovering the cost of your trailer if you have an accident or it's stolen.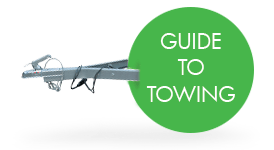 What if I break down or crash?
Check the terms of your breakdown insurance to find out if the recovery of your trailer is covered along with your motorbike.
Otherwise, you could face a costly tow-truck call-out to recover your trailer if you break down or crash.
Motorbike trailer size and weight
The motorbike you're using to tow must have an engine size of 125cc or more. Your motorbike must also be clearly and permanently marked with its kerbside weight.
Kerbside weight is the weight of the bike without passengers or any load, but with fuel, oils, water and fluids all filled up.
You can even get extra compact trailer tents that can be towed by motorcycles, for a spot of two-wheeled glamping
The trailer is also subject to some size restrictions. It must be no more than 1m wide and must be clearly and permanently marked with its unladen weight.
When the trailer is loaded, it must weigh no more than 150kg or two thirds of the kerbside weight of the motorbike – whichever's lighter.
When the trailer's hitched, there must be less than 2.5m between the end of the trailer and the rear axle of the motorbike.
Full details on towing restrictions for motorbikes can be found on the government's website.†
What can I tow with a motorbike?
Insurers will usually specify that any trailer must be designed for use with a motorbike and attached by conventional means, which generally means it's attached at the bike's rear axle.
You can get trailers with two wheels, or just one.
You can even get extra compact trailer tents that can be towed by motorcycles, for a spot of two-wheeled glamping.
Motorbike towing speed limits
Speed limits for towing with a motorcycle are the same as for towing with a car.
You can ride at up to 60mph on a dual carriageway or motorway, up to 50mph on a single carriageway with a national speed limit, and you must comply with speed limits on all other roads.
Taking your motorbike trailer abroad
Both towing laws and motorcycle laws vary from country to country.
If you want to tow a motorcycle trailer abroad, make sure you look up the requirements of your destination before you travel and check you have European cover on your insurance.
For instance, you may need to carry extra equipment and spare parts to comply with local laws.
Trailers for trikes
If you have a three-wheeled vehicle, the towing laws you have to obey will depend on whether your trike is classed as a light vehicle (category B1) or a motorcycle (category A) by the DVLA.
If it's classed as a motorcycle, it'll be subject to the same restrictions as any other motorcycle.
If it's classed as a category B1 vehicle, or lightweight car, see our towing guide for more guidance.
For category B1 vehicles, the trailer must not weigh more than 750kg and the fully laden trailer must not weigh more than the unladen vehicle.
Whatever your vehicle is classed as, always check the manufacturer's maximum towing weight so your trailer will be safe and legal.
By Derri Dunn
[SeanSocialShare]