If you use a motorbike to commute, for business use and/or courier and delivery work, find out how to get the right insurance cover for your needs.
Key points
Be clear on whether you need personal cover, insurance for commuting, business use and/or courier and delivery cover
Consider whether you have or need cover for goods you're transporting
Your occupation is likely to affect the cost of your premium, even if you don't use the bike for work
There are many benefits to using your motorcycle for work.
Motorbikes are often cheaper to run than cars and a series of Commuter City Challenges† organised by the Motorcycle Industry Association in July 2014 demonstrated how commuting by motorcycle can be up to 2.5 times faster than other forms of transport.
So it might be quicker,cheaper and more exhilarating than the car or train.
But whether you use your bike to commute to the office or it's a vital part of your livelihood, it's essential to make sure you have the right level of motorbike insurance cover.
Classes of use for motorbikes
Insurers need to know exactly how you use your bike.
It's vital you tell your policy provider if you're using your bike for commuting or for business purposes.

If you give your insurer the wrong information, it could void your policy if you need to make a claim.
This is how insurance companies break down the classes of use for motorcycles:
Social, domestic and pleasure
This category is for riders who only use their bike for private use and do not use their bike for any work purpose, or for commuting.
Commuting
This covers riders who may use their bike for social, domestic and pleasure purposes, plus for travel to one regular place of work.
Business use
If you use your bike to travel to more than one location for work, you need to insure it for business use.
This applies to any work-related destination, from training courses to visiting the bank.
Even if it's a one-off journey and you usually just travel to a single place of work, you're at risk of invalidating your cover if you don't tell your insurer.
Not many insurers will cover courier and delivery riders due to the risks associated with occupations such as pizza deliverer or parcel courier
Matt Oliver, Gocompare.com
So if your job role changes and you need to travel more, you should inform your insurance company immediately.
Courier and delivery
This category is for riders whose primary role at work is to deliver or pick up goods.
Many insurers will include occupations such as door-to-door sales in this category, even if you're not actually carrying the goods you're selling.
How your job affects your premium
Insurers have calculated risks associated with all occupations, meaning that your job is likely to affect your premium even if you only use your bike for commuting.
These calculations are based on available statistics from previous claims made by people with the same employment, as well as the practical nature of your job.
For example, nightclub staff may face high premiums as they work unsocial hours and may be deemed to be on the road at dangerous times.
If you're using your own vehicle in the line of business, then your job becomes even more important for underwriters.
You need to be very clear on exactly what you use your bike for, especially with delivery and courier jobs.
This is because the insurer isn't just covering you, your bike and third parties - it also has to consider the contents you're carrying.
"Not many insurers will cover courier and delivery riders due to the risks associated with occupations such as pizza deliverer or parcel courier," said Gocompare.com's Matt Oliver.
"Whether it's single or multiple drops may also influence the cover required, which is why it's often better to clarify with an insurer what it will or won't cover.
"If you deliver goods on behalf of another company the expectation is that they will have their own goods covered, but it's always worth clarifying this."
Employer responsibility
If the motorcycle is your personal vehicle, then you are the insured rider and cover is your responsibility.
However, your employer has a responsibility to be fully aware of the type of bike you use and whether it's safe to ride on the road.
"Employers owe the same duty of care under health and safety law to staff who drive their own vehicles for work as they do employees who drive company-owned, leased or hired vehicles," according to the Royal Society for the Prevention of Accidents.
While this duty of care focuses on the safeness and roadworthiness of the vehicle, employers are also obliged to confirm you have the correct level of insurance cover in place.
You could ask your employer to give you access to a locked car park or garage, or perhaps to install a ground anchor
However, the liability for choosing and maintaining the correct cover is with the policyholder, not the employer.
Most employers reimburse travel costs if you use your own vehicle for business use.
At the time of writing (August 2014), HMRC's approved reimbursement amount† is 24p a mile for motorcycles.
This amount covers more than just your fuel - it's designed to reimburse you for general wear and tear and extra insurance costs as well.
Carrying colleagues as pillion passengers
If you need insurance cover for carrying a pillion passenger, you can usually add this to your policy, often at an extra cost.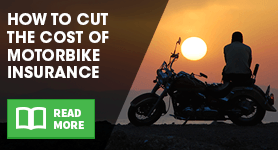 Whether you're sharing the commute with a colleague or travelling together to a work-related location or event, there's no additional risk to carrying a member of staff on the pillion as opposed to a non-work passenger.
With any pillion passenger you need to make sure you have pillion cover on your insurance policy and that the passenger behaves appropriately and responsibly.
Note that if you're offering a lift share you're only permitted to ask passengers for a contribution towards fuel and other running costs.
If it's anything more than this, insurers may consider that you're operating as a taxi service for 'hire and reward'.
Motorbike security at work
A final consideration on using your motorcycle for work is security, remembering that motorcycles are a popular target for thieves.
If you park your bike regularly at one place of work, you could ask your employer to give you access to a locked car park or garage, or perhaps to install a ground anchor to lock your bike to.
If you use your bike to travel to more than one place of work, make sure any other security devices you have on your bike - such as a tracker, alarm or immobiliser - are activated every time you leave your bike unattended.
How to buy motorbike cover for work use
In Gocompare.com's motorbike insurance quote process you'll be asked to indicate whether you use your bike for social only, social and commuting to one place of work, business use, courier use or fast food delivery.
Your results page will allow you to compare suitable options from our insurance panel based on the information that you provided.
As always with insurance, read the terms and conditions with care to ensure you have the cover you need and - if in any doubt - speak to your policy provider.
By Dave Jenkins