Get the answers to FAQs on motorhome insurance policies, then compare quotes to find the right deal for you.
See also:
Do I need motorhome insurance?
All vehicles that are used on the roads must be insured and it makes sense to protect your investment with motorhome insurance.
Read more in our beginners' guide to motorhome insurance.
What types of vehicle are covered by motorhome insurance?
This will depend on your provider and the policies they offer. Note that some will only cover professionally built motorhomes rather than DIY or self-built models. The eight main classes to consider are:

American RV (recreational vehicle)
Van conversion
Camper van
Coachbuilt or overcab
Micro
Compact
Low-profile
A-class
What types of motorhome insurance are available?
There are three main types of policy - third party only, third party, fire and theft and comprehensive.
Some insurance companies will offer discounts if you improve the security of your motorhome
Policies can vary widely between insurers, but consider features such as:
New-for-old cover
European cover
Courtesy car options
Vandalism cover
Personal effects cover
Motorhome equipment cover
What exclusions are placed on motorhome insurance?
Typical exclusions on a motorhome insurance policy include:
Motorhomes used as a permanent place of residence
Claims arising from your motorhome being used as a place of trade
Theft of contents unless there is forced entry
Wear and tear
Insect or vermin damage
Are there discounts available?
Insurers may offer discounts on your premium provided you fulfil certain standards including: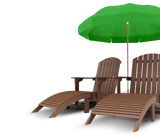 Improving security, perhaps by fitting an approved alarm, immobiliser or tracking device
Joining a motorhome club or owner's group
Secure storage
Fitting a reversing camera or sensor
Low mileage
What's the difference between a motorhome and a caravan?
Motorhomes contain an engine and can be driven, whereas caravans do not and have to be towed by another vehicle.
Is my primary home insured if I spend a long time in my motorhome?
Check with your insurer if you plan on spending more than three weeks away at a time. For homes that are unoccupied for longer periods, there is specialist unoccupied property insurance.
Any other questions?
See if you can find the answers in our motorhome insurance guides.
By Sean Davies