Will rapid charger availability improve by 2030?
Our predictions show that the availability of public rapid chargers will improve over the next 10 years - but not by much.
In 2020, the ratio of EVs to public rapid chargers was 205:1. Despite the government pledging over £1bn towards charging infrastructure, this ratio is estimated to remain high in 2030, with 197 electric vehicles per charger at the turn of the decade. Without more investment, the level of new charger installations will likely struggle to keep up with the increase in EV demand.
James McKemey, Head of Insights at Pod Point, spoke about the challenges catering for those who can't charge at home and don't have a work charger. He said:
Thankfully these drivers are actually in the minority, but they are the most challenging to cover.

Exactly how regular charging for this cohort of drivers is addressed remains to be seen, but we will likely tackle them through some combination of on-street charging, en-route charging, charging hubs (e.g. across UK rail), and bolstering the public charging ecosystem such that charging is available at every destination and they're never left wanting.
Which areas will have the highest availability of rapid chargers?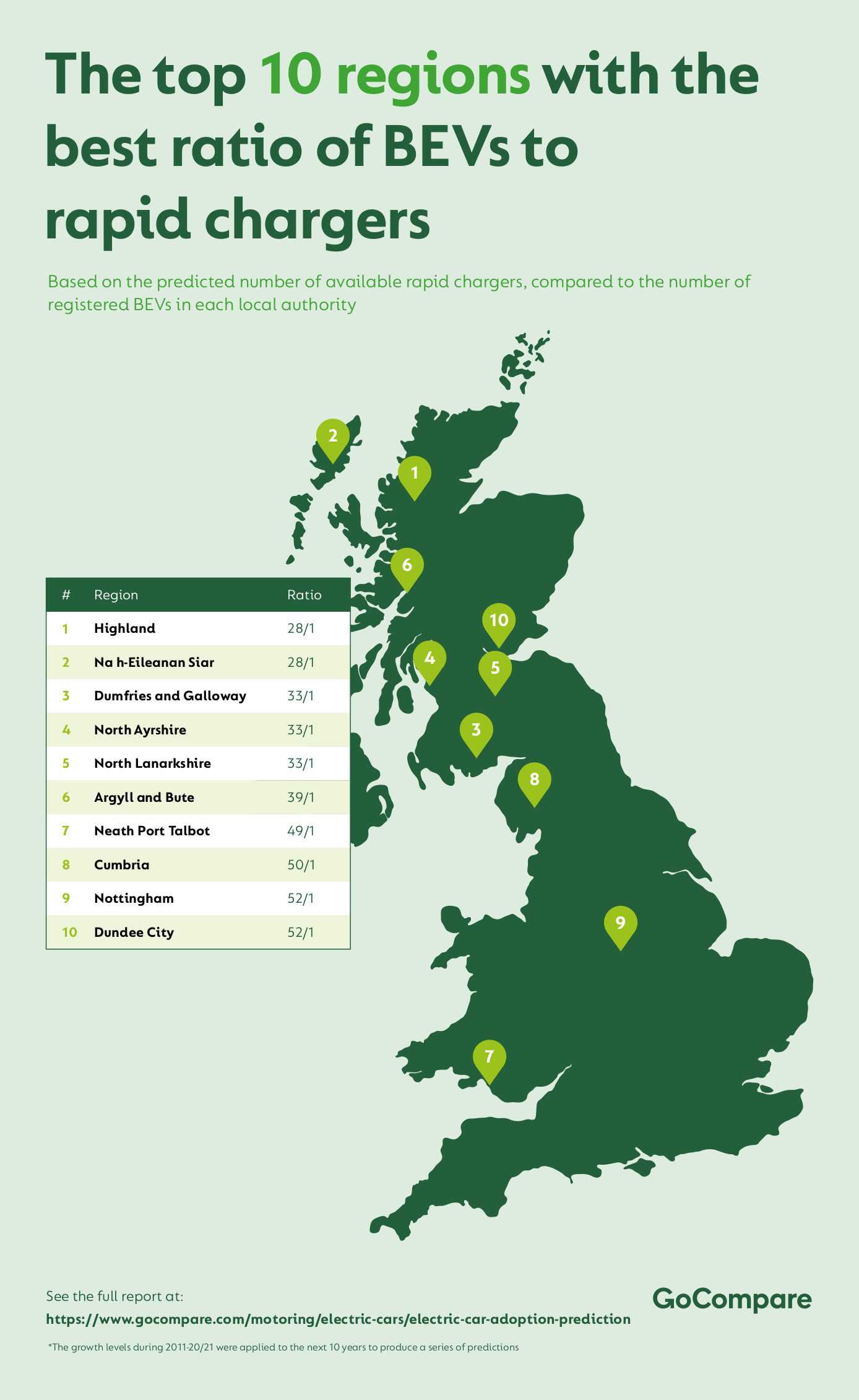 Although charger numbers may be a problem in 2030, our forecasts show that some parts of the UK will have better facilities than others.
Based on charger availability, Scotland will be the best place to own an EV in 2030. Seven out of the projected top 10 council areas for public rapid charger availability will be situated north of the border. This includes some of the country's most remote locations.
Surprisingly, the Highlands and Na h-Eileanan Siar (the Outer Hebrides) will have the best ratio of electric cars to rapid chargers in the UK. Both of these areas will have 28 EVs per charger, which will be the lowest ratio in the nation.
North Ayrshire, North Lanarkshire and Dumfries and Galloway make up the rest of the top five. All of these areas will have a charger available for every 33 electric vehicles. Meanwhile, Argyll and Bute, alongside the Dundee City area, are also among the top 10, with ratios of 39:1 and 52:1 respectively.
Which areas will have the lowest availability of rapid chargers?
Although Portsmouth will see the highest increase in EV registrations over the next 10 years, our predictions show it may be one of the worst places in the UK to own an electric vehicle in 2030. Unless the current installation rate improves, there won't be enough chargers available to support the accelerating uptake of EVs here.
For every public rapid charger in Portsmouth, there will be 2,927 EVs. This is the highest projected ratio of electric vehicles to rapid chargers in the UK and is almost twice as high as the next worst area - Bracknell Forest. Here, the ratio of chargers to EVs will be 1,464:1.
The third-worst area, with a ratio of 1,269:1, will be Armagh City, Banbridge and Craigavon district in Northern Ireland. These figures highlight that there will still be a significant disparity in rapid charger infrastructure across the UK in 10 years.
Because of this, before purchasing an EV, it may help to check how many chargers are installed at the places you often travel to. If availability is generally low where you live, you could also buy a home rapid charger with the vehicle, as these can be discounted with a government grant.
About this data
The figures on this page were calculated by reviewing relevant EV-related data from 2011-20/21. The growth levels during this period were then applied to the next 10 years to produce a series of predictions.
Therefore, our forecasts simply show how the UK's electric vehicle landscape will look in 10 years if trends from the previous decade continue. They do not take into account external influences, such as the introduction of new laws or government schemes.
Defining rapid chargers and EVs
In this report, the terms 'EV', 'electric vehicle' and 'electric car' refer strictly to battery electric vehicles (i.e. vehicles that are solely electric powered). Other types of low emission vehicles, such as hybrid electric vehicles, are not included in this data.
The term 'chargers' refers only to publicly available rapid chargers, meaning private and non-rapid chargers are not included in these projections. It also doesn't take into account the number of unavailable chargers, such as those which are installed but offline.
Data sources
EV registration figures were sourced directly from the Gov.uk website and data for charger availability was obtained from Zap-Map. All of these numbers are cumulative (rather than new sales/installations per year). Regional data is split by council/local authority area, not by county/region/town or city.
Data for the Windsor and Maidenhead area was discounted from our predictions, as our figures showed an abnormally high ratio of EVs per charger. This ratio may have been skewed by the large volume of attractions in the area (such as Legoland and Ascot Racecourse), some of which could have a private set of EVs and chargers. These vehicles wouldn't be reliant upon public chargers, so it was deemed inappropriate to include figures for this area in our projections.
Mass adoption sources and methodology
The prediction for the mass adoption of EVs is based on a 2020 study by Castrol. This found that mass adoption will occur in the UK when vehicles with a real-world range of over 283 miles per charge are available for £21,620.
The projected improvements in battery technology were based on the Nissan Leaf, which is the best-selling electric car within the target price range. The real-world range of this vehicle grew from 80 miles per charge to 105 miles per charge in the 2014 model, then to 135 miles per charge in the 2019 model. Our prediction continued this rate of growth until a range of over 283 miles per charge was achieved.
The price of the Nissan Leaf increased by £5,145 between 2011 and 2020, and currently sits at £28,495. Based on this trend, it's unlikely that the price will drop to the required price point of £21,620 over the next 10 years.