Last year, we shared our predictions on the future of electric vehicles.[1] Our report revealed that while demand for EVs will continue to grow, the UK's infrastructure wouldn't be able to support the number of electric cars on the road. However, as the EV landscape is constantly evolving, we've revisited our research to update our predictions. Is the UK any better prepared than it was a year ago?
EV sales set to soar even further than predicted
In 2021, we predicted that the number of electric vehicles in the UK would rise to over 3.8 million by 2031. However, with more up-to-date figures now available, our calculations show that this is likely to be more than twice as many as initially thought, as there will be an estimated 7.9 million EVs registered across the nation by 2031
This highlights that millions of Brits will be looking to adopt electric vehicles before the 2030 ban comes into effect. It also represents a sharp 509% increase in the number of registered EVs in the UK from 2021 (when there were 1.3 million on our roads) and an enormous 91,847% increase from 2011 (when there were only 8,676).[2]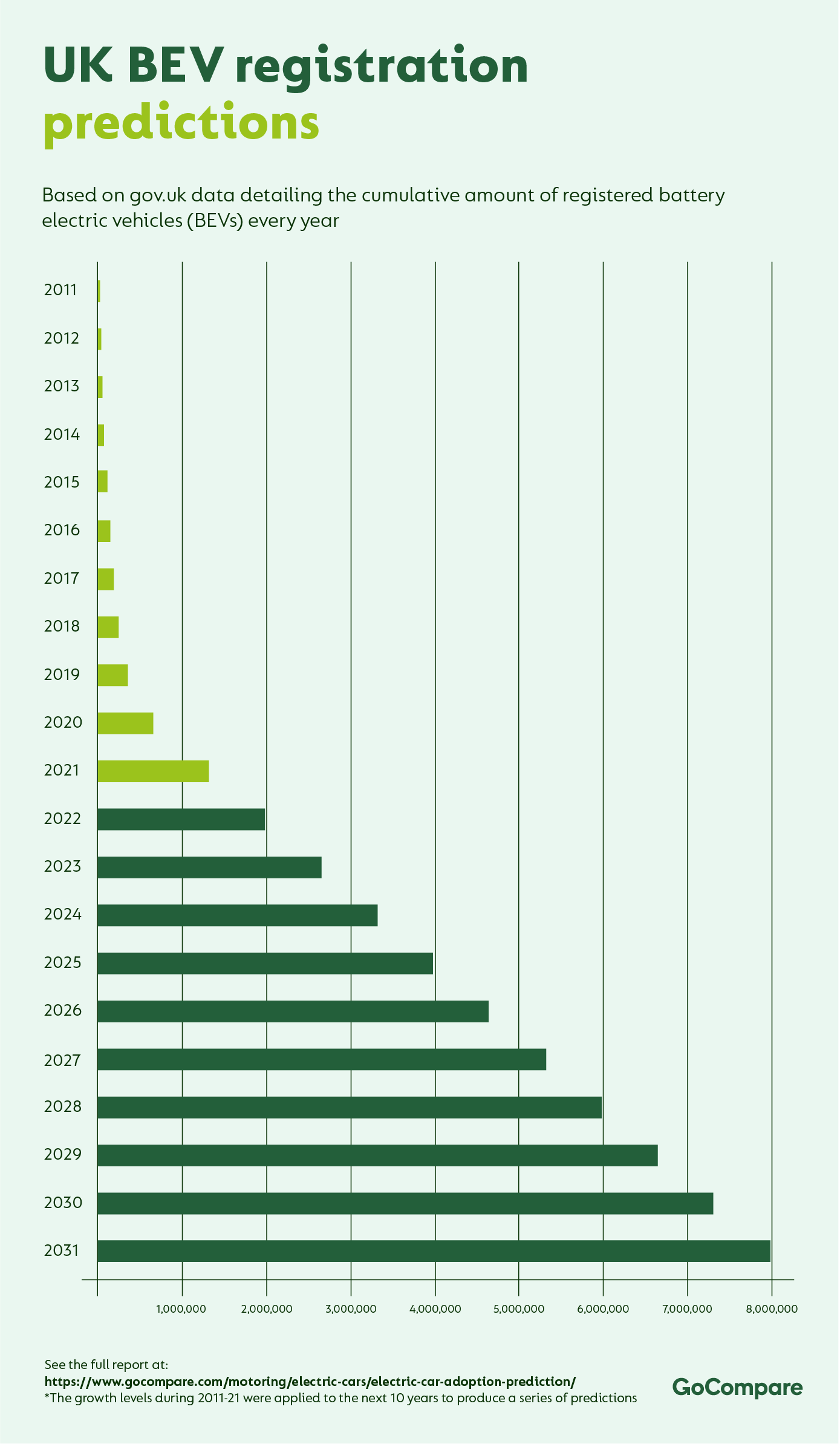 Factors that could influence the growth of EVs include the government announcing their plans to end the plug-in car grant earlier this year, in favour of offering grants for other electric vehicle types like vans, taxis and motorcycles. As a result, manufacturers may struggle to produce electric cars at a lower price point, making it harder for those on a low income to make the transition. In the long term, this could delay the mass uptake of electric vehicles.[3]
Where will we see the highest (and lowest) growth in EVs?
Some regions will have a much more dramatic rise in electric cars than others, with Devon likely to see a staggering 1,204% increase - the largest in the UK.[2]
Places with the highest projected increase in EV registrations from 2021 - 2031 [2]
Devon
1,204%
North Lanarkshire
1,050%
Leicester
1,009%
Blackpool
950%
Dumfries and Galloway
950%
Tyne and Wear (Met County)
869%
Lisburn and Castlereagh
860%
Derry City and Strabane
848%
Ards and North Down
838%
Northumberland
797%
The area with the second highest level of EV growth is North Lanarkshire in Scotland, which will see a 1,050% rise, while Leicester completes the top three with a growth of 1,009%.[2]
It appears that the areas likely to see the greatest increases in EVs are predominantly in the north. Eight out of the top 10 regions are situated in the north of the UK, including two in Scotland, three in Northern Ireland and three in the North of England.[2]
Meanwhile, the places projected to see the lowest growth are located mostly in the South of England. Plymouth will see the lowest increase of anywhere in the UK, although this will still be an incredibly large rise of 242%. The second lowest growth is in West Berkshire with 257%, and the third lowest is in Milton Keynes with 296%.[2]
Charger infrastructure will be even worse than initial estimates
While an increase in EVs means that more drivers will be ready for the 2030 ban, this puts extra pressure on the government to get the nation's EV charging infrastructure ready on time.[4]
Last year, we predicted that the UK would have a ratio of 197 EVs per public rapid charger in 2031. Now, with the increased uptake in EVs taken into consideration, this ratio is likely to be even worse. Although the number of chargers in the country will significantly grow by 2031, the UK will only have one public rapid charger available for every 527 electric vehicles.[5]
This is actually 98% worse than the ratio of EVs to chargers in 2021, which was 266:1. In fact, the 2020 ratio was 205:1, highlighting that this decline in charger availability has already begun. This shows that the current rate of new charger installations simply won't be fast enough to keep up with the growing demand for EVs over the next decade.[5]
Where will be the best and worst places to charge an EV?
Charger availability will be an especially big problem in the south, as the five places with the worst projected EV to rapid charger ratios are all situated in the South of England.[5]
Places with the worst projected ratios of EVs to rapid chargers[5]
Luton
10,956:1
West Berkshire
10,222:1
Newport
9,593:1
Suffolk
8,603:1
Torbay
8,245:1
Leicester
7,508:1
West Sussex
6,464:1
Plymouth
5,661:1
Armagh City, Banbridge and Craigavon
4,504:1
Bath and North East Somerset
4,167:1
Luton tops the list of worst places for charger availability in 2031, where, incredibly, there could be just one charger for every 10,956 electric vehicles. West Berkshire will have a similarly poor level of availability, as each charger will need to be shared between over 10,200 drivers.[5]
In contrast, Dorset will have a charger available for every 16 EVs, making it one of the best places in the UK to own an electric vehicle.[5]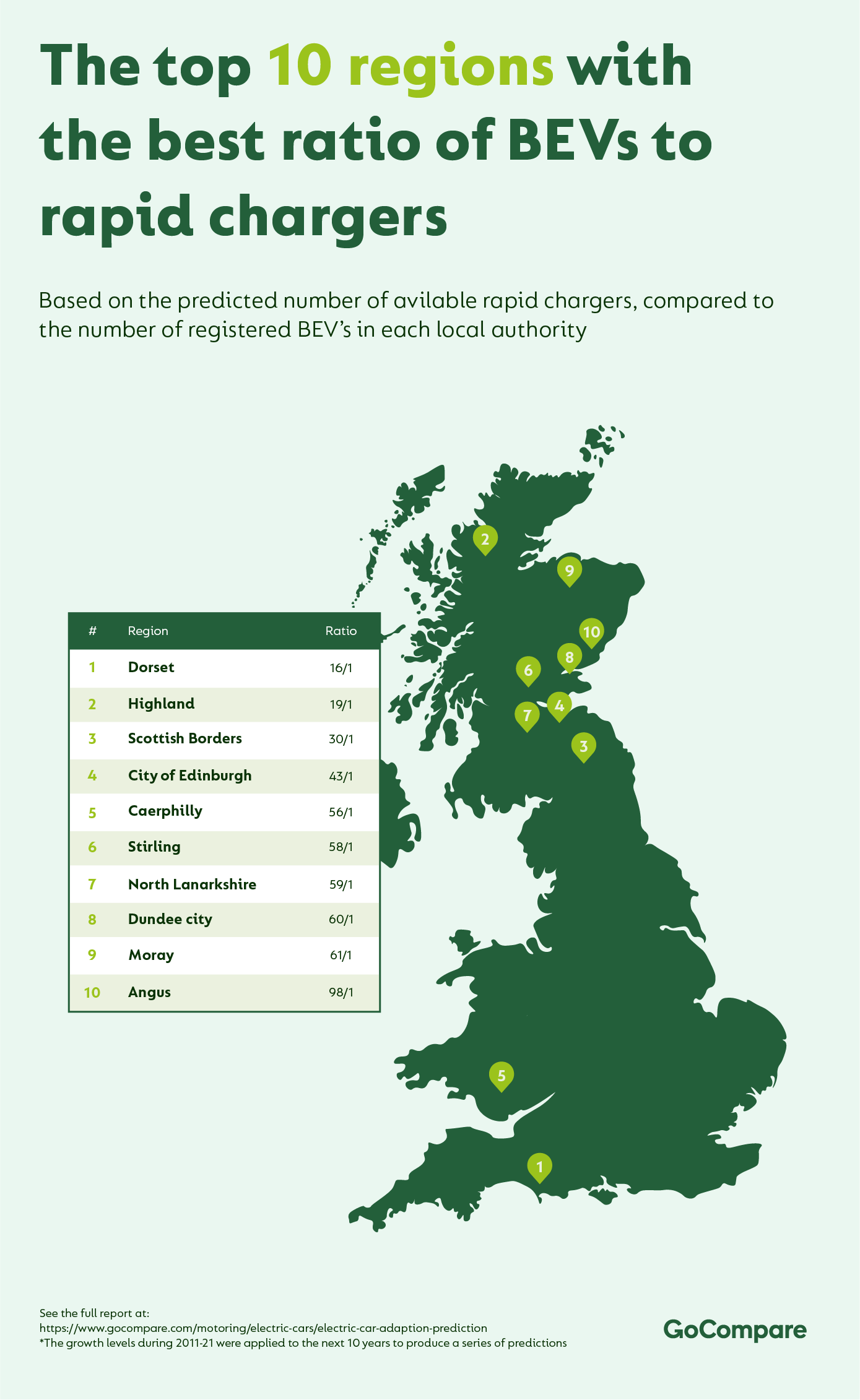 Scotland won't be too far behind, with many of the top 10 places for charger availability being located north of the border. The Highlands (which we also forecasted to be in the top ten for 2030 when making our predictions last year) and the Scottish Borders will have ratios of 19:1 and 30:1 respectively. Meanwhile, the City of Edinburgh will boast a ratio of 43 EVs per public rapid charger.[5]
How can the UK's charger problem be addressed?
To understand the scale of the UK's charger problem and how it could be resolved, we spoke to Melanie Shufflebotham, Co-founder & COO of Zap-Map (the UK's leading charging app for EV drivers).
Shufflebotham says that while there has been significant investment in charging infrastructure, more could still be done: "We're seeing significant investment on this front from the private sector, with companies such as GRIDSERVE Electric Highway, InstaVolt, MFG EV Power and Osprey in the process of rolling out hundreds of high-power charging hubs up and down the country.
"However, much more can still be done, especially in areas such as Wales and Northern Ireland, not to mention alleviating pinch points on major trunk roads and motorways."
Melanie adds that improvements in charger technology could also help: "The latest ultra-rapid charging devices already enable some EVs to add more than 100 miles in as little as 10 minutes… What's more, advances in battery charging technology are coming thick and fast, with recent demonstrations showcasing EV batteries fully charged in just five minutes.
"Finally, don't forget that slower chargers, which are ideal for overnight charging, also have a crucial role to play."
When announcing that the plug-in car grant would be coming to an end, the government stated that some of this cash would be diverted into improving the nation's public charging network. So, this could help to reverse the current trend of declining charger availability and ensure the infrastructure is better prepared for 2030.[3]
About the data
[1] In this report, the terms 'EV', 'electric vehicle' and 'electric car' refer strictly to battery electric vehicles (i.e. vehicles that are solely electric powered). Other types of low-emission vehicles, such as hybrid electric vehicles, are not included.
[2] Projections for the number of EVs in the UK for 2031 were calculated by reviewing the number of registered EVs in the UK (split by location) from 2011-21, based on Gov.uk data. The growth rate during this period was then applied to the next 10 years to produce the projections shown.
Therefore, our forecasts simply show how the UK's electric vehicle landscape will look in 10 years if trends from the previous decade continue. They do not take into account external influences, such as the introduction of new laws or government schemes.
[3] The move to end the plug-in car grant and instead focus on other vehicle types and chargers was announced on the gov.uk website.
[4] The term 'chargers' refers only to publicly available rapid chargers, meaning private and non-rapid chargers are not included in these projections. It also doesn't take into account the number of unavailable chargers, such as installed chargers which are offline.
[5] Projected ratios for the number of EVs per charger were calculated using data from Zap-Map, who provided the number of available chargers across the country from 2019-2022. Regional data is split by council/local authority area, not by county/region/town or city. We then applied this growth to the next 10 years, to see how many chargers will be available by 2031. This data was then combined with the projections for EV registrations to produce the ratios of how many EVs there would be per charger across the UK. All of these figures are cumulative (rather than new sales/installations per year).