Information on types of driving licence including provisional, UK full, UK automatic, European licences and the International Driving Permit.
Getting your driving licence is one of those rites of passage many of us can't wait to go through. But which licence?
There are several different UK driving licence categories, as well as European and international driving licences.
In January 2013, changes to driving licences came into effect through the European Union Third Directive, which were aimed at making our roads safer.
Learn more about different types of driving licence and who's eligible to hold them...
Provisional licence
All learners must hold a provisional licence before starting driving lessons, whether they're being taught by a professional instructor or by family or friends.
You can apply for a provisional licence up to three months before your 17th birthday, or your 16th birthday if you want to ride a moped.
You can apply online for your provisional licence at Gov.UK.† You'll need to pay a fee and supply your National Insurance number, plus a full UK passport if you have one, or another form of identification.
Your provisional licence will usually arrive about two weeks after you apply for it and you can also track its progress online.
Anybody teaching you to drive or supervising whilst you practise must be at least 21 and have held a full UK licence for three years or more. They must be fit to drive and must sit in the front passenger seat.
All learner drivers must meet the minimum legal eyesight requirements and clearly display L-plates on the front and back of the car. You're not allowed to drive on the motorway before passing your test.
UK full licence
There are believed to be more than 35 million full driving licence holders in the UK, according to the Department for Transport.†
To obtain a full licence, you must have passed the theory and practical parts of the driving test.
The DVLA needs to be notified when you've passed, something which is usually done by the driving examiner following your test.
If your details haven't changed since you obtained your provisional licence, the driving examiner will send your details to the DVLA and your full licence will usually arrive in about four weeks.
If you've changed your name or other details you'll need to fill in a D1 application form, which you can obtain online or from some branches of the Post Office.
Driving licences used to come in two parts, a credit card-sized photocard and a paper counterpart, but the paper element became invalid in the UK (excluding Northern Ireland) on 8 June, 2015. New paper counterparts will no longer be issued.
UK full licences issued since January 2013 are in the format of the new standard European licence.
The expiry date of your licence is shown on the front of the photocard and the categories of vehicles you're allowed to drive are shown on the back.
Driving offences were traditionally listed on the paper part of your licence, but from now on these will be stored electronically and viewed on the DVLA website.
You must apply for your full licence within two years of passing your test or your pass certificate won't be valid and you'll have to re-sit your test.
You also have to renew your licence every 10 years to ensure that the photo's up to date. Licence holders are sent a reminder by the DVLA when it's time to renew, and there's usually a fee.
UK automatic licence
An automatic licence allows the holder to drive a car with automatic transmission, or an automatic gearbox.
If you hold a full UK driving licence then you can also drive an automatic car, but it doesn't work the other way around.
An automatic licence doesn't permit you to drive a car with a manual gearbox.
An automatic licence is identified by the code 78 to show that the holder is restricted to driving vehicles with automatic transmission.
If you're buying car insurance, you'll need to tell potential insurers the sort of licence that you hold. When you use Gocompare.com's quote comparison service, just select the 'UK auto' option when you get to the 'licence type' question.
European licence
If you move to another country within the EU you can drive there with your existing UK licence so long as it's valid.
Since 19 January, 2013, all new driving licences in EU countries have had to meet a standard European format in order to tighten up security and to replace the 100+ versions existing in member states.
Existing UK licences were not affected by this change but will be changed to the new format when they're renewed, or by 2033 at the latest.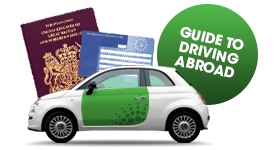 If you're renewing or exchanging your licence in the EU country you've moved to, this can only be done by the authorities in the country you're now living in.
Your original licence will be replaced with a local version of the new format and you'll have to abide by the same rules and medical checks as nationals of that country.
If you hold a driving licence for life, this will now have to be exchanged by 2033. You'll be informed in the country you've moved to how to go about getting a new licence in the standard European format.
International driving permit
If you're driving abroad, you'll need your UK driving licence.
In EU countries you won't need an additional licence, but in some countries outside the EU you'll also need an international driving permit (IDP), which is sometimes referred to as an international drivers permit.
An IDP is an internationally recognised document which allows the holder to drive a private vehicle abroad so long as they're also carrying a valid UK driving licence. It's valid for 12 months from the date it was issued.
You can buy an IDP from the Post Office, or from other organisations including the AA. You must be 18 or over to be eligible.
By Rebecca Lees
[SeanSocialShare]