Driving safely with an animal on board is a legal requirement and one which, if not followed, could invalidate your car and/or pet insurance.
Key points
Animals must be suitably restrained for safety when driving
Failure to follow this rule is illegal and could invalidate your insurance
Read our guide to help look after your animal's health and wellbeing when in the car
For many animal lovers in Britain, the family pet is just that - one of the family.
Our children's safety in cars is paramount to many of us and we spend a fortune on appropriate baby seats and boosters.
The safety of pets is less widely publicised - yet the results can be devastating if something goes wrong whilst driving with an animal on board.
The Animal Welfare Act 2006 makes owners responsible for the welfare of their animals, and this includes in the car or another vehicle.
What's more, if you're irresponsible with the way you transport your pet it could lead to an accident - and you may find that your actions mean you've invalidated your car insurance and/or pet insurance.
Drivers who don't restrain their dogs and cats while on the move are not only breaking the law, they could also see their insurer not paying out if they were involved in an accident.
According to the Highway Code, drivers need to 'make sure that dogs or other animals are suitably restrained so that they cannot distract you while you are driving or injure you, or themselves, if you stop too quickly'.
The law recommends a seatbelt harness, pet carrier, dog cage or guard as ways of restraining your pet while driving.
If an animal roaming freely around the vehicle is said to have contributed to causing an accident, then an insurance company could be well within their rights not to pay out on a claim
Matt Oliver, Gocompare.com
"Driving with your pet is sometimes a necessity, whether it's a short trip to the vet or a longer trip for a weekend way," said Gocompare.com's Matt Oliver.
"But making sure they are properly controlled is essential for the safety of everyone in the car.
"The law is clear - you must secure your animal while in a car - therefore if you don't do this and an animal roaming freely around the vehicle is said to have contributed to causing an accident, then an insurance company could be well within their rights not to pay out on a claim.
"A US study of in-car video footage† estimated that 22% of crashes could be caused, at least in part, by driver distraction, so however much you worry about your pet being comfortable on car journeys, restraining them properly ensures that they and you are less likely to get hurt if there is an accident.
"Insurance and legal implications aside, many animals suffer from motion sickness, don't like travelling in cars and can get spooked when on the move, so restraining them properly can make journeys safer and more enjoyable for you and your pets."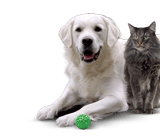 So if you're heading out onto the open road with your four-legged friend, here's our guide to keeping them - and yourself - safe.
All in the planning
Before you set off, think about your journey. Make sure you plan your route well, bearing in mind how long it should take and what your pet might need on the way.
Consider things such as the size of your animal, how to make them comfortable and whether they travel well.
Extra care might need to be taken if they are injured or have a medical condition.
See also:
Defra† recommends that an animal doesn't travel if he or she:
Is seriously ill or injured
Is new-born with an unhealed navel
Is incapable of feeding itself and not accompanied by its mother
Has given birth within 48 hours before starting the journey
Is heavily pregnant and likely to give birth during the journey
If you're getting your pet ready for his or her first journey in the car, acclimatise them to it in the days before you travel to make it less stressful on the day.
Think about what your pet might need on the journey. As well as food and toys, it's wise to pack emergency items in the car, including:
An animal first-aid kit including bandages, cotton wool, tweezers, clean pieces of sheeting and round-ended scissors

See also:

Snacks
Plenty of water
Extra blankets
Contact details for your vet or a vet's surgery at your destination
Before you go
Before setting off, encourage your pet to go to the toilet and, if you're travelling with your dog, let him or her have a quick run around the garden or go for a short walk.
Try to avoid driving just after your pet has had a heavy meal. A light meal two hours beforehand will reduce the chance of car sickness and prevent your pet from being uncomfortable.
On the move
Defra offers the very sensible advice that animals should be safely enclosed in the vehicle with the door locked.
For cats, small animals and small dogs, a pet carrier offers the best protection and ensures that your animal can't distract you whilst you're driving.
Make sure the carrier is safely secured in case you turn a corner sharply or have to brake suddenly, and make it as cosy as possible. Put in an old blanket and add a favourite toy to give your pet a sense of familiarity.
For larger animals such as big dogs, a carrier might not be appropriate. Instead you should consider a restraining harness, which can be attached to the car seatbelts to keep your dog safe.
Never leave pets in the car on a hot day... the temperature inside a vehicle can be twice as high as that outside
Some animals can become more travel sick if they can see out of a window, so restricting their view might be a good option.
If your pet suffers regularly from travel sickness, your vet might be able to prescribe anti-sickness or anti-diarrhoea medicine.
The heat is on
It's common to see dogs with their heads poking out of window to get some fresh air, but this can be dangerous, illegal and could invalidate your insurance.
They could get grit or other objects in their eyes and could injure themselves if they are unrestrained and the driver has to stop suddenly.
Keep animals cool by turning on the air conditioning or opening the windows furthest from the animal. Put fresh water within their reach and keep snacks handy - making sure you can feed them to your pet safely.
Break it up
It's recommended that drivers have a 15-minute break every two hours, and this is particularly important when you have animals on board.
Plan a stop at a motorway services or a park to allow your dog to run around. Some services have designated dog areas and dog walks, but take care not to let your dog run off the lead around cars or in picnic areas.
Don't let cats or other animals out of the car unless they're fully harness trained.
Ideally, you shouldn't leave pets in the car alone but, if it's unavoidable, park in the shade and leave windows open on both sides of the car.
Never leave pets in the car on a hot day. Animals are at risk of overheating when the temperature goes above 25C for even a few minutes, and the temperature inside a vehicle can be twice as high as that outside.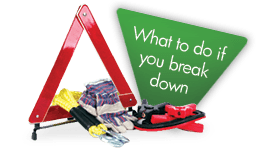 Breaking down
There can be lots to think about if your car develops a problem on your journey.
Don't let your animal out of the car unless it's safe to do so and he or she is on a lead.
It's not advisable to let your pet out of the car on a motorway hard shoulder but, if it's unsafe for them to remain inside the vehicle, get them out through the passenger doors if possible.
Make sure your breakdown cover is up to date and, if you call the recovery service, let them know you're travelling with your pet.
By Rebecca Lees
[SeanSocialShare]