Van MOTs: Helping you to choose the most reliable vehicle
Find out which large vans boast the best pass rate at their yearly MOT and which are underperforming. Uncover the common causes of failed tests and what factors van drivers should consider when searching for a reliable motor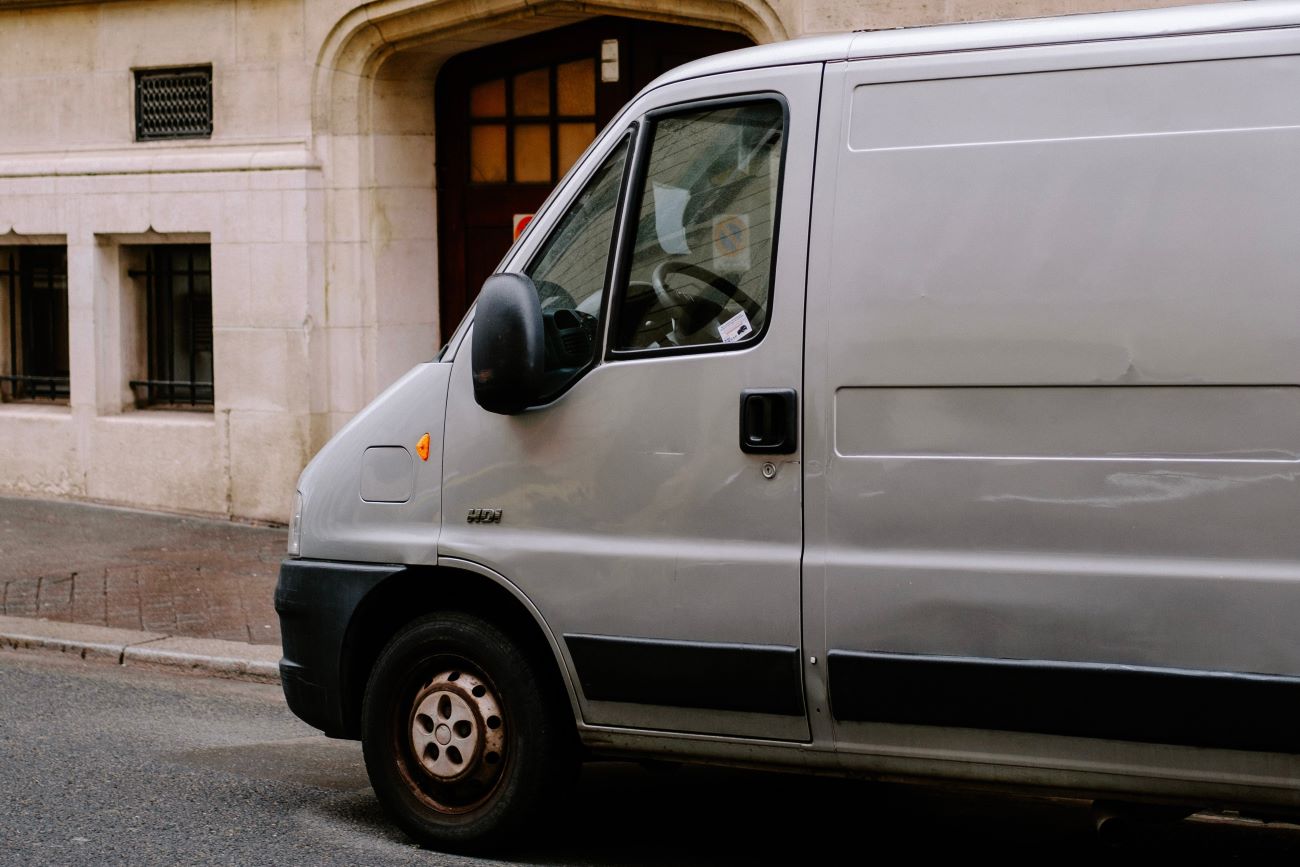 Vans, like all vehicles, are subject to an annual MOT to check they're safe and meet legal standards. This yearly test can be a cause for concern for many van drivers, though, especially those who rely on their vehicles for their business and income.
With this in mind, we've reviewed UK MOT data for large vans (class 7 vehicles, or commercial vehicles that have a weight of between 3,000kg and 3,500kg) to find out which are the most and least likely to pass or fail the test. Should you invest in a new van? Is a particular make more reliable than another? What are the most common causes of failures?
The VW Transporter had the best MOT pass rate
The van with the best pass rate has been revealed - the Volkswagen Transporter takes the top spot for 2022 with a pass rate of 81.8%. This make and model failed the fewest MOTs compared to any other large van, so it appears to be the most reliable motor for drivers of class 7 vehicles.[1]
Top five large vans for highest MOT pass rate:
| Make and Model | Pass Rate |
| --- | --- |
| Volkswagen Transporter | 81.82% |
| Peugeot Boxer | 77.41% |
| Volkswagen Crafter | 75.89% |
| Vauxhall Vivaro | 75.59% |
| Fiat Ducato | 74.52% |
Other contenders for the number one position include the Peugeot Boxer, which narrowly missed out on first place with a pass rate of 77.4% and the Volkswagen Crafter (75.9%). The top four vans all possess a higher pass rate than the national average of 74.8%.
Volkswagen appears to be the leading van manufacturer in terms of MOT pass rate, with two of its models coming in the top five table. Vauxhall also seems to offer reliable models, with two making it into the top 10 best pass rate list.
The Nissan Cabstar had the highest MOT failure rate
In comparison, the Nissan Cabstar claimed the title of the van least likely to pass its MOT. This vehicle had a failure rate of 33.1%, meaning that one in every three of these models failed its test in the last year. This is close to a 10% increase on the national average fail rate of 24.2%.
Top five large vans for worst MOT pass rate:
| Make and Model | Failure Rate |
| --- | --- |
| Nissan Cabstar | 33.13% |
| Renault Master | 26.51% |
| Vauxhall Movano | 25.61% |
| Ford Transit | 25.46% |
| IVECO Daily | 25.43% |
The Renault Master and IVECO Daily were also in the top five vans with the worst MOT pass rate. Surprisingly, the UK's most popular van, the Ford Transit, also had one of the worst pass rates at just 25.46%.
Meanwhile, the Vauxhall Movano had the third-highest failure rate at 25.6%. This is despite the fact that another model by this make appears in the top five for best pass rate, showing that a single manufacturer can't always claim to be the most reliable.
How well did large vans perform in their MOTs compared to cars?
Overall, large vans had a higher average failure rate than cars. The national average failure rate for class 7 vehicles was almost one in four (24%), compared to just 18% of cars. The car with the highest pass rate was also a Volkswagen - the VW T-Roc, with a pass rate of 95%. This is much higher than that of the top-performing van, which only had a pass rate of 81.8%.
Hugo Griffiths, the consumer editor at carwow, commented on why large vans are performing worse than cars:
"Vans are the workhorses of the road; they're vital for keeping the country running. The fact they can be driven on a normal car licence makes them highly attractive to businesses of all sizes, as staff don't have to have additional training before getting behind the wheel.
"But the similarity between cars and vans stops there; vans need to be almost in constant use and loaded up as much as possible to be as optimally cost-effective for business owners, and this hard life brings with it a very different set of maintenance requirements compared to the average car.
"Unfortunately, because vans can be driven on a car licence, some business owners run the risk of thinking about them in the same manner as cars, servicing them maybe once a year, when in truth a hard-working van will need more frequent routine maintenance. This, in turn, can lead to faults not being detected or attended to, with the MOT test acting as a safety net for neglected vehicles.
"Add in the fact that drivers will often switch between different vehicles on a regular basis, and a lack of a sense of ownership of a van can develop. There may often not be a regular driver who can detect subtle changes in the vehicle, which can lead to minor faults becoming major ones before long."
The most common causes of large van MOT failures
There are several vehicle defects that can cause an MOT failure, and many are simple fixes. A significant number of large van failures were caused by faults with tyres and visibility, as well as lamps, reflectors and electrical equipment. All of these issues can be spotted at home before a test, yet they add up to over a third (35.5%) of the total number of failed MOTs.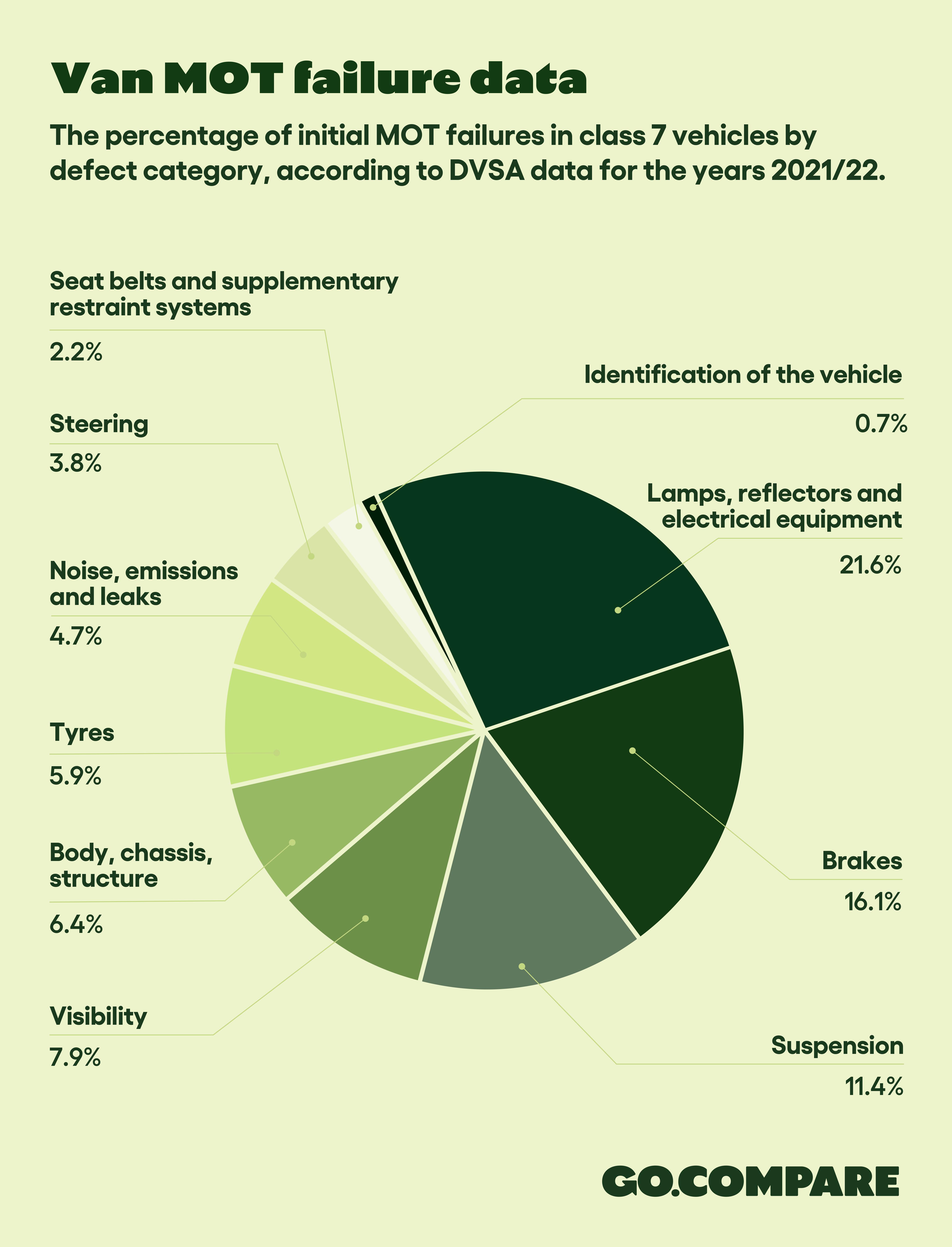 The biggest culprit was faulty lamps, reflectors and electrical equipment (such as bulbs), which accounted for 21.6% of class 7 vehicle MOT failures. These issues are the most common reasons why large vans don't pass the test, even though they can often be spotted at home. Drivers should simply check to ensure that all the vehicle's lights are working and replace any bulbs as necessary.
Visibility (7.9%) and tyres (5.9%) were other potentially preventable causes of failed tests. Checking the tyre pressure, as well as looking for any chips or cracks on the windscreen are simple steps van owners can take before the MOT.
If your van fails its annual test, you might need to pay for a second once you've had any defects repaired. Unless you have the option to book your vehicle for a retest within the free 10-day window, you'll have to pay for a second MOT, which could cost up to £58.60 (the maximum fee for a class 7 vehicle MOT test).
Ahead of your next annual test, use our MOT checklist to prepare your van for its review. Running through these few basic checks will help to avoid any failures that could have been sorted before going to the garage.
Some failures are down to factors much more difficult to spot, however. Brake defects were the cause of 16.1% of failed MOTs and 11.4% of large vans did not pass the test because of suspension issues.
If you're unsure when your next MOT is due, use our helpful MOT checker to find the date of your next test so you don't miss it. Driving a van with an expired MOT is illegal, meaning you could be fined up to £1000 if you do so, and you risk invalidating your van insurance policy.
Are older vans more likely to fail MOTs?
Our research suggests that the older the van, the less likely it is to pass its MOT. Large vans from 2013 or prior (going as far back as 2002) had average failure rates that were all above the national average of 24.2%, suggesting that if you're hunting for a reliable van, newer really might be better.
In addition, average fail rates fell steadily year on year from 29.4% of 2011 vans to just 14.8% of 2018 vans, meaning the newest vans had the best pass rate. Pre-2011, the fail rates ranged from 29.6% to 33.6% - with vans from 2003 accounting for the highest average percentage of failures.
Is it worth buying a specific van to avoid MOT failure?
Although safety and reliability are two important factors to think about when choosing the right vehicle for you, they shouldn't be your only considerations. There are several key factors to weigh up before deciding which model to purchase.
Consider your exact needs, such as whether the van will be used for business or social purposes. This will help you decide what size vehicle you need and how many seats you want, among other elements.
Running costs should also be taken into account before you purchase your vehicle. Factors such as fuel type and capacity may impact your overall budget. If you're buying a used van, be sure to consider its mileage and vehicle history.
Hugo Griffiths at carwow offered the following tips to drivers or companies looking to purchase a van:
"Buy the best vehicle you can afford, and make sure you know its servicing requirements inside out before purchasing, factoring scheduled maintenance into its working life from the get-go. Make sure the van is up to the job you're going to be asking of it, too. If a van's payload capacity is 1,300kg and it's regularly going to carry close to that, consider buying a van with a higher payload so it's not constantly stretched to its limit.
"Ensure staff are trained on how to use the vehicle both in general terms and with regard to any specific features or requirements an individual van may have. Pay close attention to gross and unladen weights, too; someone with a car driving licence can legally drive a van weighing up to 3,500kg, but this includes the vehicle itself, as well as cargo and passengers. Exceeding this can bring hefty penalties and present serious safety risks."
Finally, certain makes and models may generate more expensive insurance premiums. Compare van insurance quotes from different providers, as this can help to cut your costs.
About this data
[1] All van MOT data was taken from a 94,000 sample of the Government records for Class 7 vehicles (commercial vehicles that have a weight of between 3,000kg and 3,500kg) from the years 2021 to 2022. This includes all MOT tests and outcomes, including the make and model of the vehicle and initial failures by defect category, since the MOT system was computerised in 2005. All statistics on this page relating to MOT pass and failure rates are sourced via this data unless otherwise stated.
Car MOT failure data was taken from a randomly split sample of 3.6 million Government records on test results from 2021 to 2022.