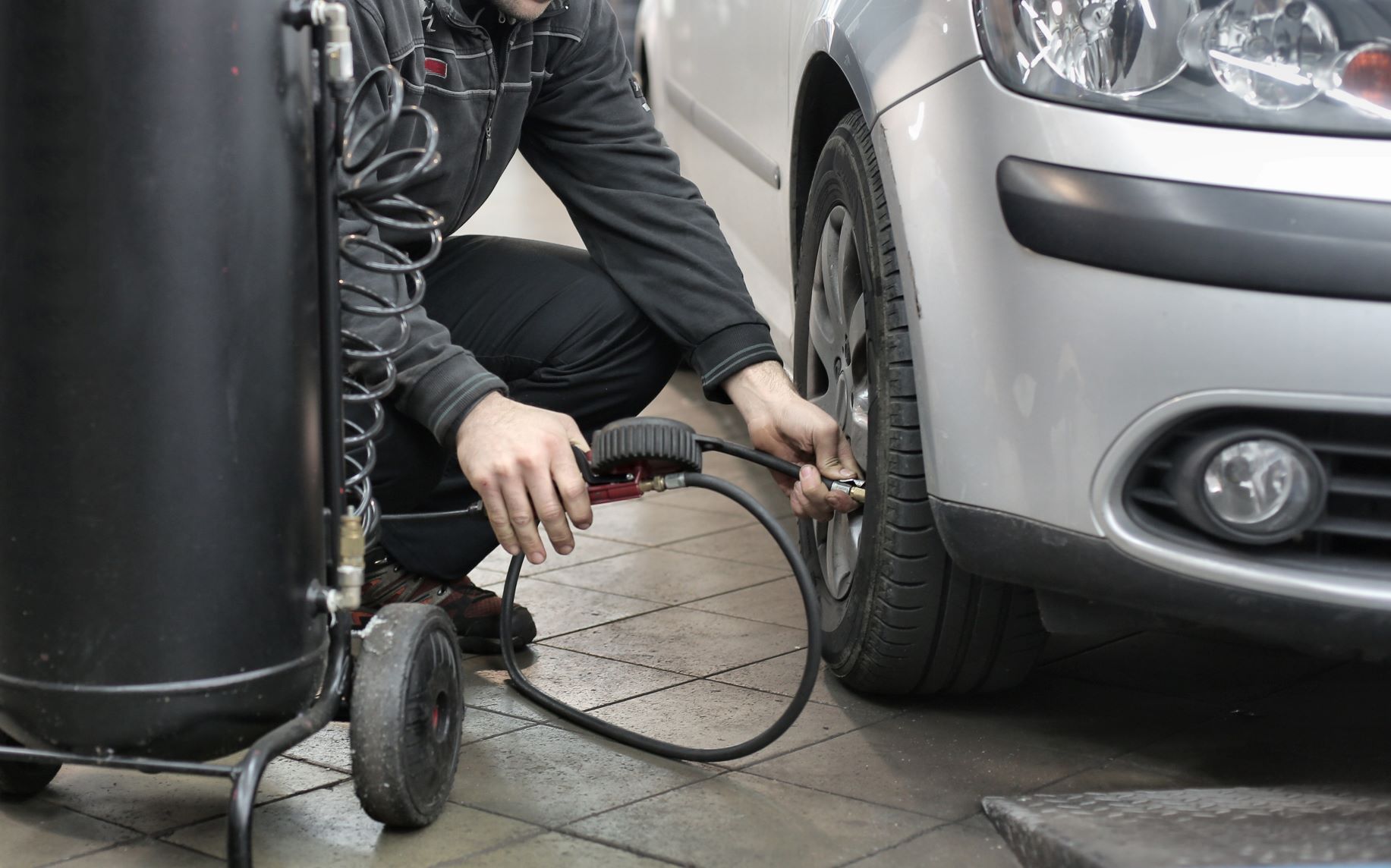 Last year, preventable MOT failures cost UK drivers an estimated £8.1m. Millions of vehicle owners would have avoided failing their test by doing just a few simple checks on their cars before travelling to the garage. With MOT bookings set to surge in September, we discuss how you can save time and avoid these unnecessary costs.
Booking an MOT slot over the coming months may be more challenging than usual because of the predicted increase in demand. This comes from last year, as drivers were given an extension on their MOT due date as a result of the Covid-19 pandemic.
Since many vehicle owners decided to re-book from September 2020, they'll now need to book their car in again over the coming months. Therefore, if your vehicle fails its first test, you could find it harder to book another one within the 10-day window for a free retest.
Almost half (46.6%) of failed MOTs are caused by defects that could have been spotted by owners themselves. Yet, over a quarter (27%) of drivers recently admitted that they don't do anything to prepare their car prior to its test.
How much could I save on MOT fees?
Checking your vehicle before your test could increase its chances of passing and save you from having to pay for a retest, which could cost £48.32 (the average price of an MOT test).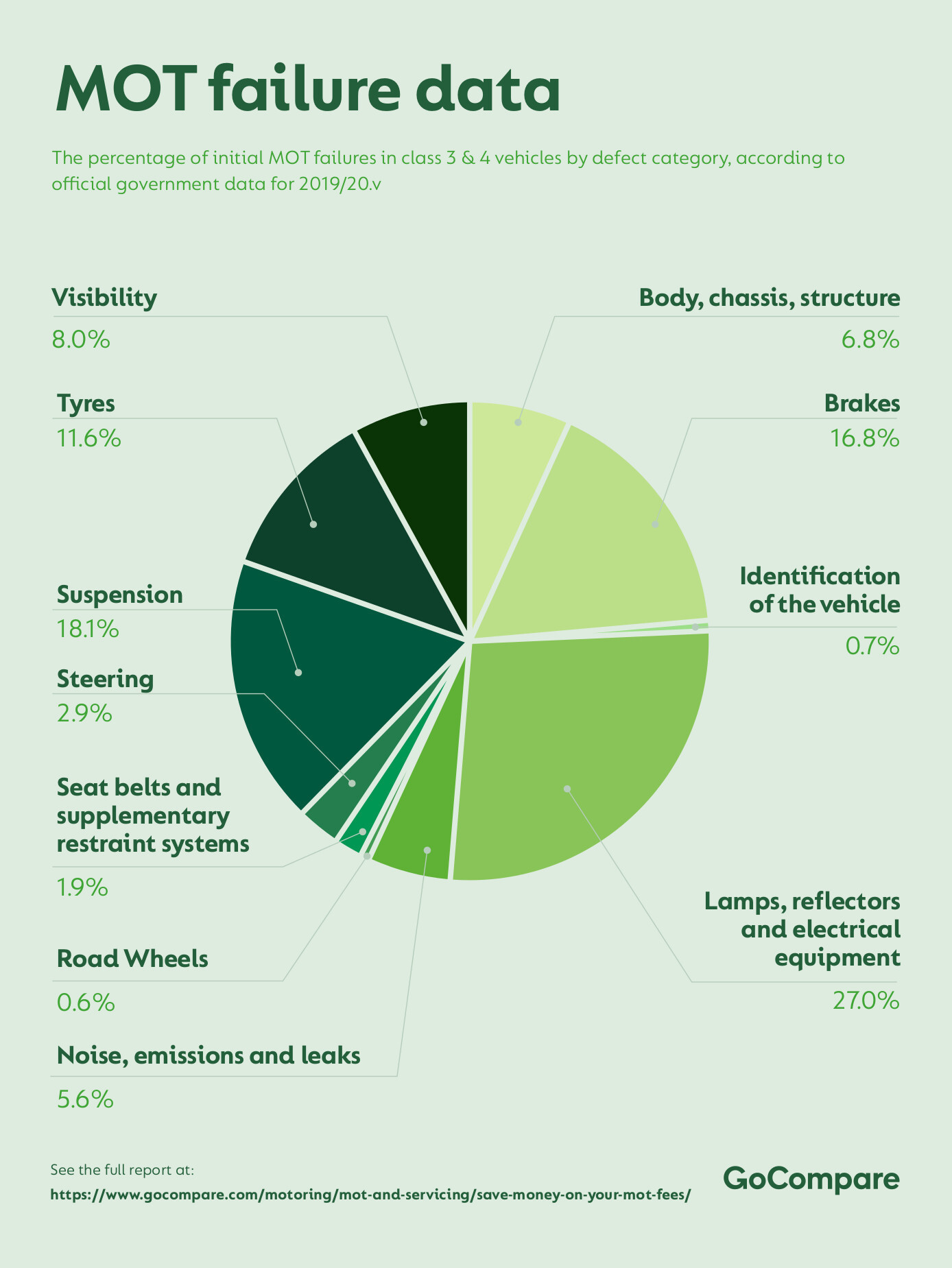 In 2020, an estimated 7.8 million vehicles failed their MOT test. Many of these failures were caused by faults with tyres and visibility, as well as lamps, reflectors and electrical equipment. All of these issues can be spotted at home before the test, but they make up almost half (46.6%) of the overall number of failed MOTs.
If your vehicle fails, you can sometimes be faced with the cost of another test once you've had your vehicle repaired. If you are unable to book another slot within the 10-day free retest window, you will have to pay for a second MOT.
Our research indicates that 6.5% of vehicles that fail the initial MOT are unable to secure another test within the 10-day free retest period. This means that a total of £17.5m is spent on MOT retests every year. As 46.6% of these are avoidable, this equates to £8.1m being spent on fees for preventable MOT retests.
Due to the predicted surge in bookings, more drivers could miss the window for a free retest this year. This makes it particularly important that you check your car ahead of your next test.
What can I check before I book an MOT?
There are some simple checks that you can perform on your car at home to avoid this unnecessary expense. They'll help you spot defects that could cause your vehicle to fail its test.
These easy checks won't take you any longer than 10 minutes to complete, but could save you the time and money that's sometimes lost when failing an MOT. All you need is someone to help you, as well as some basic equipment.
Lights
A massive 27% of all MOT failures are caused by faulty lamps, reflectors and electrical equipment (such as bulbs). These issues are the most common reasons why vehicles don't pass the test. However, only 42% of drivers will ensure that all the car's lights work and replace any bulbs as necessary.
Tyres
Tyre defects cause 11.6% of failed tests, some of which could have been prevented by vehicle owners. For instance, checking your car's tyre pressure is one easy thing you can do yourself before you book the MOT. 
All you need for this is a tyre pressure gauge. Despite this, over half (57%) of drivers won't bother to check that their vehicle's tyre tread and pressure is correct.
Windscreen and wipers (visibility) 
Lots of vehicles fail MOTs because of issues that are obvious to spot. Problems with visibility cause 8% of all failures. Even though it is one of the simplest things to check yourself, 61% of drivers recently admitted that they don't bother to look for chips or cracks on their windscreen prior to an MOT.
Read our MOT checklist for more information, including useful videos to help you check your car's tyres and bulbs.
What are my MOT test rights?
To avoid wasting time and money, it's important to be aware of all the rules surrounding MOTs.
If your vehicle fails its first test, you can often leave it at the test centre while it's repaired. This does mean that you would be without your car for up to 10 days, but, you won't have to pay a fee for the second test.
If you choose to take your vehicle away to get it repaired instead, you can be charged a partial retest fee, even if you secure a slot within the 10-day period. So, you should do everything you can to make sure your car doesn't fail on something you could have easily fixed for yourself.
Before you book your next MOT, take 10 minutes to check your car.
How to avoid a failure and prepare for super September – according to the experts
GoCompare's motoring expert Ryan Fulthorpe said: "Our data shows that millions of MOT failures can be avoided by performing a series of basic checks before taking your car to the garage.
"It takes as little as 10 minutes to examine a car for simple defects like faulty light bulbs and flat tyres. Yet, over 2.6 million vehicles fail their test due to these kinds of issues every year, and many owners end up having to pay for a retest as a result. We would urge all motorists to inspect their vehicle ahead of time, as neglecting to do so could cost you around £48."
Al Preston, co-founder of WhoCanFixMyCar.com, agrees that monitoring these issues is critical, not just for your MOT but for your own safety: "Drivers should stay on top of any noticeable issues all year round, rather than waiting for them to get picked up at the MOT, as some could well be safety-related."
They went on to add that drivers will need to be prepared in order to secure a test: "The volume of MOTs and the resulting work will certainly put pressure on garage availability, so drivers will need to be organised. The sector managed the volumes relatively well last year, but most big businesses are expecting to be operating around capacity."
Duncan McClure Fisher, CEO of MotorEasy, also spoke to us about the predicted rise in MOT bookings this September. "Thanks to the registration peak and the rollover from last year's test extension, we are expecting to see a significant increase in the number of drivers looking to book their MOT this September.
"This is something that's likely to continue for a few years, so it's a good idea for vehicle owners to avoid any preventable failures or unnecessary testing. That means drivers should try to find and fix any obvious motor issues beforehand, to ensure they aren't wasting time or money.
"Additionally, it wouldn't hurt to book in advance next year; you can get your test up to 30 days before your car's due date, and it won't affect your next anniversary. Essentially, you'll be getting an extra month of cover at no additional cost."
About this data
Calculating the number of failures in 2020
Using DVSA MOT test results data, we calculated the number of failed MOTs that occurred in 2020. We took the total number of MOT tests, the number of fails and the number of fails that were immediately rectified at the MOT station in both Q1 and Q2 2020, to estimate the number of fails across the whole of the year.
The number of tests rectified at the MOT centre was then subtracted from the total number of failed tests, to find the estimated number of second tests needed. This figure corresponds to the number of drivers who would be at a higher risk of paying for another MOT.
Calculating the cost of avoidable MOT failures
In total, we estimate that £17.5m was spent on MOT retests last year. This was calculated using the average MOT price (£48.32), the potential number of second tests needed (5.5 million) and the estimated percentage of drivers who miss the 10-day window for a free retest (6.5%). The average MOT price and the percentage of drivers who miss the 10-day free retest period are based on responses from 10 MOT centres across the country.
We then broke down the amount spent on retests by the percentage of avoidable failures. We used GOV.UK data to find the percentage of failed tests caused by three categories - tyres (11.6%), visibility (8%), and lamps, reflectors and electrical equipment (27%). Each of these was classed as a preventable reason for failing, as they can be easily checked and repaired before a test.
All together, these categories account for 46.6% of all failures. Therefore, we took 46.6% of the total amount spent on second tests (£17.5m) to find how much avoidable MOT fails are costing UK motorists, which is £8.1m.
The number of drivers who check their car for defects prior to its MOT
We sourced these statistics from a survey of April 2021. GoCompare used Maru/Blue to ask car owners "what do you do to prepare your car for its MOT?"