Accidental damage pet insurance can offer valuable cover if your animal causes damage in another person's home or to their property.
Key points
Accidental damage pet insurance covers damage to another person's property caused by your animal
It's unlikely to cover damage to the pet owner's property
Watch out for exclusions - there are typically a lot of them
Consider the claim limit and excess
Never work with children or animals, so the saying goes. But how about living with them?
When it comes to making a claim for accidental damage, you might be better off with one than the other!
Most home contents policies will cover damage done by children - a common reason for insurance claims.
But the opposite is true in the case of pet insurance, and it's very unlikely you will find a policy covering accidental damage caused by your pet in your own home or on your property.
You can choose from plenty of policies which cover damage accidentally done to other people's property by your pet.
But this kind of cover often has several exclusions and might not protect against some of the common kinds of accidental damage your animal could cause.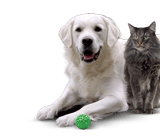 What is accidental damage?
Accidental damage home insurance protects the contents of your house against the kinds of spillages and breakages that can happen in everyday life.
You can buy this kind of cover for buildings or for contents, or for both together but - as noted - it's unlikely to include protection against damage done by your pet.
Accidental damage usually covers incidents which are unintentional and unforeseen, such as something being spilt on the carpet or a valuable object being smashed.
Pets and accidental damage cover
The reasons pet insurers tend not to insure against this in the policyholder's home include the fact that pets are temperamental and it's difficult for underwriters to assess how well a pet has been trained.
Did you know...?
Your pet fouling, urinating or vomiting on another person's property may not be covered even if you have a policy including accidental damage
Many pet policies will cover the cost of damage caused to another person's property up to a specified amount, perhaps in the region of £500-£1,000.
Some policies offer higher levels of cover than this but, with other insurers, the limit may be as little as £50 - which might have to be weighed up against any excess you would have to pay.
It's extremely important to read your policy carefully as accidental damage pet insurance tends to have exclusions that you might not expect.
For example, your pet fouling, urinating or vomiting on another person's property is not often covered.
You might also find that the policy excludes damage to another person's car or the contents of a vehicle, and it's unlikely that the insurers will pay up for damage to property owned by a relative or friend who has been asked to look after your pet.
Other types of insurance
Dog owners can also take out third party liability insurance, which can cover the cost of damage to another person's property accidentally caused by your canine.
See also:
This sort of policy also covers potential costs and compensation if your dog injures another person or animal by, for example, biting them or knocking them over.
As these costs can be high, third party liability limits tend to be between £1m and £2m - or even higher.
Note that this sort of cover is not generally available for cats as felines are considered to be 'free spirits', meaning that their owners cannot be held accountable for what they do.
By Rebecca Lees