Guide to kitten insurance
Key points
Policies are typically offered from the age of six-to-eight weeks
You're likely to have more choice of policies as your kitten gets a little older - but the longer you leave it, the longer your pet is without cover
Pre-existing and/or hereditary conditions will not be covered
When it comes to a few of our favourite things, an adorable kitten is near the top of the list.
But there's a lot more to owning one than rolling a ball of string along the floor for hours.
They're inquisitive by nature and, given the chance, will get into all sorts of scrapes.
So although the thought of any harm coming to your cute kitty is unimaginable, think about staying on the safe side and taking out pet insurance as soon as you can.
Read our article on cat insurance for more detailed information on the main cover choices and the optional extras that may or may not be included on a policy, but also think about the following things when looking for cover for a kitten.
How soon can I get kitten insurance?
If you're looking to protect your new cat it makes sense to do this as early as possible.
Need more information?
Taking out an insurance policy for your kitten from the age of around six weeks should be possible, although many companies may not offer cover until your pet is a little older, perhaps eight weeks.
Because more companies will come into the market as your kitten gets that little bit older it's likely that you'll then have more choice of policies and, perhaps, cheaper premiums.
But you'll need to balance that against the extra time that your cat will be left without insurance cover.
Even when your kitten is just a few weeks old, you should remember that it won't be covered for pre-existing and/or hereditary conditions that might affect it.
Are vaccinations covered by kitten insurance?
Young cats should be vaccinated against illnesses - if your kitten's are out of date and they then suffer from a condition that could have been prevented by vaccination, it's possible that an insurer will not pay out for medical cover.
The vaccinations themselves are not covered by insurance, nor other procedures such as flea control, castration, spaying or worming tablets.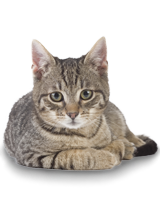 Bear in mind that keeping your pet's vaccinations up to date might make you eligible for cheaper premiums, as some insurers take this into consideration.
Microchipping your kitten
One element that could factor into the cost of your kitten premium is whether the cat has been microchipped.
What's more, microchipping a cat can offer a number of benefits to both the owner and the animal itself.
Why do I need insurance? My kitten stays indoors...
It's advisable to keep cats indoors until they've had their vaccinations at the age of about 13-14 weeks.
It's also recommended that they don't go outside on their own until they've been spayed or neutered at about five or six months.
But even without the danger of your pet running across a busy road or getting lost, kittens are mischievous and can get into all sorts of scrapes around the home.
They will be keen to explore and might become stuck in the tiniest nook, whilst there's also the danger of them escaping from an open window or door, even if left open only for a few seconds.
Did you know...?
Kitten insurance could cover the cost of advertising for your cat's safe return if it goes missing
There are also the usual home dangers such as plastics and detergents, or your young cat could swallow a seemingly harmless toy such as string.
If an accident does happen, you'll want to get your animal to the vet as soon as possible and make sure it gets the best possible care.
Venturing outside
When your kitten does eventually go outside, it will no doubt love exploring your garden - and probably your neighbours', too!
But it's wise to stay with him or her for the first few trips into the big wide world, and some owners even put their kitten on a lead in case they become anxious and try to run off.
Unfortunately, if your cat is let out regularly, there's a chance that he will go missing or even be stolen.
Kitten insurance could cover the cost of advertising for your cat's safe return whilst, if your feline is an expensive pure-bred, some insurers will pay out up to a certain value if you're unlucky enough not to get him back.
Accidental damage
Some kitten insurance policies include any accidental damage that your moggy might cause in your home, such as knocking over an expensive item or scratching the furniture.
If you think this type of cover could be worthwhile, make sure you compare kitten insurance policies to find the right one for you.
See also:
Things to look out for
Sadly, no matter how well cared for animals are, sometimes they become ill.
Symptoms to look out for include diarrhoea, lethargy, fever, loss of appetite and excessive thirst.
You'll get to know your cat's behaviour better than anyone, and sometimes your instinct will tell you that something is wrong.
If your kitten needs to visit the vet, this can prove costly. Planning ahead and buying good kitten cover can put your mind at ease and take care of the bills if your cat does need treatment.
By Rebecca Lees