Coronavirus hits pet industry as dog prices boom during lockdown
Lockdown has given us more time to spend with our pets. However, Covid-19 (coronavirus) has affected prices across many industries, particularly on the cost of dogs and dog insurance.
Has Covid-19 affected the price of pups?
Yes. The pandemic has caused a surge in pet purchases, with 3.2 million being brought since the pandemic started.
The graph below shows the rise in the cost of dogs as the pandemic has gone on.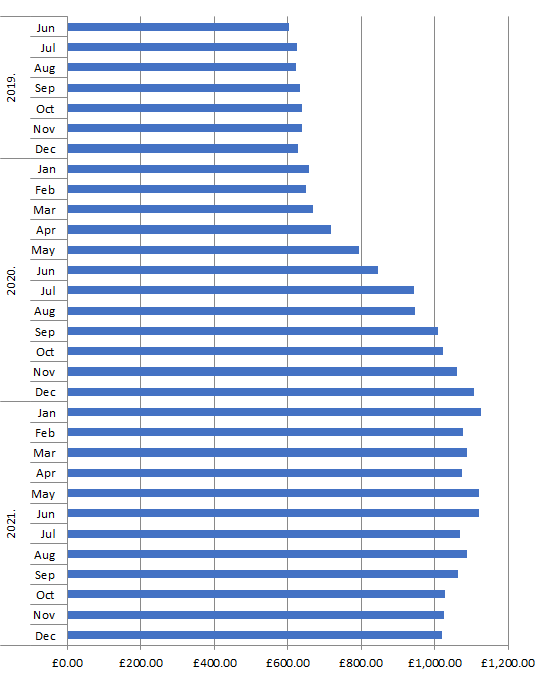 *Based on customers who entered their pet purchase price while getting pet insurance quotes through GoCompare between June 2019 and December 2021
Prices reached a pandemic high in January 2021, when the average cost of a new family dog reached £1,125. If you compare that to the previous year, that's a 71% increase in price.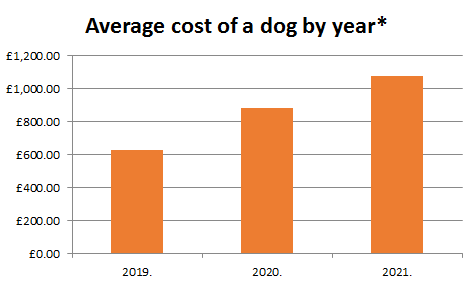 *Based on customers who entered their pet purchase price while getting pet insurance quotes through GoCompare between June 2019 and December 2021
This has taken the average cost of a new pooch to over £1,000, which is £448 more than what you would have paid in 2019.
The price of buying a puppy isn't the only expense new dog owners will have to face. Consider the cost of vaccinations, microchipping, a bed, food, pet insurance, and grooming.
Which dog breeds have been affected the most?
The biggest price changes were seen in Border collies, Retrievers, German Shepherds, and Cocker Spaniels. Here's how prices have changed for some of the most popular breeds since 2019:
| Breed | Average cost 2019 | Average cost 2020 | Average cost 2021 | % Increase 2019 vs 2021 |
| --- | --- | --- | --- | --- |
| Border collie | £368 | £579 | £704 | 91% |
| Golden Retriever | £667 | £966 | £1,178 | 77% |
| Labrador Retriever | £647 | £900 | £1,102 | 70% |
| German shepherd (Alsatian) | £595 | £889 | £987 | 66% |
| Cocker Spaniel | £668 | £978 | £1,108 | 66% |
| English Springer Spaniel | £530 | £746 | £838 | 58% |
| Shih Tzu | £480 | £631 | £737 | 54% |
| Staffordshire Bull Terrier | £586 | £722 | £880 | 50% |
| French Bulldog | £972 | £1,277 | £1,458 | 50% |
| Pug | £567 | £713 | £792 | 40% |
Border collies in particular have almost doubled in price from £368 to over £700. They're intelligent and need active owners who can keep them busy and exercise them frequently. The increase in cost may be a reflection of people having more time at home to spend with such an active breed.
How have crossbreeds been affected?
It's not just pedigrees which have seen a jump in cost. Here's how the price of mongrels and crossbreeds has changed since 2019:
| Breed | Average cost 2019 | Average cost 2020 | Average cost 2021 | % Increase 2019 vs 2021 |
| --- | --- | --- | --- | --- |
| large mongrel (more than 20kg) | £282 | £457 | £589 | 109% |
| medium mongrel (10 - 20kg) | £310 | £466 | £609 | 96% |
| small mongrel (up to 10kg) | £387 | £625 | £753 | 95% |
| large crossbreed (more than 20kg) | £536 | £814 | £1,039 | 94% |
| medium crossbreed (up to 20kg) | £674 | £988 | £1,129 | 67% |
Why has lockdown caused dog prices to rise?
Britain has been experiencing a puppy boom while in lockdown. "There is unprecedented demand", comments Bill Lambert, head of health and welfare at the Kennel Club. "Normally I get one or two inquiries a month but now it's four or five a day."
During this isolating time, people are turning to pets to help relieve stress and anxiety, as well as a way to stay active.
However, the RSPCA feared a surge of pet abandonments when people get back to work or realise they can no longer afford to keep or make time for their new pet. Their fears have sadly come true, with multiple reports of dogs bought in lockdown being abandoned.
Before buying a pet, stop and think
Think about the cost and time required for owning one. Certain dog breeds require a lot more attention and exercise than others, so it's important that you understand the specific needs of each variety before making a decision. 
A pet will still have the same requirements on your time and money when life gets back to normal after lockdown.
The impact of coronavirus on pet insurance
Pet insurance prices have gone up too, compared to pre-pandemic quotes.
According to our data, the average price of dog insurance hit a record high in August 2021 of £382 annually. This is 29% higher than the price two years before.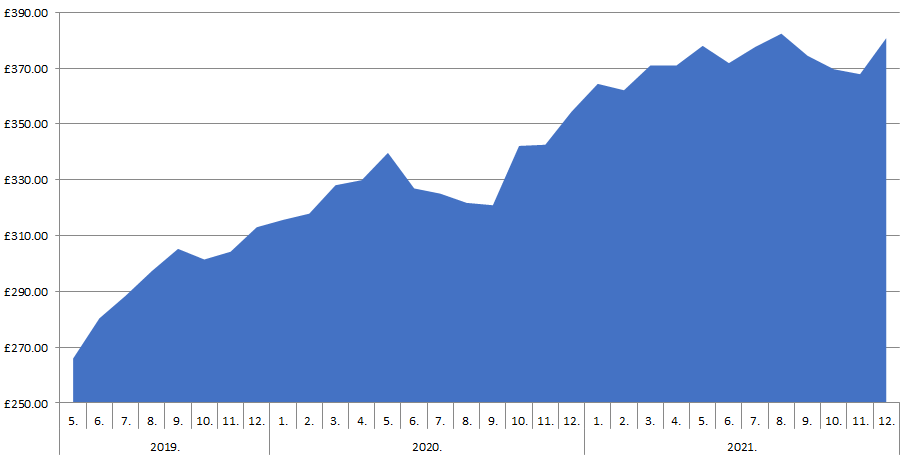 *Based on average purchase price of pet insurance bought through GoCompare between June 2019 and December 2021
It's often the case that pet owners take out insurance to give peace of mind and financial cover. Vet treatments often cost hundreds of pounds, depending on your pet's diagnosis.
But why have insurance costs risen? Well, the following factors could be contributing to the increase:
Higher risk equals higher costs
Generally, the higher the risk, the more insurance will cost. Insurers are increasing costs to mitigate some of the uncertainty caused by Covid-19.
Veterinary practices are open but under limitations
Vets have remained open during the pandemic, but under limited circumstances. Due to an increased demand for pets and restrictions set out by the government, some veterinary practises have upped their fees. Higher vet costs means higher insurance costs.
Dogs are costing more
Insurance companies will take into account the cost of the dog, as well as the breed, age and any hereditary illnesses that specific breeds might be prone to.
Usual year on year inflation
Pet insurance costs for cats and dogs have been increasing for the past couple of years due to inflation. As the UK inflation rate hit 5.1% in late 2021, we expect insurance prices will continue to rise
Take advantage of any extra time you have to carefully review pet insurance policies to find one that provides enough cover for a reasonable price.
Can dogs and cats catch Covid-19?
The UK Government advises that animals can catch covid, although it's rare. Although they can catch the virus, cats and dogs only show mild symptoms and will recover within a few days. There is also no clear evidence to suggest that animals can pass the virus back to humans.
It's still recommended that pet owners wash their hands with soap and hot water for 30 seconds before and after contact with pets, their food, or their bedding. Not only can this protect against Covid-19, but it can also help protect against other infections, such as E.Coli and Salmonella.
How to find cheap pet insurance during the Covid-19 outbreak
Regardless of the current pandemic, you can still find yourself the right cover. 
1. Compare
Use GoCompare's pet insurance comparison service to find cheaper insurance today.
2. Try multi-pet policies
Have more than one animal? Many pet insurance providers offer a discount when you insure all of your pets with them. Find out more about multi-pet policies.
3. Jabs and microchipping
Make sure your pets jabs are up-to-date. This'll help keep your pet as healthy as possible and lowers the risk to insurers. 
Microchipping dogs has been a legal requirement in the UK since April 6th 2016 and so shouldn't affect insurance costs, but your entire policy could be void if it turns out your dog isn't chipped. Some pet insurance providers will offer a discount for cats who are microchipped - so be sure to ask before you buy. 
4. Get the right cover
Getting the correct level of cover for your pet can help bring down the cost in the long run. Most pet insurers offer a range of policies:
Accident only - This level of cover is the cheapest and provides a fixed sum of money for each accidental injury. If the treatment required comes to more than the fixed sum, you will be required to pay the rest. This cover usually excludes illnesses and does not cover pre-existing conditions.
Time-limited cover - Time-limited cover is more comprehensive than accident only and excludes certain conditions after you hit your claims limit. This claims limit is either per condition or time-limited. For instance, £6,000 per condition over your pet's life or £2,000 per year for each new condition. However, when the policy is renewed a condition will become pre-existing and be excluded from future policies.
Lifetime cover - Lifetime is the most comprehensive type of pet insurance cover available. This cover normally pays out for ongoing issues your pet may have throughout its life. There are two different types of lifetime cover; per condition per year and annual lifetime cover. Annual lifetime will usually give you a set amount (such as £30,000) to use in the event of accidents or illnesses over your pet's lifetime. Per condition per year usually provides pets with a limit of a few thousand pounds per year for each condition.