The impact of coronavirus on pet insurance
Pet insurance prices have been going up going up too. 
According to our data, the average price of dog insurance hit a record high in May 2020 of £378 annually. This is 26% higher than the price the year before.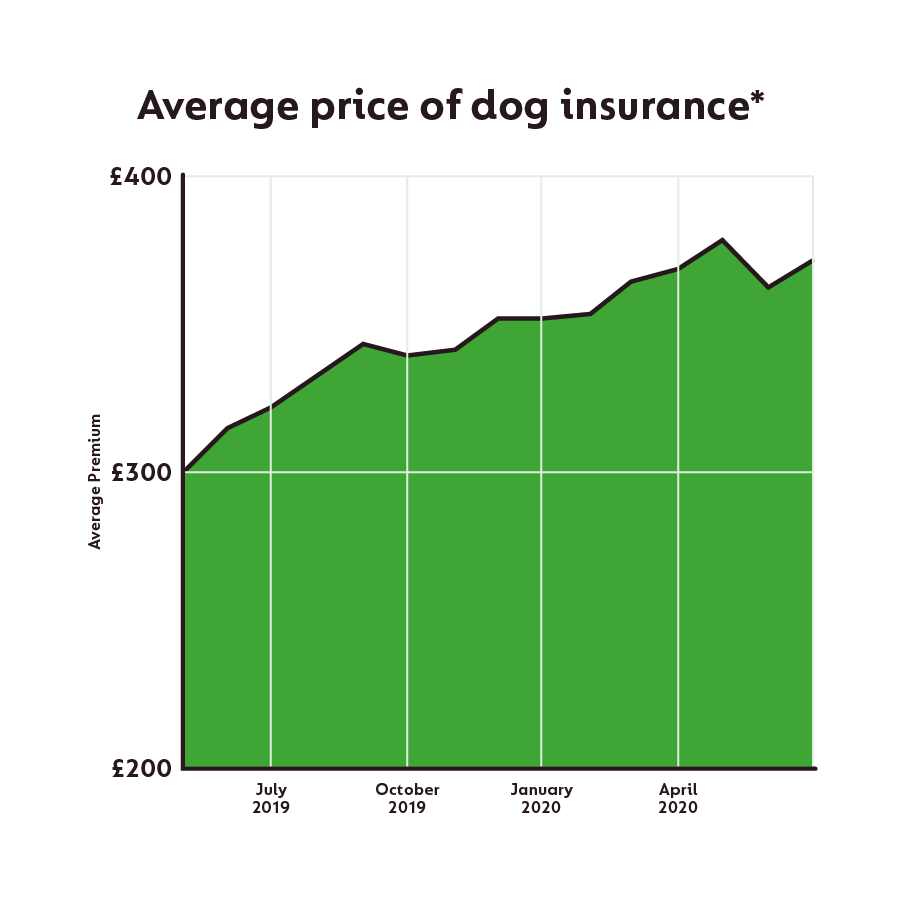 *Based on average purchase price of pet insurance bought through GoCompare between June 2019 and July 2020
It's often the case that pet owners take out insurance to give peace of mind and financial cover. Vet treatments often cost hundreds of pounds, depending on your pet's diagnosis. 
But why are insurance costs rising? Well, the following factors could be contributing to the increase: 
Higher risk equals higher costs
Generally, the higher the risk, the more insurance will cost. Insurers are increasing costs to mitigate some of the uncertainty caused by Covid-19.
Veterinary practices are open but under limitations
Vets have remained open during lockdown, but under limited circumstances. Due to an increased demand for pets and restrictions set out by the government, some veterinary practises have upped their fees. Higher vet costs means higher insurance costs. 
Dogs are costing more
Insurance companies will take into account the cost of the dog, as well as the breed, age and any hereditary illnesses that specific breeds might be prone to.  
Usual year on year inflation
Pet insurance costs for cats and dogs have been increasing for the past couple of years. In 2013 the average premium was £255, in 2015 it was £267, and in 2017 £324. 
Take advantage of any extra time you have to carefully review pet insurance policies to find one that provides enough cover for a reasonable price.
Can dogs and cats catch Covid-19?
The World Health Organisation (WHO) has confirmed that some cats and dogs have tested positive for the virus. However, in these cases the pets had close contact with a human who had it. There's also very little evidence to suggest that domestic animals are vulnerable to Covid-19 - if your pet did somehow catch the disease, they won't really be affected by it. 
Can pets transmit/carry the virus to humans?
According to WHO, there is no evidence to suggest that pets spread the disease to humans. 
It's still recommended that pet owners wash their hands with soap and hot water for 30 seconds before and after contact with pets. Not only can this protect against Covid-19, but it can also help protect against other infections, such as E.Coli and Salmonella. 
The UK government has stated that based on limited information, the risk of animals spreading the disease to people has been considered low.
How to find cheap pet insurance during the Covid-19 outbreak
Regardless of the current pandemic, you can still find yourself the right cover. 
1. Compare 
Use GoCompare's comparison service to find cheaper pet insurance today. 
2. Try multi-pet policies
Have more than one animal? Many pet insurance providers offer a discount when you insure all of your pets with them. Find out more about multi-pet policies. 
3. Jabs and microchipping 
Make sure your pets jabs are up-to-date. This'll help keep your pet as healthy as possible and lowers the risk to insurers. 
Microchipping dogs has been a legal requirement in the UK since April 6th 2016 and so shouldn't affect insurance costs, but your entire policy could be void if it turns out your dog isn't chipped. Some pet insurance providers will offer a discount for cats who are microchipped - so be sure to ask before you buy. 
4. Get the right cover
Getting the correct level of cover for your pet can help bring down the cost in the long run. Most pet insurers offer a range of policies:
Accident only - This level of cover is the cheapest and provides a fixed sum of money for each accidental injury. If the treatment required comes to more than the fixed sum, you will be required to pay the rest. This cover usually excludes illnesses and does not cover pre-existing conditions. 
Time-limited cover -  Time-limited cover is more comprehensive than accident only and excludes certain conditions after you hit your claims limit. This claims limit is either per condition or time-limited. For instance, £6,000 per condition over your pet's life or £2,000 per year for each new condition. However, when the policy is renewed a condition will become pre-existing and be excluded from future policies. 
Lifetime cover - Lifetime is the most comprehensive type of pet insurance cover available. This cover normally pays out for ongoing issues your pet may have throughout its life. There are two different types of lifetime cover; per condition per year and annual lifetime cover. Annual lifetime will usually give you a set amount (such as £30,000) to use in the event of accidents or illnesses over your pet's lifetime. Per condition per year usually provides pets with a limit of a few thousand pounds per year for each condition.